Simplifying Application Migration to the Cloud
By Hope D'Amore
From what we've seen, the answer to "why migrate to the cloud?" seems to be improved business agility, access to modern data protection and saving money. This belief also appears to be shared by industry, as many organizations have made migrating their applications and workloads a top priority. A recent report from Cisco indicated the shift to the cloud is the strategy of choice to simplify and manage data:

"By 2021, 94 percent of workloads and compute instances will be processed by cloud data centers."1
Of course, there is also a down side to moving to the cloud, as hybrid environments are inherently more complex. As the volume of data continues to grow, the amount of replicated data that needs to be managed does, too. Adding to the complexity, IT teams must deal with managing new infrastructures of physical, virtual, cloud- and SaaS-based solutions. Likewise, they also have to consider disaster recovery, dev/test operations, provisioning, workload management and data migration capabilities. We believe all of these factors contribute to the need to reduce complexity and find better ways to manage data in any environment.
We recently surveyed our Commvault customers to validate these expectations using TechValidate™, and polled only those that had successfully completed migration projects. Commvault Orchestrate™ helps organizations to simplify the process and quickly move, automate and migrate applications across on-premises and cloud infrastructures. We've collected the following, which provides a sampling of questions.
Why are Commvault customers choosing to migrate applications to the cloud?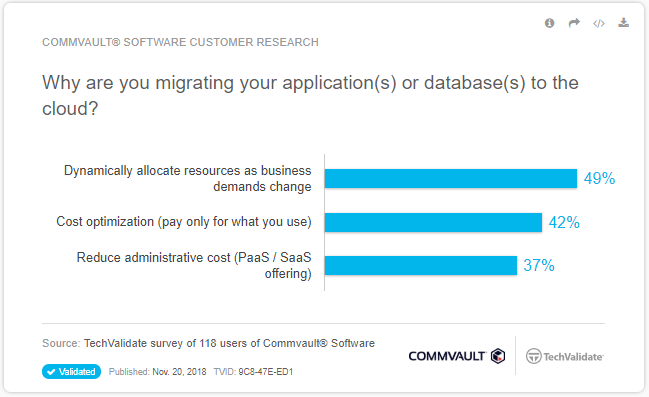 What business use cases are driving application migration to the cloud?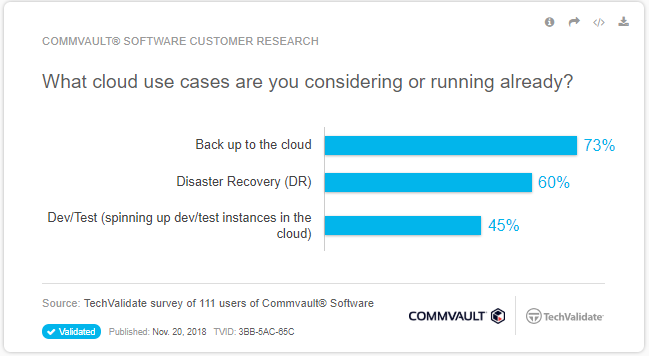 What are the top two requirements of a cloud application migration tool?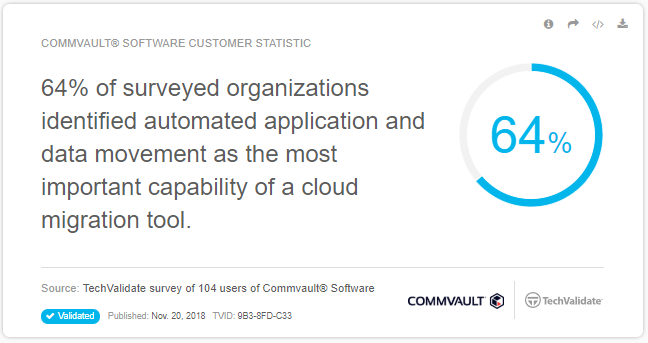 Why would customers recommend Commvault software for application migration to the cloud?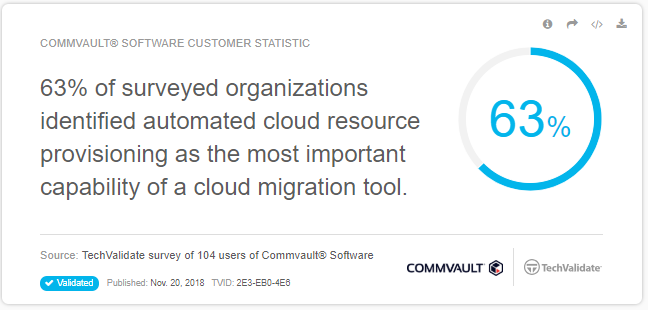 Reviewing the responses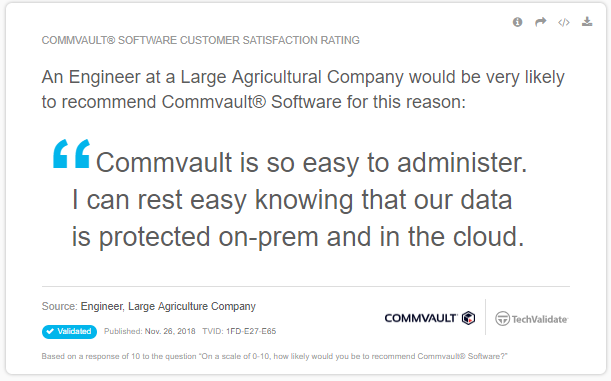 After completing our review of the responses, we found they were consistent with the benefits and advantages that Commvault is promoting. The industry wants (needs) to be more agile, and it's clear to us that being able to dynamically allocate resources is a major driver in the move to the cloud. Reducing costs and simplifying processes across environments are also important considerations.
In addition, the responses reaffirm our belief that simply having the ability to migrate isn't enough. The industry also requires automated tools and workflows to make it easier to migrate and provision all that data when moving applications.
Migrating applications to the cloud with Commvault Orchestrate
A big problem with all of this application data migration and protection is the increase in copy data and the resulting data sprawl. Between Disaster Recovery, development, quality assurance, training and analytics environments – as well as availability and protection copies – the amount of data generated grows exponentially throughout the application landscape.
So why does the process have to be simplified? We've found that most migration processes are lengthy, manually intensive and error prone – which drives up the required time and cost of the activity!
Our customers have spoken; Commvault software simplifies the movement of database and application workloads to the cloud. The migration is automated from end to end – from provisioning the compute nodes, to configuring and attaching the appropriate storage, to migrating the database and keeping the source and destination databases in sync.
Commvault Orchestrate is tuned to deliver automated workload migration to the cloud, superior copy data management and application (database) Disaster Recovery. Commvault Orchestrate was designed to exceed customer requirements and simplify many advanced data procedures.
Learn more about Commvault Orchestrate for faster, streamlined application migration to the cloud.
1 Cisco Global Cloud Index: Forecast and Methodology, 2016-2021, Cisco, 2018