Digital transformation
Data protection accelerates and enables digital transformation initiatives.
Cost savings, automation, and data availability — you can find all three by including data protection in a digital transformation plan.
A CIO guide to data protection resources
Data protection gives CIOs a strategic advantage through the global pandemic. See how to find cost savings, agility and alignment with strategic goals through better data management.
Why is data protection part of a successful digital transformation strategy?
Digital transformation is about changing the organization to improve customer service, optimize operational efficiency and be more competitive. Often the digital transformation strategy involves a move to cloud, adoption of SaaS, IT modernization. All of these processes involve data.
Data availability is critical to digital transformation. So, you need data protection that is agile, scalable, flexible and secure.
Commvault enables you to intelligently manage data with solutions that store, protect, optimize and use data. Automate IT tasks and let your data work for the businesses.
49% of surveyed Commvault cloud customers said faster digital transformation was a cloud data protection priority through the global pandemic 1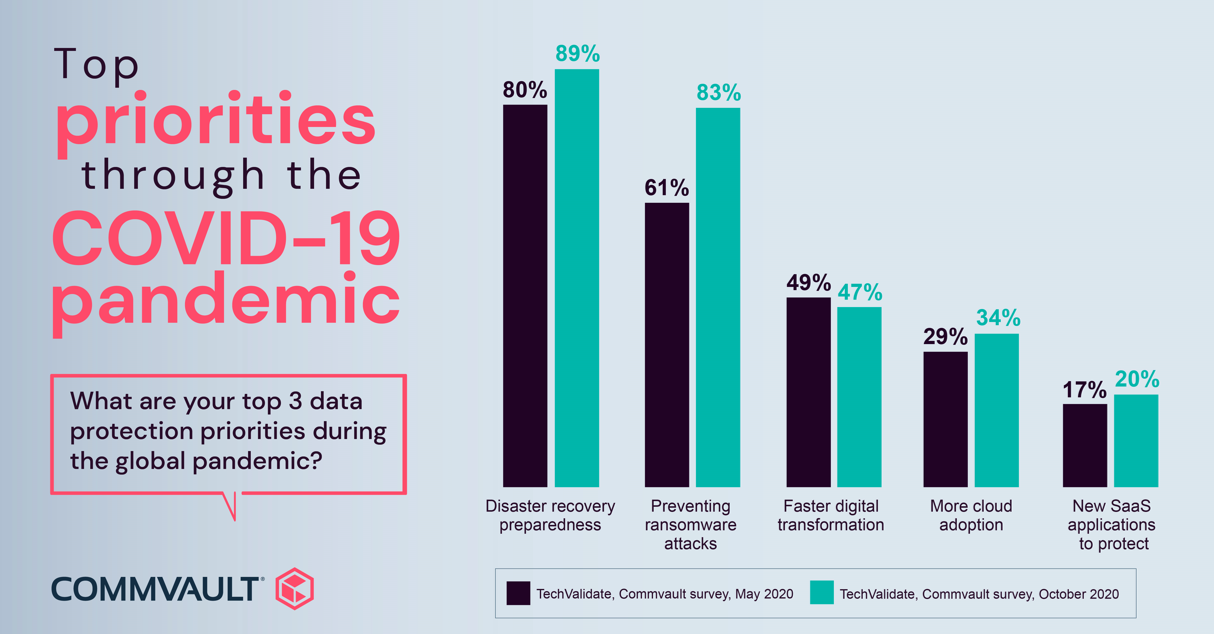 ---
Data protection saves time and budget during IT Transformation
Part of digital transformation is the transformation of IT processes. Whether you call it IT modernization, IT refresh, or another name, IT transformation does involve a review of your data protection strategy.
Look for these time and cost saving opportunities:
Reduce investments in tape storage, opt for flexible cloud storage
Retire legacy backup products, consolidate to one comprehensive platform
Automate manual tasks, scripting, and broken processes with new technology
View current status across the data estate
Comply with current standards and regulations, plus search across data resources

Where data protection fits in a digital transformation strategy
Application modernization, container deployment, SaaS adoption, virtual machine increases, cloud migration. Your digital transformation may involve one of these – or all of these. No matter where you are in a digital transformation strategy, data protection can help at each step.
Business environments are always changing, so you need a data management tool that supports your diverse technology stack. Plus, data protection should give you the flexibility to manage ongoing change.
The biggest challenges in IT modernization efforts involving cloud migration is:
Creating a data strategy
Policy management across on-premises and cloud resources
Data migration at scale
Knowing when to turn off legacy hardware/software
---
What is digital transformation?
Digital transformation is evolving the organization to take advantage of new technologies to better serve customers, create innovation, and find financial advantage.
In 2021, we can define digital transformation in many ways. What used to be about strategically changing an organization to be more digitally focused is now about adjusting to a new way of work.
Microsoft re-defined digital transformation in the pandemic era as "respond, recover, reimagine." It's business recovery at scale. It's business resilience. It's keeping business going.
---
What is IT transformation?
What definition could we apply to IT transformation today? IT transformation is traditionally updating and upgrading IT systems to help an organization be more resilient, fast and financially responsible.
Today IT transformation can be defined as modernizing IT systems to benefit the broader organizational goals. Access to data is a big part of every organization's strategy.
Examples of IT transformation with data protection
IT Transformation Project
Moving from on-premises email to a SaaS model
Secure email backup, recovery and search as you evolve from on-premises to cloud-based email
Microsoft Active Directory
Microsoft Exchange Server
IBM Notes
Microsoft Office 365
Google Gmail… and more
Updating ERP systems from on-premises databases to cloud models – or a hybrid cloud model
Automated and scalable, network-based data protection and rapid recovery
SAP Business Suite
SAP Netweaver
SAP S/4HANA
Oracle Enterprise Business Suite
Splunk … and more
Refreshing CRM or EHR systems
Complete protection – from traditional OS backup and recovery to bare metal recovery
Microsoft Windows File SystemUNIX/Linux File Systems
Macintosh File System
IBM i File System
Hadoop (HDFS)
Lustre File System
Gluster File System
Analyzing data – on-premises, in the cloud, and with a hybrid cloud model
Fast, powerful recovery and restore for massive amounts of data
MongoDB
Cassandra
Microsoft Azure Cosmos DB
Microsoft Azure SQL
Database
Amazon Aurora
Amazon DynamoDB
Amazon Redshift
Amazon DocumentDB
Google Cloud Database for MySQL
Google Cloud Database for PostgreSQL
We know, you ask "does Commvault support ____________?"
Check out the full list of supported technologies
How can Commvault help with IT digital transformation?
Data is central to digital transformation – without secure, protected, optimized data, the organization cannot move forward.
Commvault helps with IT digital transformation in many ways:
Data migration for cloud-based applications and databases
Discovering actionable insights in critical data
Rapid recovery of data across on-premises and cloud environments
Disaster recovery testing to be ready for ransomware, natural disaster or interruption
Data protection for business data across SaaS, files, and virtual environments
Commvault provides the reassurance that organizations need. Reporting to show where data is located – and how it's protected. A single dashboard to manage the evolving on-premises and cloud data estate. Automation and scale to simplify work for busy IT teams.
---
How to use data protection to advance digital transformation goals
When data is accessible and available, organizations can better serve customers, create new products, and find growth opportunities. Commvault customers tell how they used modern, innovative data protection strategies to advance their digital transformation goals.
With 1000 years of history, Chinese liquor distiller Luzhou Laojaio needed to modernize to attract a new generation of consumer. The previous backup product required scripts and failed to backup or secure data. After switching to Commvault, data is now more accessible and secure.  Data generated from production and operation has become a critical asset for Luzhou Laojiao to make business decisions
Indonesian auto manufacturer Astra Daihatsu Motor, a subsidiary of the Toyota group, produces 1 vehicle each hour. The previous legacy backup products were slow and complicated, causing costly outages. The old backup systems could impact production, revenue and deliveries, impacting customer satisfaction.  Now Commvault backup automatically protects critical business systems. The firm has highly available systems, applications and data. They can meet compliance standards and service-level targets without costly downtime.
To deliver better student services for e-learning across Australia, Hong Kong, China, Vietnam and Bhutan, the University of Canberra moved to the cloud with Commvault. With better access to data, the fast growing university transforms the student experience. With automation and cloud agility, the IT team can now focus on realizing the digital vision for the students. Commvault innovation with hardware and software vendors helps the team adopt new technologies to deliver the vision.
Commvault Complete Data Protection
An all-in-one solution combining Commvault Backup & Recovery with Commvault Disaster Recovery for enterprise-grade data protection software both powerful and easy to use.
Reference:
1 Forrester Research, The Forrester Wave™: Database-As-A-Service, June 2019, Noel Yuhan et al
2 ESG Research, 2021 Technology Spending Intentions Survey, Dec 2020