AWS Disaster recovery with Commvault
Comprehensive, cost-effective AWS disaster recovery in the cloud. Pay for what you need, when you need it.
Eliminate the need for costly multi-year DR contracts
The challenge with disaster recovery is the cost to keep a DR site active, powered up and ready to go live. Commvault's AWS disaster recovery solution allows you to move and manage your disaster recovery in the cloud, eliminating the need for expensive secondary data centers or multi-year DR contracts. We'll help you be ready—while reducing costs.
Single solution addresses all your DR requirements, making sure your data is ready
Commvault's policy-driven data platform manages the RTO/RPO requirements across your most critical applications to your less critical data and applications. You select the policies and Commvault software does the rest.
On-demand recovery for testing and incident response
Commvault DR orchestration keeps your data on low cost AWS storage until it's time for monthly testing or when you need to recover from an incident. Why pay for cloud services when not using them? With Commvault DR orchestration, you'll recover TBs of data and hundreds of servers in hours, not days or weeks1 and only pay for services when you need it. DR Testing happens in minutes, not hours, and Commvault orchestration automates failback, simplifying testing and minimizing manual intervention.
Ransomware protection
AI and in-depth analytics monitor your risk profile and data pool. Alerts warn you of potential ransomware/malware attacks so you can quickly isolate the attack, ensuring minimal impact. Automation reduces risk of human error and foundation and application hardening halt attacks in their tracks. With Commvault ransomware protection, both you and your data will be ready.
Simplified, tiered AWS disaster recovery options
Restore from AWS S3 backup
Optimized for low cost
Tier 3 workloads
Medium/high RPO
Medium/high RTO
Live Sync
Balance of speed and cost
Tier 2 workloads
Medium/high RPO
Low RTO
Continuous data replicator
Optimized for speed
Tier 1 workloads
Low RPO
Low RTO
What makes the Commvault AWS disaster recovery solution unique and powerful?
Simplified approach to DR. Lower cost and complexity – gain a single view into all data.
Migration and replication directly onto AWS. No need for cloud connectors, gateways or costly proprietary hardware.
Power management: Only power up resources as needed – power down when finished. Significantly lower cloud compute costs.
Built-in comprehensive ransomware protection. Limit disruption and damage to the business.
Automated and orchestrated DR testing. Reduce the risk of human error by eliminating scripting.
Commvault ransomware protection improves threat and risk mitigation with foundation and application hardening, pre-emptive alerts, incident remediation and reporting. AI-driven analytics provide greater confidence in data backup, recovery and compliance.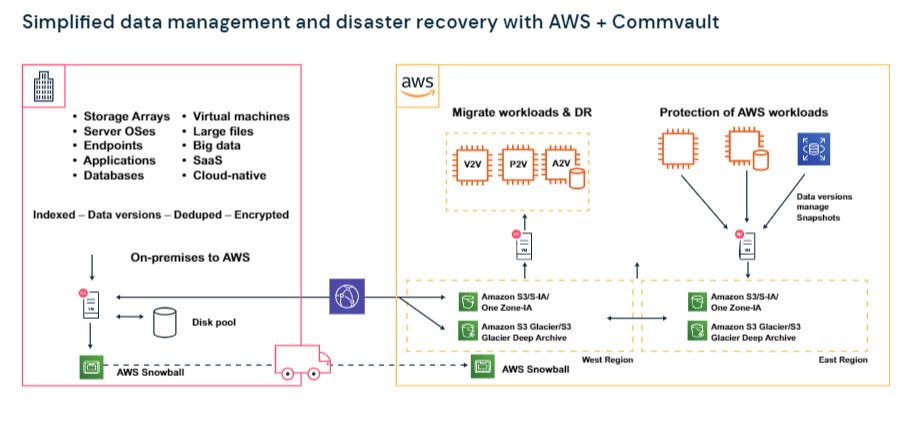 Reference
1 Results based on internal Commvault lab testing; more details available at https://documentation.commvault.com/commvault/v11_sp15/article?p=43521.htm