Data Governance
Existing customers can transition to Commvault Risk Analysis.
It's your data. Don't risk it.
Over 54% of organizations have experienced a significant cyber-attack in the past year, with the average cost of a data breach being $3.86M USD.
Manage sensitive data risks and adhere to data privacy regulations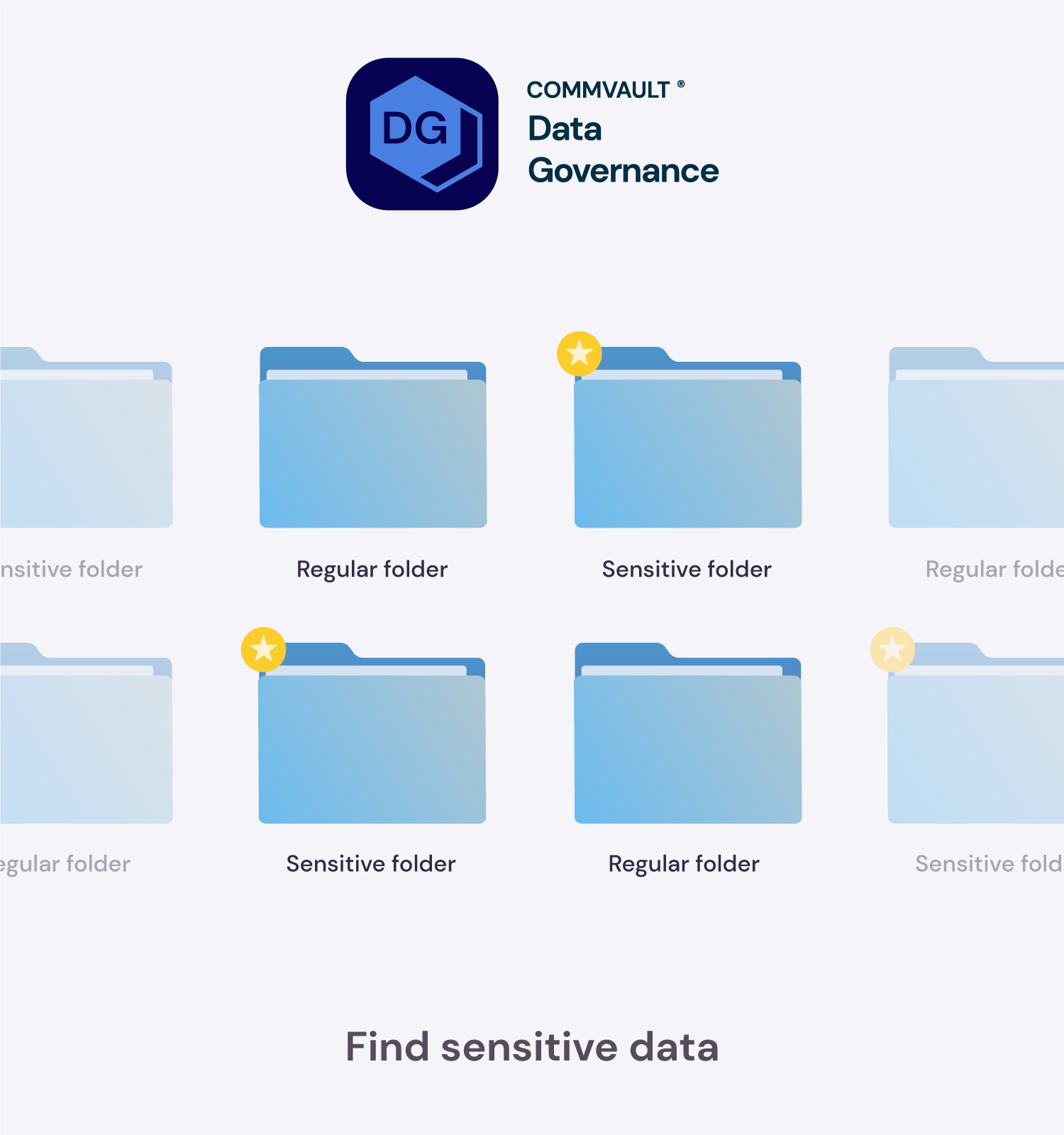 Identify sensitive data risks, streamline collaborative decision-making remediations, and support regulatory compliance, including GDPR and CCPA – all customized for your business and managed with a single pane of glass.
Mitigate data privacy risks and prevent sensitive data leakage
Proactively prevent sensitive data leakage by efficiently defining, finding, managing, and securing files containing sensitive data across both live and backup data
Address the most significant vulnerabilities first by classifying the sensitive data based on your organization's priorities
Customize and automate identification of sensitive data using machine learning to classify documents based on a library of similar documents
Streamline sensitive data remediations
Accelerate remediations by deleting or moving/quarantining sensitive data such as personal identifiable information (PII) using workflow-based collaboration
Efficiently remediate sensitive data risk with shared decision-making between IT, security personnel, and data owners in the business
Prevent previously remediated sensitive data from being inadvertently restored by deleting from backups
Maintain compliance with data privacy regulations
Minimize personal data footprint from live and backup data sources
Comply with regulations and privacy acts such as GDPR and CCPA by rapidly responding to Subject Access Requests (SARs) including Right to Access/Right to Erasure/Right to be forgotten
Protect data privacy by redacting sensitive data upon export/disclosure of sensitive data to data subjects
Commvault Command Center
A single view to manage your entire data environment
Commvault Command Center™ offers a single dashboard to manage your entire data environment. Identify data you want to protect, monitor backups and restores, and easily access analytics. Default configurations and streamlined procedures save time and role-based access enables self-service capabilities, reducing the load on your IT staff.
ORIIUM enhances data governance and security with Commvault
Expand your data insights capabilities using Commvault® File Storage Optimization to eliminate redundancy, lower costs, and reduce risk for your data, and Commvault® eDiscovery & Compliance to define, find, and manage your sensitive data.