Microsoft Azure
Data management
and data protection
You know that managing and protecting your data means more than just optimizing Microsoft Azure for cloud backup and recovery. You also need to migrate data to Azure with ease, protect your data from ransomware, and gain complete data portability, visibility, and recoverability. Sub-minute RPOs and near-zero RTOs for your mission-critical data and workloads are also business requirements. Commvault meets these demands and more.
Be ready with Commvault. Discover an intelligent cloud data management and disaster recovery solution for Azure.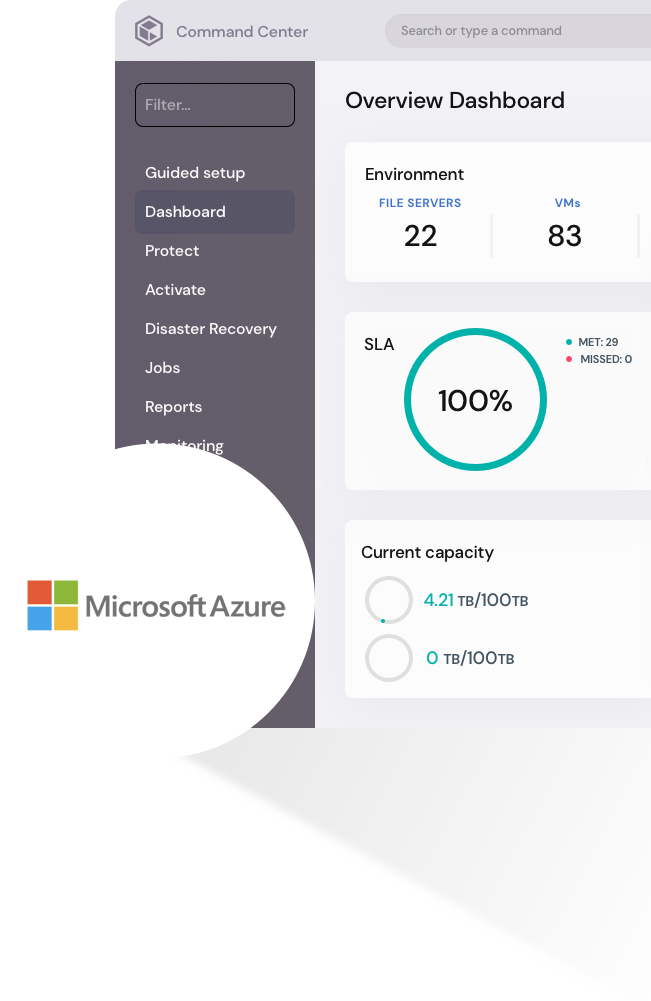 Harness the power of Azure
Adding Commvault to Azure makes sure your data is protected, recoverable, and discoverable:
Native integration speeds migration into Azure.
A single view of your data solves the visibility (and compliance & eDiscovery) issue.
Recover/power-up VMs from backups ( VMware, Hyper-V, RHEV, AHV)
The partnership
Commvault and Microsoft are built on 20+ years of collaboration and trust.
How to build the perfect hybrid cloud
Featuring experts from HPE, Microsoft and Commvault
What Commvault and Azure can do
Solve critical data management backup and recovery issues by using Azure with Commvault as your next data center.
Eliminate tape libraries, transportation logistics, and third-party records companies
Avoid your next storage hardware refresh or forklift upgrade—eliminate hardware
Move your backup and recovery to easy to manage SaaS with Metallic
Move mission critical applications to Azure
Trust your mission critical databases, applications and data to our experience (it's more than SAP HANA backup on Azure)
Depend on Commvault's proven SAP HANA on Azure expertise
Enable long term retention for Azure PaaS OpenSource databases (MySQL, PostgreSQL, Maria)
Recover in minutes, not hours.
AI-driven protection against ransomware and threats
1 click SAP system refreshes
Full support for SQL and SQL/Azure
Emirates Steel accelerates digitalization and cloud adoption with Commvault
Thinking of managing your open source databases on Microsoft Azure PaaS?