Google Cloud data management made easy
Streamlined migration of data and applications to Google Cloud Platform. Simplified data protection for GCP workloads. Make sure your cloud strategy is future-ready with Commvault software.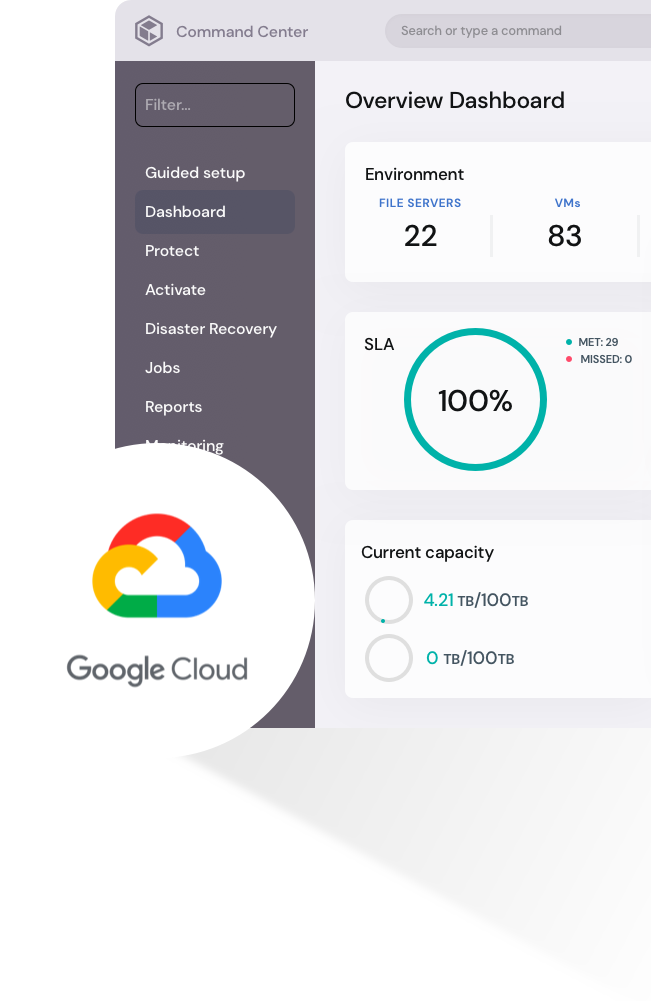 Simple, powerful data protection for Google Cloud Platform
With Commvault native integration into Google Cloud Platform, moving data to GCP is fast and easy. Easily setup Google Cloud Storage for a low-cost tape alternative. Leverage powerful automation to protect workloads running on Google Compute Engine VMs .
Read more about how Commvault can help accelerate your Google Cloud migration
Streamline data management
for Google Cloud Platform
Move, manage and use data securely in Google Cloud Platform with Commvault software.
Count on us for:
Simple, automated, cost-effective migration

Move huge volumes of data to the cloud quickly and easy with built-in compression and deduplication. Application-aware migration capabilities move workloads (including tier 1 apps like SAP HANA) to GCP with predictable results.

Robust protection of cloud workloads

Native integration with Google Compute Engine VMs along with extensive support for applications and databases enable comprehensive protection for all your GCP workloads.
Disaster recovery in the cloud

Automated failover/failback capabilities enable disaster recovery 'on demand' in GCP. Eliminate the need for costly secondary sites while maintaining business continuity and meeting RTOs
Learn more about Commvault and
Google Cloud Platform
Georgia State uses Google Cloud Platform to improve disaster recovery
Commvault for Google Cloud Platform (GCP)