Intelligent Data Services from Commvault
We enable organizations to proactively simplify and manage the complexity of enterprise data, accelerating growth and helping ensure the fundamental integrity of their business.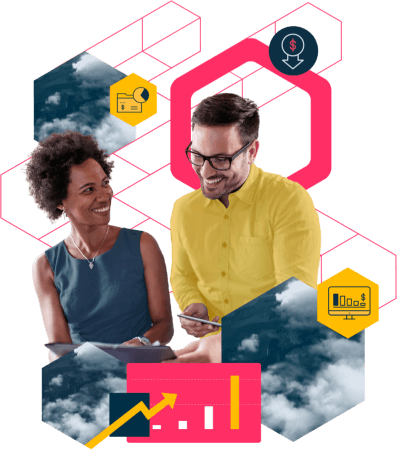 See Unified Data Management in Action
Commvault Intelligent Data Services
Commvault meets these challenges with its Intelligent Data Services Platform, closing the business integrity gap and enabling organizations to accelerate business growth. With its Intelligent Data Services Platform, Commvault delivers a flexible, future-proof architecture that provides unprecedented customer choice and is available via SaaS with Metallic, integrated appliance with HyperScale X, enterprise software, or managed services with our partners.
Intelligent Data Services
Primary / Secondary Storage
On-Prem

Multi-cloud

Hybrid Cloud
Workloads
SaaS

Devices

Databases

VMs

Containers
Commvault Intelligent Data Services solve real customer challenges and deliver tangible benefits
Data Management & Protection
Data Management & Protection unifies data management and protects data at scale for all workloads across on-prem and hybrid/multi-cloud environments.
---
By 2027, 35% of application workloads will not be optimal or ready for cloud delivery, down from 55% in 2022.1
Data Security
Advanced detection, multi-layered protection and rapid recovery from security threats including ransomware and data breaches.
---
68% of organizations were infected by ransomware in 2021, up from 66% in 2020.2
Data Compliance & Governance
Help ensure compliance with data access regulations and requests, including managing and remediating data risks, as part of a broader data governance strategy.
---
Gartner predicts that by 2024, over 75% of the world's population will have its personal information covered under modern privacy regulations.3
Data Transformation
Seamlessly move and repurpose data across environments, enabling containerized workloads for application modernization via DevOps and flexible data usage for copy data management, security testing, IT operations, and other business needs.
---
79% of business leaders have hired their own technical talent to deliver or manage technology.4
Data Insights
Use artificial intelligence and machine-learning driven data insights to drive efficiency and optimize IT processes; data insights can be applied to data protection, cloud or on-prem storage and power consumption management, anomaly detection to mitigate ransomware and other data breaches, protection of sensitive data including personally identifiable information, and more.
---
By 2025, 70% of organizations will implement structured infrastructure automation to deliver flexibility and efficiency, up from 20% in 2021.5
Take the first step
We want to hear about your unique business needs.
Schedule time to see what a world-class data services platform can do for your business.