VMware
Commvault's data management platform can protect and manage your entire VMware infrastructure. We make it easy. From a single interface, Commvault offers powerful data management capabilities including backup, recovery, disaster recovery and easy migration.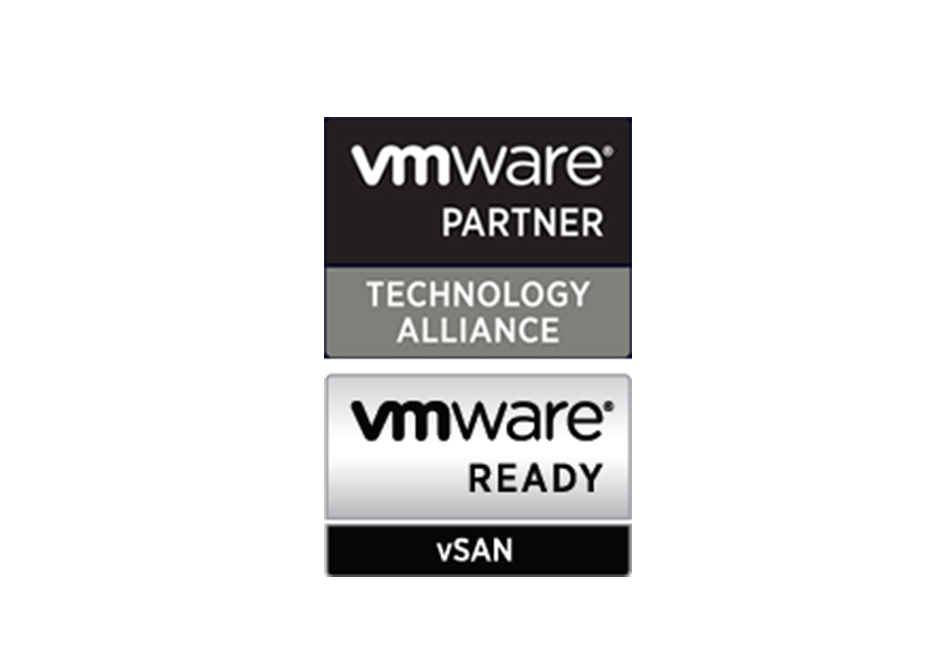 A simplified approach to managing and protecting your VMware environment
Our intuitive, web-based console provides an interface that makes it easy to identify, monitor, and manage your virtualized environment from any location or device. An at-a-glance dashboard allows you to quickly perform everyday tasks like reporting, backup and recovery with a few clicks.
Leverage service-level agreement (SLA)-based plans to easily provide protection that fits your business SLAs for VMs — reducing costs and streamlining operations. Our management console can also simplify administration and increase user satisfaction by giving your administrators and end users role-based, self-service access to VM recovery.
Comprehensive support for VMware
VMware offers enterprise-proven features. These include software-defined storage with vSAN and external storage solutions using Virtual Volumes (vVOLs), NFS and VMFS. Move your virtual machines easily and confidently within your data center or extend to the cloud using VMC on AWS.
Commvault integrates with VMware solutions, whether in on-premises infrastructure or in the cloud. Our platform provides extensive integration with VMware, with comprehensive capabilities including:
Agentless guest protection
Application-aware protection
vSphere tags and custom attributes
vSAN Support
vSphere APIs for I/O Filtering (VAIO)
vRealize Automation and vRealize Orchestrator Plugins
Backup and restore using vStorage APIs for Data Protection (VADP)
Change block tracking (CBT)
Restore full VMs, VMDKs, guest files, and folders
Quickly and easily migrate on-premises VMware virtual machines into Microsoft Azure using the Commvault Command Center™ – a simple yet powerful tool that can help you quickly and effectively manage your cloud migrations.
Simplified and scalable data protection powered by Commvault virtual server agent
The Commvault Virtual Server Agent for VMware allows you to easily protect and recover virtual machines and data without agents on each virtual machine. The VSA provides an agentless data management solution that provides a powerful and simple-to-manage platform to protect you VMware environment. With Commvault VSA, you benefit from:
Service level-based data management and protection plans
Agentless protection with automatic, application-aware plugins
Native integration with both public and private clouds
Disaster recovery powered by Live Sync replication to meet business requirements
VM conversions and migrations across hypervisors
Policy-based provisioning, power-down, and archiving
Fast backup and recovery with Commvault IntelliSnap®
To protect your VMware environment you need the ability to quickly protect and recover your virtual machines. Commvault IntelliSnap® leverages hardware array snapshots to reduce your backup and restore windows to just minutes. Commvault's industry-leading snapshot management framework (create, maintain, delete) lets you easily move your data from snapshot to disk, tape, or the cloud.
Enterprise proven data management capabilities for VMware
The Commvault data platform provides a single, robust solution. Why settle for multiple point solutions for backup and recovery, disaster recovery, and test/development when you can deploy the Commvault Data Platform to provide these capabilities in a single solution? With Commvault, you can:
Reduce traditional disaster recovery costs by using a single toolset
Orchestrate migrations, conversions and recoveries of virtual machines to the cloud
Align your VM disaster recovery RPOs to your specific business requirements
Automate complex manual application recoveries beyond the virtual machine and operating system by using customized workflows
Enable stress-free, push-button disaster recovery testing for both planned and unplanned virtual machine failover and failback
Leverage the full capabilities of VMware with Commvault data protection and management today.