Data Protection
How Data Protection Helps Cut IT Cost and Support IT Innovation
Commvault makes it simple to see your data environment with a single dashboard.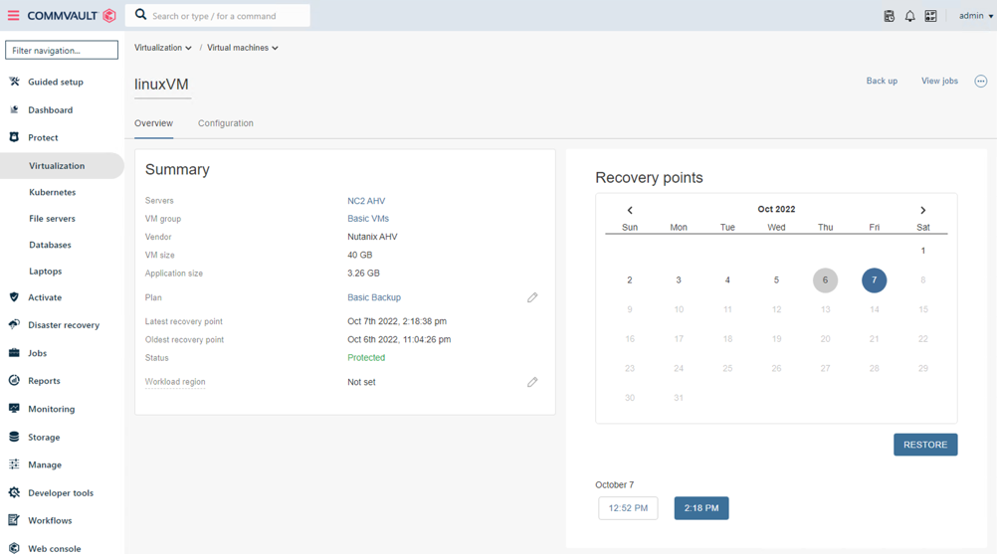 How do you save money and still move forward with IT innovation? Some savvy organizations know that data protection best practices can help cut IT costs while also helping drive IT innovation.
Today organizations are being asked to embrace technology that saves time, reduces risk, improves service levels, and helps IT leaders deliver cost savings. That extra money can fund a new technology purchase that better supports a remote workforce, enables a customer-centric data project, or develops a new competitive product.
IT cost savings may be available for you right now through better data protection practices.
Data protection supports your IT strategy
We all know enterprise environments are complex. Hybrid cloud, virtualization, SaaS, and edge continue to expand and evolve in many modern organizations. As new technology adoption happens, the enterprise approach to data management and data protection must scale and become more efficient.
This growing complexity makes it hard to keep costs under control. Overprovisioning, repetitive operational tasks, and inefficiently tiered storage capacity all add risk, increase costs, and consume IT staff time.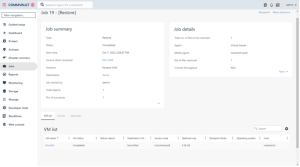 As you adopt new technologies or support decades-old systems (like AS/400), organizations must protect all data and workloads within the required SLA windows. Organizations that haven't kept up with modern data protection practices struggle to protect, backup, and recover data across a variety of cloud, edge, and on-premises locations.
IT leaders need the ability to run the business on data, despite a continuously evolving and growing data environment. To do that, they need to optimize their spending and minimize costs while keeping up with market and technology changes. IT leaders want to reduce both IT and business disruptions. They need to reduce the risk of data sprawl, closing the business integrity gap – where the organization's data environment is today and where their data environment should be for organizations to thrive and accelerate and digitally transform.
Most of all, IT leaders need their data protection status available in one place. Commvault makes it simple to see your data environment with a single dashboard. See the health of your organization, any alerts, storage needs, backup status, and how well you're meeting SLAs. Just one dashboard and the options for a range of reports to meet today's IT executive data needs.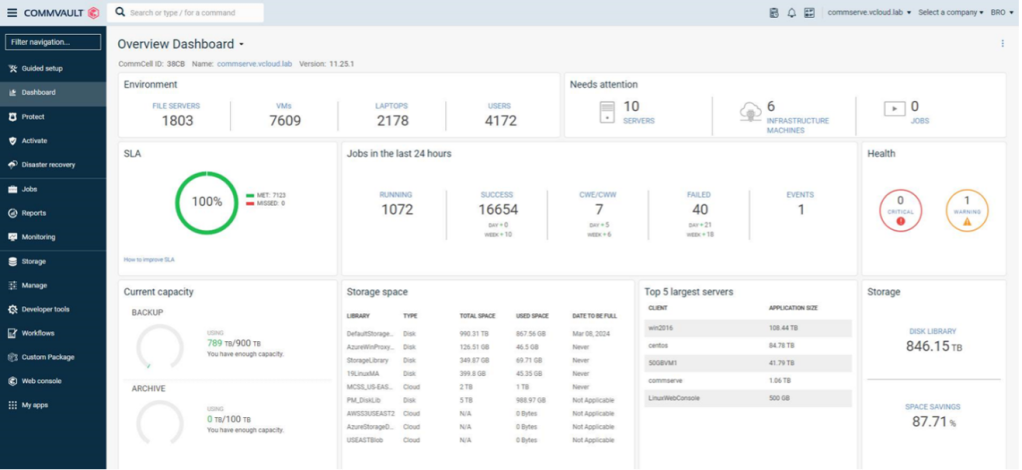 Key questions to align data protection and IT strategy
When you stop to review your IT strategy, how much are you discussing data protection? It would be best if you were asking basic questions.
How many data protection products do we have? How many do we really need?
What could we save if we consolidated data protection products? Time? Money? FTEs?
Can we quickly and easily scale data protection across new technologies like cloud services?
How are we protecting critical systems like our ERP, CRM, and Microsoft 365?
What SaaS products are critical to our business, but not yet in our data protection plan?
Does the IT strategy include backup for endpoints, especially for remote workers?
With our staff today, can we maintain business continuity if there is a ransomware attack or disaster recovery situation?
If these questions are concerning, it may be time to sit down with your solution provider, global systems integrator, and Commvault. You can outline a data protection coverage plan that aligns with your IT strategy.
Do you have the IT team to support data protection and IT innovation?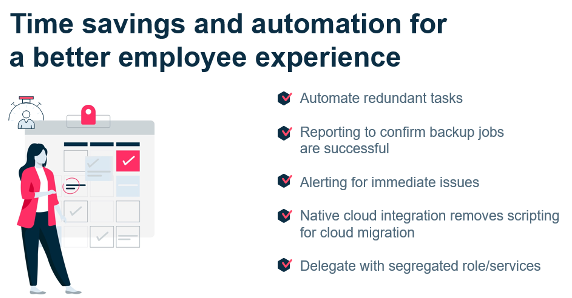 We all know the headlines – people are leaving their jobs. Whether it's a better position, retirement, or pursuing a lifelong dream, employees are leaving technology jobs. Your IT staffing situation may change tomorrow.
Consider these stats:
68% of the Australia-New Zealand technology industry is suffering from skills shortages 1
57% of surveyed tech executives said finding qualified employees is the biggest concern for their company right now – more concerning than supply chain issues and cyber security threats 2
Only 29% of surveyed UK tech workers said they would stay in their current role in the next 12 months3
One way to retain your staff and attract new IT leaders is to give them the best tools to do their job. Will you attract the best candidates if they find out they need to learn four or five different data protection products? Better yet, wait until they learn that each of those have many different interfaces.
In a recent survey, 49% of respondents said they will quit a job if the technology is outdated or hard to use. 4 IT leaders can reduce the administrative and management burden of data protection to retain staff and make the work more enjoyable.
Commvault CIO Reza Morakabati calls this eliminating the "soul-crushing work." In a Gartner IOCS roundtable discussion with enterprise IT leaders, he shared ideas to reduce the time and effort involved in enterprise data protection.
Could your VMware environment be less expensive and less work if the backup to a cloud option instead of on tape?
How much time would be saved if you could backup and restore in ServiceNow? Commvault integration with ITSM products like ServiceNow also allows you to set Commvault alerts to create incidents in ServiceNow.
How can you streamline cloud data protection? Managing data in the cloud – or across clouds – could be much simpler with a data management solution with native integration to Microsoft Azure, AWS, and Google Cloud Platform. With Commvault, cloud access is available right in the main dashboard. For even easier cloud access, perform cloud backups with no previous cloud experience using the Metallic™ Cloud Storage Service integration – also available right in the Commvault dashboard.
Your teams can be more productive –spending less time on manual tasks and more time doing strategic work. Modern data protection solutions should include key features to help smooth the workday.
Automation to speed tasks. Eliminate repetitive manual work – and the risk of manual error – with modern automation.
Integration to streamline work. Whether integrating with your public cloud, storage vendors, or ITSM platform, integration saves time and effort.
Alerting – reliable alerting – to notify teams of problems and possible solutions.
Most of all, IT teams need reliability. Will the backups work? Will we be able to recover? Will we get our weekends back? Will we sleep well at night?
Even in the case of a disaster recovery situation, Commvault customers are confident that they will have reliable, effective backup strategies. Learn more from GEICO has a data protection strategy that is ready for anything
Save money by reducing the number of backup and recovery systems
Enterprises are sometimes battling a series of older backup and recovery systems. Whether the older systems were brought in by a previous manager or came into the organization through mergers and acquisitions, enterprises are seeing high costs.
Multiple maintenance and renewal schedules, different customer support teams, and so many interfaces – these challenges cost money and take up staff time. Today no one has extra staff, extra time, or extra money.
Often, we talk with enterprise IT leaders who are surprised with high costs due to these multiple systems. Organizations sometimes find they need to pay for an additional cloud gateway to transfer data to the cloud, an external appliance for cloud deduplication, or an entirely different product for SaaS backup.
The high cost of renewing all these disparate products is often an unpleasant surprise to IT leaders who haven't yet seen the ROI of the initial purchase.
IT leaders share these backup products are complex and are not necessarily well integrated. This lack of alignment restricts scalability and creates silos that decrease visibility to the data, reducing IT productivity, and increasing overall risk.
Organizations start by comparing their current state and future state. Step one is to compare costs and the potential options using the Commvault Value Calculators – then work with Commvault and our services partners on an ROI discussion.

Ideas to find cloud cost savings
With better data protection, you can save money in the cloud. Some enterprises have saved significant budget amounts through improved deduplication and compression. Others have realized savings by ensuring workloads are aligned to the proper storage tier. It sounds simple, but it's a big opportunity.
In many cases, you're being asked to manage more complexity and data with an insufficient budget to address those issues. What if you could save money through more efficient data protection methods?
Cloud is probably one of your largest budget areas. Data protection best practices can help you reduce the spend on low-level cloud storage to repurpose your cloud spend toward higher-level cloud services. Instead of spending too much on low-level storage, repurpose that spend on innovative services that help meet your organization's innovation needs.
If you properly manage data across your multi-cloud environment, you can reduce cloud storage and egress costs.
How? First, deduplication and compression – on-premises, before migration, and even in the cloud. We've seen enterprises dramatically cut cloud storage costs. They can then use that budget on higher-value cloud services.
Remember, you can even extend that deduplication into the archive tiers. Commvault supports a number of cold and very cold storage tiers like Amazon Glacier Deep Archive. While that's a very low-cost archive service, you can lower your costs even more, when you deduplicate.
And one additional note – with Commvault deduplication is integrated – no separate appliance, no separate anything. Deduplication is integrated and accessible.
You can lower compute costs – Commvault lets you dynamically scale and use power management, plus write to object storage directly without additional compute requirements. Commvault optimizes resources using machine learning techniques that reduce cloud costs.
Also, you can control who is making decisions in your cloud environment. For example, Commvault supports the use of AWS least privilege permissions and integrates with AWS Identity & Access Management (IAM) role definitions for common use-cases like backup and recovery or VM conversion.
And again, Commvault does this with native integration into the major clouds- Azure, AWS, GCP, and more- so there are no gateways to purchase or slow down your progress.
With significant data growth, organizations are looking to scale data storage more dynamically and "pay as they grow." Commvault enables customers to expand cloud data protection to multiple cloud storage classes, finding cost savings where possible.
It's important that you understand data growth and user of multi-cloud data from a single console. With one clear view of your environment, you can make the decisions to plan for future storage growth strategically, optimize your costs, and reduce risks.
Learn more cloud data protection cost-saving tips – download How to save money on cloud data protection.
Supporting IT innovation with comprehensive data protection
Driving innovation is the #1 goal of CIOs in the next 3 years.5 IT teams need to spend less time on archaic work and more time supporting innovation.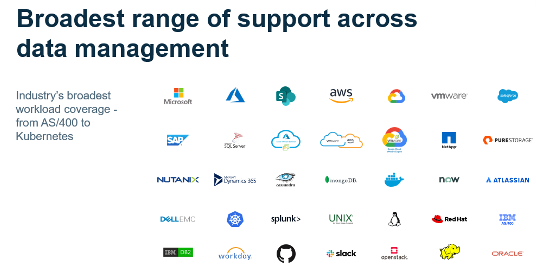 It's not unusual to be asked to support AS/400 from a new acquisition and protect the data in a new Kubernetes project. Support old and new technologies with one Commvault dashboard.
Known for day-one support of new cloud services and storage classes, Commvault aligns with the top public and private cloud vendors to help ensure you can protect data across multi-cloud and edge environments. Explore the range of Commvault supported technologies.
Organizations are increasingly relying on cloud-based services to support customer needs, new products, and speed to market. With the broadest range of support for Database-as-a-Service (DBaaS), Commvault helps you be ready for the cutting-edge innovation needs of your organization.
Not all backup products can support cutting-edge cloud services – especially at scale. Commvault makes it easy to expand protection for these new cloud-based services and incorporate them seamlessly into existing data protection plans.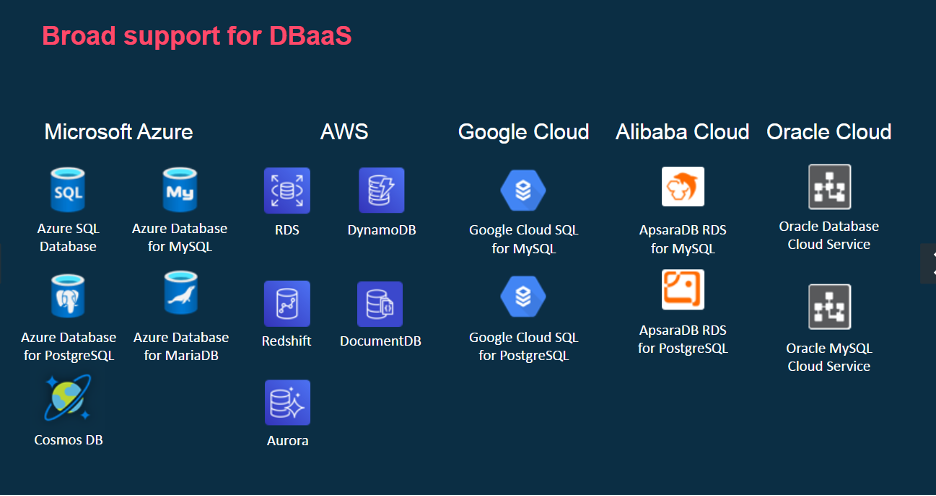 Start saving time, reducing costs, and supporting innovation with strategic data protection
It's the right time to update your data protection strategy. Start developing a plan to turn off your older data protection products and consolidate them to one comprehensive, flexible, and modern data protection platform.
Set up time to speak with a Commvault Partner or the Commvault team about your data protection strategy.
References
1. ZDNet, IT skills shortage remains in Australia and New Zealand as borders stay shut, May 2021 – 2. CNBC, Labor shortages outrank cyber threats as biggest concern for tech companies, October 2021 – 3. CW Jobs, Confidence and job satisfaction among UK tech professionals remain strong in 2021, July 2021 – 4. Adobe, The 2021 State of Work – 5. 2021 State of the CIO, IDG