Introducing our 2022 Corporate Social Responsibility Report 
By Martha Delehanty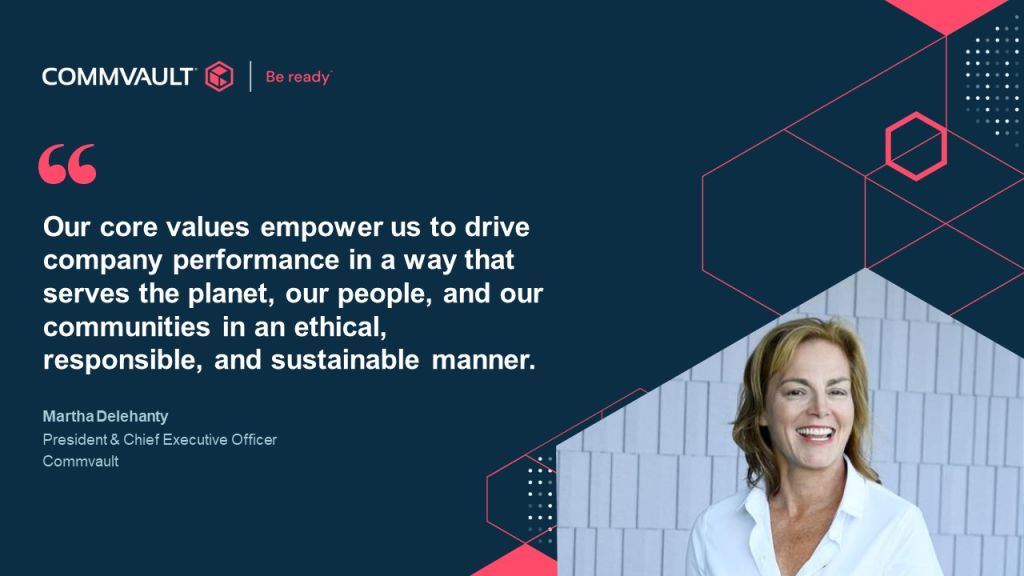 With the launch of our 2022 Corporate Social Responsibility (CSR) Report, I wanted to take a moment to really dive into what CSR means here at Commvault.
CSR is all about showing the human side of us. It's about showing how we truly care about our business, our planet, and most importantly, our people! We all know that over the past few years, the importance of care, support, and creating a better world have never been more top of mind. Making a difference and having an impact is core to Commvault's culture, and we are stronger than ever…together!
Our values – we connect, we inspire, we care, and we deliver – are at the root of everything we do. These guiding principles shape our daily interactions with each other and our communities, power our passion for technical excellence and outstanding customer service, and support our overarching commitment to responsible, sustainable, and ethical business. Whether we're helping our customers manage their data more sustainably, supporting the development and inclusion of our global workforce, or giving back to our communities, we continue to prioritize our stakeholders and treat long-term sustainability as a non-negotiable requirement of doing business.
Building both a better today, and a better tomorrow, is at the heart of who we are. And with innovation at the core of everything we do, we continue to drive new sustainability initiatives to advance our progress in 2022 and beyond.
I'm so proud to see all the incredible efforts of our Vaulters represented in this year's report. More to come on our CSR efforts, so stay tuned!