Cloud
Simplifying Cloud Database Protection for Hybrid and Multi-Cloud
Learn more about how Commvault's innovative solutions provide simple, comprehensive, secure, and cost-effective data protection and recovery capabilities.
The rise of cloud computing has revolutionized the way organizations manage their data and has quickly become the preferred method for storing and accessing critical information. Pre-pandemic – cloud adoption for databases was growing at an exponential rate, with more and more organizations making the switch to single cloud vendors. Post-pandemic – Cloud database adoption continues to grow but as customers become more cloud-savvy most enterprises are embracing a multi-cloud and/or hybrid cloud approach to get the best of both/multiple worlds for their database workloads.
According to a Flexera report, 89% of all enterprises use multi-cloud while 80% of enterprises have a hybrid cloud strategy with single or multiple clouds.
A hybrid or multi-cloud database strategy comes with its own challenges –
Complexity – Keeping track of multiple tools for multiple clouds and multiple database types.
Cost – Redundant costs increase as teams across an organization employ their own tools, sometimes doubling up on capabilities and infrastructure.
Security – Security teams must defend against new threats while managing cloud database services and tools that are different from one cloud provider to the next. Security becomes more challenging with an ever-growing attack surface.
Here is how Commvault helps mitigate these challenges for cloud database protection –
Management made simple
Single UI and API-first support that gives simplified & unified control with cloud-native integration to automatically discover, protect and manage database copy lifecycle. Ability to define RPO policies that are uniform across hybrid cloud & multi-cloud with a blend of snap and backup. Ability to protect instances, complete regions, or multiple regions.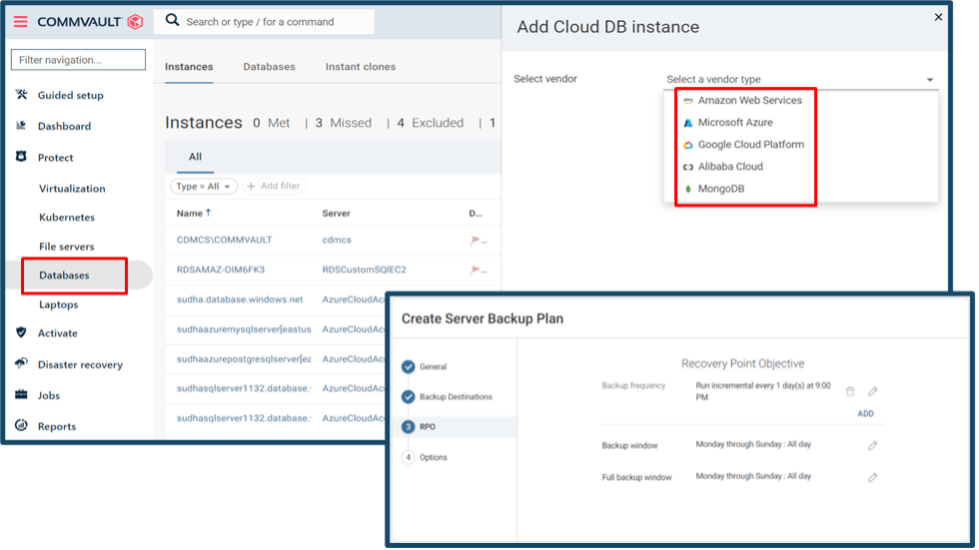 Broad workload, cloud, and multi-cloud portability support 
Commvault has the largest cloud, database workload, and multi-cloud portability support as compared to any backup vendor in the market today thus meeting the customer's data protection needs no matter where they are in their multi-cloud journey.
Cost Savings
Most backup vendors use snap as a backup strategy for their cloud databases. They provide snap orchestration which, while easing management overhead does not reduce the snap storage costs. Commvault on the other hand provides customers with a unique way to blend snap and export-based backups which leads to significant reduction in cloud database protection costs as compared to other solutions.
Security
Secure access to the Commvault environment with RBAC-based control and multi-factor authentication. Ensure that backups are tamper-proof with encryption and air-gapped immutability.
In conclusion, Commvault helps to manage databases on-premises and across multiple clouds using a single platform. We continue to innovate and bring new products and solutions to the ever-changing database eco system to provide simple, comprehensive, secure and cost-effective data protection and recovery capabilities where customers needed it the most.
To learn more:
References
1- Source: https://www.flexera.com/blog/cloud/cloud-computing-trends-2022-state-of-the-cloud-report/