Commvault
HyperScale™X
Accelerate hybrid cloud adoption, scale-out as needed, and manage data workloads from a single intuitive platform.
Storage meets data protection
An intuitive scale-out solution that's fully integrated with Commvault's Intelligent Data Management platform. Accelerate your digital transformation journey with unmatched scalability, security, and resiliency.
Simple, flexible data protection for all workloads including containers, virtual, and databases
High-performance backup and recovery with automatic load balancing, enhanced RPO, and reduced RTO
Optimized scalability with incremental storage growth up to 5PB of capacity within a single storage pool
Built-in resiliency ensures data availability during concurrent hardware failures

Cost-optimized cloud data mobility to move data to, from, within, and between clouds
Ransomware detection with intelligent monitoring detects data anomalies and send alerts
Data reuse via copy data management that provides instant recovery of VMs and live production copies for DevOps and testing
Disaster recovery testing of replicas directly from the hardware
Hello simplicity, goodbye inefficiency
Our flexible architecture gets you up and running fast and grows as your needs do. Get full data protection, spend less up front, and ensure full capacity usage.
What's new with Commvault HyperScale X?
Commvault HyperScale X includes a new scale-out file system that improves performance, scalability, resiliency, and simplifies deployment.
Additionally, HyperScale X provides more flexible licensing options and is centrally managed using the Commvault Command Center™.
Automatic and intelligent data distribution across nodes to optimize performance
Expand in single-node increments
Tolerate any two node failures in a cluster of 6+ nodes
Simplified network configuration and reduced prerequisites
Added metadata storage for cloud copies
Commvault Command Center
A single view for managing your entire data environment
The Commvault Command Center™ is an easy-to-use, highly-customizable web-based user interface for managing your data protection and disaster recovery initiatives. With default configuration values and streamlined procedures, it saves time on routine data protection and recovery tasks.
Use the Command Center to set up your data protection environment, to identify content that you want to protect, and to initiate and monitor backups and restores. Easily access various components including downloads, forms, analytics, monitoring, reporting and more. And role-based access control enables a controlled environment for self-service, helping to reduce the load on your admins and IT support staff.
Accelerate your hybrid cloud journey with Commvault HyperScale X
Commvault HyperScale X is available in two options:
an
integrated appliance
or a
validated reference design
with Commvault software delivered on partner hardware.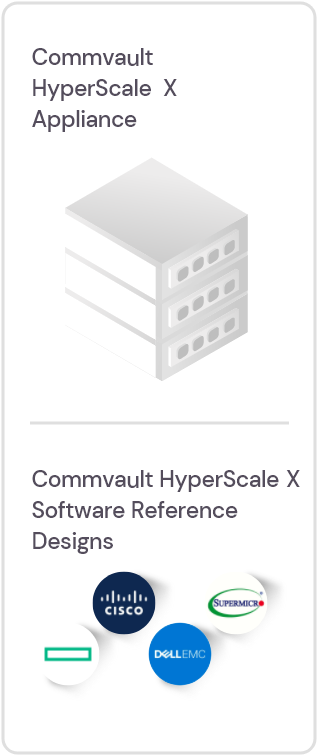 Both options combine
data protection software, operating system, compute, and storage in an integrated pre-configured solution that delivers:
Faster time to value
Eliminate identifying, testing, and optimizing the configuration
Integrated management
Save IT staff time with centralized management and reporting
Reduced capital costs
Mix and match hardware and leverage exisiting partnerships
Single patch & updates
Deploy one comprehensive patch for software updates
Scalability & flexibility
Purchase the capacity you need with no costly forklift upgrades
One point of contact for SW
Get seamless support from Commvault for any software issues
Spark New Zealand saves millions of OPEX dollars with Commvault HyperScale appliances