AWS
Modern AWS data protection and management
Enterprise-class cloud data protection and management with broad support for AWS services, API integration, and cost-optimization capabilities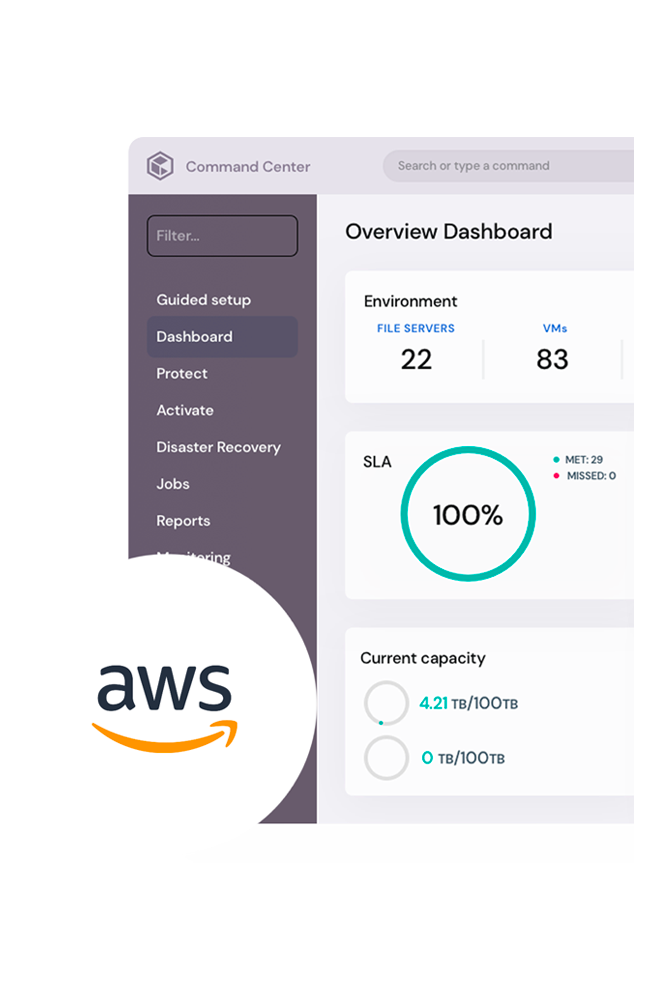 Optimize how you manage your AWS data
Broad native support for AWS services
Orchestration and management of AWS snapshots at scale across accounts and regions
Multi-layered security and protection from ransomware attacks
Cost-savings to reduce your cloud bills
Simplify how you protect and manage your data with a solution that has native support for the AWS services your organization is using today — and the ones you'll be using tomorrow. Commvault keeps you protected from ransomware and other threats while features like deduplication and compression lower your cloud spend.
Broad protection for all your AWS workloads:
Compute
Amazon Elastic Compute Cloud (EC2)
Amazon Elastic Kubernetes Service (EKS)
VMware Cloud on AWS
AWS Outposts
Storage
Amazon Simple Storage Service (S3) 
Amazon S3 Glacier / Deep Archive
Amazon Elastic Block Store (EBS)
Amazon Elastic File System (EFS)
Amazon FSx for Windows File Server
AWS Storage Gateway
Database
Amazon Relational Database Service (RDS)
Amazon DocumentDB
Amazon Redshift
Amazon DynamoDB
Amazon RDS on VMware
Amazon Aurora 
Commvault helps Parsons simplify their move to AWS
Listen to Benjamin Roper from Parsons Corporation describe how Commvault makes their AWS cloud data management easy.
Learn more about how Commvault modernizes protection for AWS
Find out how Commvault and AWS can keep you protected from ransomware attacks
Commvault is on AWS Marketplace

Getting started with Commvault has never been easier. Just a few clicks to purchase and deploy via AWS CloudFormation and you'll be up and running with the industry's broadest workload coverage. Our BYOL image includes a trial period in case you want to give it a test drive.
University of Canberra
University IT dramatically cuts storage costs while maintaining data availability with AWS and Commvault
Dow Jones
Commvault helps Dow Jones cut monthly DR expenditures by 50% or more
With Commvault for Amazon Web Services, you'll gain:
Modernized protection of AWS workloads
Protect workloads across Amazon EC2 and RDS as well as Amazon EKS containers, Amazon Redshift, Aurora, DynamoDB, and more
Business agility with workload migration
Automated migration of apps, databases, and other workloads into AWS Regions and Outposts
Enterprise- class AWS disaster recovery
Continuous replication enables sub-minute RPOs and near-zero RTOs, to align recovery to the mission criticality of your data and workloads.
Cost- saving intelligence
Deduplication and compression reduce your storage and network egress costs, while auto-scaling and power management for infrastructure and AWS Graviton support reduce compute spend
Automated, scalable AWS backups
Orchestrate and manage AWS snapshots and automate detection and protection of workloads by utilizing native AWS tags.
Multi- layered ransomware protection
Keep your organization safe with AI-based anomaly detection, advanced alerting, automated remediation, and fast recovery from immutable backups using Amazon S3 Object Lock.
Learn more about Commvault and AWS
Commvault for AWS
Commvault for VMware Cloud on AWS
Disaster Recovery on Demand with AWS