Customer Success 360: Enhanced Services Program (ESP)
Unlock the value of your investment in your Commvault Data Management Platform with a 360° level of service and support
Successful Commvault users typically achieve positive business outcomes including quicker adoption, increased productivity and a faster Return-On-Investment (ROI)
At Commvault we know that data is critical to the success of your business. Your Commvault Data Management Solution is a strategic investment that enables your business to simplify how you manage your data and unlock the value of that data. With Commvault's Customer Success 360: Enhanced Services Program (ESP), we help accelerate your data journey to quickly achieve positive business outcomes.
Why invest in Customer Success 360: Enhanced Services Program (ESP)?
The Customer Success 360: Enhanced Services Program (ESP) provides a single point of contact and a team of trusted advisors who will help guide and support your organization's data management journey with Commvault. Commvault's CS360: Enhanced Services Program will align and provide strategic and tactical resources that can assist with support, answer technical questions and trigger escalations to help you derive maximum value from your Commvault investment. The goal? Become your trusted advisor and align our teams to help you meet your unique business requirements and accelerate your path to success.
Achieve better business outcomes with the elevated 360° Service your organization requires
With Commvault's Enhanced Services Program, we partner with your team to help mitigate risk and provide proven strategies that will allow you to get the most out of your Commvault deployment. We assist with everything from general availability to access to Service Credits for Education, Professional Services, or Automation. Elevated SLAs help ensure that critical issues are responded to in an expedited and timely manner. In the event of a critical issue, our dedicated ESP team will serve as incident managers and liaise with the Commvault Support and Engineering Team to help ensure that your environment is up and running as quickly as possible.
With deep technical knowledge, the Enhanced Services team will not only address problems as they occur but will also work proactively to identify potential issues and prevent them from becoming critical.
Your dedicated Commvault Enhanced Services team will:
Provide ongoing guidance and "best practice" recommendations
Have access to a global team with deep knowledge of the technology and current trends to provide guidance that will help you continue to meet your evolving needs
Help you minimize your risk profile
Build a knowledge base specific to your unique environment, to expedite troubleshooting and facilitate resolution
Help you understand any gaps in your processes or procedures
Provide access to accelerated ticket responses
Assist in helping you obtain accelerated positive business outcomes
Commvault can help you understand and make better use of your company's data
How you make use of your company's data is constantly evolving, and the Commvault Data Management Platform continues to evolve to meet your changing requirements. Commvault's Enhanced Services Team understands this and will provide guidance on how you can accommodate change and continue to achieve positive outcomes, both strategic and tactical.
Maintain the highest level of system availability and support
The CS360 Enhanced Services Program provides:
Ability to maximize the value of your invest in your Data Management Platform
Assigned named Technical Account Managers
Assigned named Support Account Managers
A goal of increased uptime and fewer critical issues
Priority access and escalations to Commvault Product and Engineering resources
Improved overall performance of your Data Management Platform'
Engineering services tailored to your unique needs
Advanced reporting and executive briefings
Proactive monitoring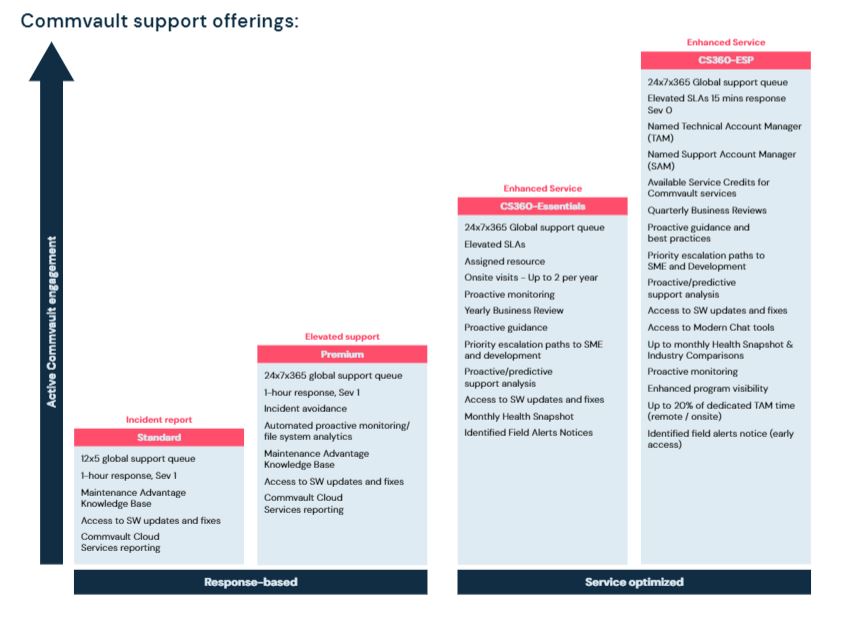 Want more information on Commvault's Customer Support 360 programs?
Please contact your Commvault representative or authorized Commvault Reseller.