Commvault is recognized as an Outperformer for
Kubernetes Data Protection
With Kubernetes development on the rise, an organization needs a flexible, multi-cloud solution to meet the need for data protection and container management.
Commvault is the best overall combination of K8s data protection and enterprise-class data management – all from one company.
Analyst report: GigaOm radar
for Kubernetes data protection
Store. Protect. Migrate
A complete platform for powerful Kubernetes data protection
Key takeaways:
Flexible. Commvault provides several purchasing options ranging from traditional perpetual licensing to subscriptions. Commvault Metallic, the SaaS data protection solution aimed at hybrid cloud deployments for organizations ranging from small businesses to the enterprise, includes support for Kubernetes.
Integrated. Commvault offers self-service capabilities for developers, thanks to the integrations with the Kubernetes RBAC system. It is compatible with all CNCF-certified distributions and integrated with CSI.
Efficient. An easy-to-use and familiar environment to operate, helping to consolidate all backup operations on a single platform.
How to read the GigaOm chart
The GigaOm Radar weighs each vendor's execution, roadmap, and ability to innovate to plot solutions along two axes, each set as opposing pairs. On the Y axis, Maturity recognizes solution stability, strength of ecosystem, and a conservative stance, while Innovation highlights technical innovation and a more aggressive approach. On the X axis, Feature Play connotes a narrow focus on niche or cutting-edge functionality, while Platform Play displays a broader platform focus and commitment to a comprehensive feature set.
The closer to center a solution sits, the better its execution and value, with top performers occupying the inner Leaders circle.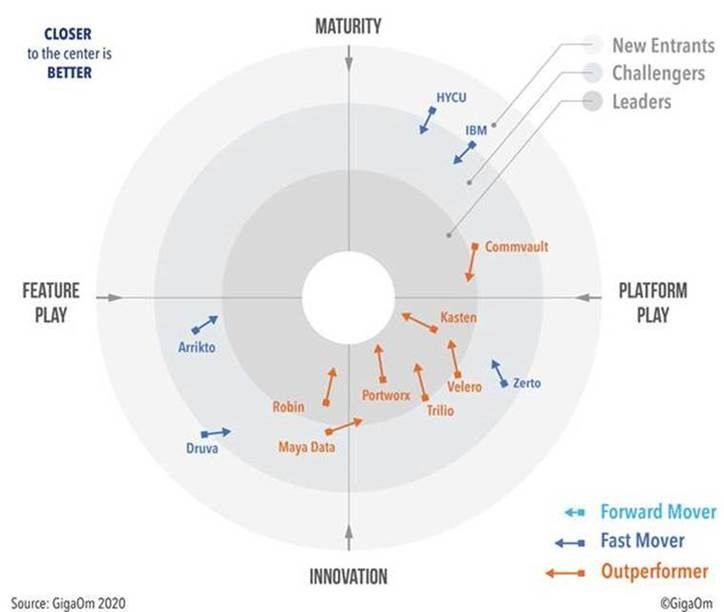 "Commvault is doing a good job of protecting traditional and Kubernetes-native workloads, with a good combination of functionality that can protect multiple types of environments and hybrid applications concurrently." *

*GigaOm Radar for Kubernetes Data Protection, Enrico Signoretti, Nov 12, 2020
Kubernetes protection
Protect your virtual machines with our award-winning BaaS, and get Kubernetes protection.