Commvault and AWS for PACS backup and archiving
Improve management of medical imaging data across the enterprise while reducing costs and improving security
For many healthcare organizations, medical imaging data represents the single biggest contributor to data growth. More than 630 million1 imaging procedures occur annually in the US, and as the technology advances and as population continues to age, the use of imaging as a diagnostic tool is expected to grow.

At the same time, many healthcare providers are revisiting their entire imaging management strategy in light of industry and technological change. AI and machine learning is being applied to diagnostic imaging to improve the accuracy of diagnoses. Ongoing mergers, acquisitions, and affiliations – in addition to the growth of telehealth – compound the challenge of effectively managing imaging data across the enterprise, and hospital IT departments are charged with protecting clinical information from cyber threats while budgets remain static and infrastructure technology continues to evolve. With the ultimate goal of delivering quality care as efficiently as possible, healthcare organizations need solutions to help them manage imaging data effectively amidst all of these industry forces.

With native integration to Amazon Web Services (AWS), Commvault offers healthcare providers a seamless way to make the cloud a strategic part of their picture archiving and communication system (PACS) – while helping reduce costs, improve agility and scalability, improve security, and to support the overall goal of high quality, cost-efficient patient care.
Key benefits of Commvault and AWS for PACS backup and archiving
Converged PACS backup and archiving increases efficiency and allows for storage cost optimization
Restore confidently, quickly and accurately – from any location – should data be compromised by ransomware or other cyberattacks with autonomous, one-button restore
Realize on-demand scalability to accommodate growing healthcare data volume
Increase agility and flexibility to optimize compute power and ensure the right compute infrastructure to derive meaning from the data
Transition away from the physical data center business by relying on the secure, scalable, and cost-effective AWS Cloud environment
Reduce costs by leveraging configurable AWS lifecycle policies to effectively tier data storage to adhere to your internal and external data management requirements
Enjoy a single view to all of your data through the Commvault administrative console, regardless of where the data is stored
Simplicity of a secure integrated solution that is GDPR-ready and complies with HIPAA
Commvault for enterprise image management
Commvault is a recognized leader2 in the backup and recovery space. For seven years running, Gartner has positioned Commvault furthest on completeness of vision on their Magic Quadrant for Data Center Backup and Recovery Solutions.3 Commvault offers solutions to help organizations manage medical images across the enterprise: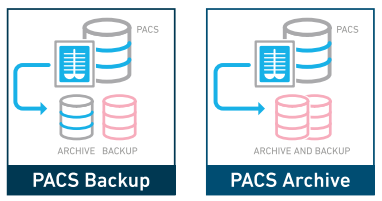 PACS BACKUP. Medical images and their associated data contain sensitive patient information and should be protected in the same way EHR data is protected. Many organizations replicate their imaging archives as a means of backup, however corrupted or compromised data that is then replicated can render both sets of data inaccessible. With the growing role that medical images will play in the delivery of patient care, these images require protection beyond that which replication alone can offer. Commvault can backup PACS data, and with integration to AWS Cloud, can do so in a way that is cost-
effective, highly scalable, and available for restore when you need it.
PACS ARCHIVING. Commvault can serve as the archive storage tier for all PACS across the entire enterprise, allowing organizations to take advantage of Commvault's strongest features: a single administrative view to all data, and freedom to leverage any infrastructure without proprietary limitations. In addition, with Commvault's OnePass technology, backup and archiving is converged into one operation, increasing efficiency and optimizing storage of data based on age and usage. This can be extended to "legacy" PACS environments to ensure these infrequently-accessed images are still protected. And with native integration between Commvault and AWS Cloud, organizations can optimize storage costs while improving data security and increasing their ability to scale to accommodate data growth and new initiatives.
AWS for healthcare providers
Healthcare providers around the world are using AWS to deliver improved care to their patients. AWS reduces the time and effort required to run existing workloads, and also provides access to powerful new analytics capabilities, all while meeting the security and data privacy requirements (like HIPAA, HITRUST and GDPR) that you expect.
You can save resources by using affordable archiving solutions to apply data lifecycle management, save space in your hospital by putting your backup servers in the cloud, and take advantage of new ways to analyze and manage patient information in your hospital information systems.
Healthcare providers are dealing with multiple pressures that are impacting the bottom line. AWS helps solve this problem by offering services that are pay-as-you-go, with no minimum spend requirements, long-term contracts, or technical lock-in.
Improve your security and compliance posture
By running on AWS, you gain access to an environment built for the world's most secure organizations. In addition, AWS makes security easier by managing over 1800 security controls4 so you don't have to.
Broad cloud-based ecosystem
AWS can help connect you with the right resources to implement your project. In addition to support offered directly by AWS, the AWS Partner Network (APN) includes technology and consulting partners covering a wide range of applications, and the AWS Marketplace offers healthcare software you deploy with one click.
Health Data Management. "Imaging's growth spurs 'unprecedented' opportunity for innovation" Feb 12, 2018 https://www.healthdatamanagement.com/news/imaging-industry-evolving-spurring-growth-in-new-areas-products
https://www.commvault.com/itleaders
Gartner Inc. "Magic Quadrant for Data Center Backup and Recovery Solutions" by Dave Russell, Robert Rhame, and Pushan Rinnen. July 2017.
Gartner does not endorse any vendor, product or service depicted in its research publications, and does not advise technology users to select only those vendors with the highest ratings or other designation. Gartner research publications consist of the opinions of Gartner's research organization and should not be construed as statements of fact. Gartner disclaims all warranties, all warranties, expressed or implied, with respect to this research, including any warranties of merchantability or fitness for a particular purpose.
https://aws.amazon.com/health/providers-and-insurers/
Commvault offers solutions and service to help healthcare providers manage medical images across their enterprise, including backup, archiving and migration.