Commvault for Google Cloud Platform (GCP)
Highlights
Integration with Google Cloud Storage — write data directly to all tiers
Agentless protection for Google Compute Engine Virtual Machine Instances
Application-consistent instance-level backups
"Incremental Forever" data protection reduces backup windows and recovery times
Move long term archive data from tape to cloud storage for lower cost, faster recovery
Ransomware Protection and WORM media for compliance with Cloud Storage Bucket Lock
Recover data securely to any recovery platform
Overview
Public cloud services have been gradually becoming more central to corporate IT strategies over the last few years, with most companies now utilizing two or more of these public clouds as an extension of their infrastructure. More recently, this adoption has accelerated drastically to accommodate the global shift to working from home. As these services becomes more and more prevalent in the corporate IT landscape, a new set of challenges around data management arises. Silos of data are being managed separately from on-premises data, without any of the same policies and SLAs that IT organizations use to ensure protection and compliance. Without a true multi-cloud data management platform, these companies are at risk of their data not being protected, available, or utilized fully to maximize its value.
Commvault offers a solution for the Google Cloud Platform (GCP) that allows you to maintain the flexibility, elasticity and resiliency of Google's cloud services, but also manage the data for those workloads with the same processes that you're using for the rest of your data. Set protection and retention policies based on your IT's data management strategy – and apply that across all your data. Migrate your applications and data between on-premises and cloud environments. Search and eDiscovery capabilities, data analytics, advanced ransomware protection — all the data services Commvault provides to on-premises data can be extended into the cloud to drive value wherever your workloads reside.
Native storage integration
Commvault provides native integration into Google Cloud Storage, providing the capability to read and write data from all classes: Standard, Nearline, Coldline, and Archive. There is no need for cloud connectors, gateways, or special hardware — within a couple of minutes you can have a Google Cloud Storage bucket configured as a storage target to be used in your data protection policies.
Replace your tapes with Google Cloud Storage
Managing the long-term retention of data has been a headache for a long time now. There's too much data to store on expensive local storage and hardware appliances are costly point solutions that still require hardware maintenance throughout their lifespan. Tape libraries have traditionally been the choice for lower cost long-term storage, but they can be difficult to maintain – especially managing the tapes after they're full. Typically, this involves physically removing the tapes from the library, making sure they're labeled correctly and then packing them up either for on-site storage or for a service to pick them up and take them offsite. If a restore is ever needed the data needs to be identified, located, transported back, and loaded back into the library to recover. In a time when working from home is extremely important to keep a lot of businesses going, all that time spent handling tapes at your data center is less than ideal.
Enter Commvault and Google. As we covered earlier, connecting Commvault to Google Cloud Storage takes a couple of minutes. From there, you've enabled a multi-tier SLA, policy-driven backup engine with limitless offsite storage for long-term retention. You can customize your data protection to leverage any and all of the Google Cloud Storage classes for different access levels to meet RTO objectives. You can even configure Cloud Storage Bucket Lock for air-gapped, WORM storage to meet any legal retention requirements or to safeguard from ransomware or other attacks.

Eliminate unreliable/fragile physical tape. Can you really depend on "the truck" to protect your data?
Save hours and hours of administrative time. Automation and orchestration eliminate manual tasks.
Free yourself from lock-in. Avoid forklift upgrades and continual hardware refreshes.
In addition to simplifying the day-to-day management significantly when compared to archival with tape libraries, the value of the Commvault solution with Google Cloud is especially obvious when you need that archived data restored. Gone are the days that you need to look up the tape number, cross-reference where that tape resides, submit a work order for the tape to be shipped back to your location, then manually bring it into the tape library to be read. Instead, Commvault knows where the data is, leverages the integration with Google Cloud storage and the data can be retrieved milliseconds later. Talk about cutting down your RTO!
Georgia State uses Google Cloud Platform to improve disaster recovery
By shifting its backup data storage into Google's cloud, Georgia State improves operations and ensures seamless data recovery.
Protect your important workloads in the cloud
Protecting public workloads using native tools can be complex. To protect AWS workloads and datasets, organizations frequently resort to creating their own scripts to orchestrate the different snapshot and replication methods available within the various AWS services. These scripts can be difficult to maintain, audit and scale as your organization takes advantage of the flexibility and elasticity of Google Cloud. Regulatory or business process requirements also might necessitate creating secondary copies of backups that reside in other clouds, increasing complexity exponentially. Commvault simplifies the entire operation with native integration and policy-driven automation, giving you the protection you need without the administrative headaches.
Commvault and its Virtual Server Agent (VSA) technology integrate into the Google Compute Engine to enable the following features:
Automatic discovery and protection of Google Compute Engine VM data
Agentless backup and restore of VMs
Application-consistent backups of critical apps with specialized agents
Synthetic full and "Incremental Forever" backup method to increase flexibility and efficiency
Service level-based data management and protection plans
Browse and restore full VMs or individual files from the guest OS
Commvault ransomware protection improves threat and risk mitigation with foundation and application hardening, pre-emptive alerts, incident remediation and reporting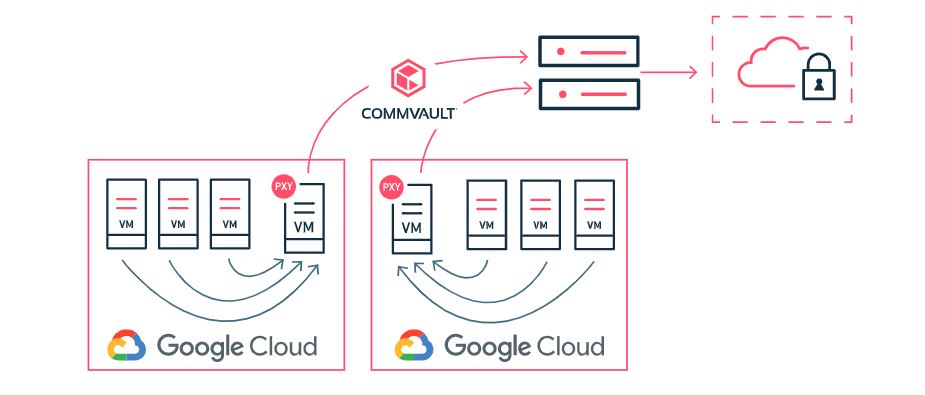 Migrate workloads, maximize flexibility, maintain control
With workloads being spread across multiple cloud providers, many organizations are forced to manage multiple disparate sets of data, each with its own methods to access and tools to manage. For those reasons, migrating data between on-premises and multi-cloud environments often requires scripting operations or significant hand holding, limiting your practical flexibility. With Commvault, migrating between clouds becomes simple. Native integration into all the major cloud vendors (support for 40-plus cloud options) provides the basis for the movement of data across your on-premises and cloud environments, and built-in automation and workflows enable the programmatic migration of data and conversion of application workloads.
Move your SAP HANA workloads to Google Cloud
Put Commvault's extensive SAP experience to work to migrate your SAP HANA workloads onto Google Cloud Platform (GCP) — and protect your data with Commvault ransomware protection.
We believe migration is more than just a one-time activity – it's important to have the flexibility to be able to move your workloads around at any time to access new, differentiated, or lower cost services to bring more value to your organization. Commvault provides the tools to move your data easily, at any time, while keeping it protected and accessible for its full lifecycle.
Flexible and easy-to-use – Your data at your fingertips
As a software-based solution, Commvault provides extreme flexibility in deployment options. It can be deployed as a completely virtual or cloud-based protection platform, depending on the needs of your business. Commvault also offers an integrated solution with its Commvault HyperScale™ technology that combines all aspects of the data management platform in a scale-out system.
After deployment, Commvault's ease of use is one of its greatest strengths. Commvault Command Center™ consolidates all configuration, management, and reporting tools into a simple-to-operate, centralized, web-based interface.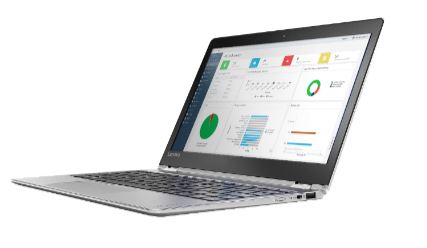 Protect, manage, monitor, and report on all your workloads across on-premises and multi-cloud environments — from a single, consolidated view.
Search/eDiscovery capabilities across all your data, no matter where it is.
Simplistic licensing model can cover all cloud workloads in an enterprise.
Summary
You rely on Google Cloud Platform to provide a reliable, scalable environment to host your data and workloads. With deep, native integration and powerful automation tools, Commvault can accelerate your migration onto GCP and provide a comprehensive data management platform to make sure you maintain full control of your data across on-premises and cloud environments. Commvault enables you to protect your data, analyze it to improve business outcomes, and migrate it across platforms to optimize flexibility — all from a single pane of glass. With these capabilities and more, Commvault is your holistic cloud data management platform, enhancing the flexibility and scalability of public cloud services by giving you complete control of your data and maximizing the value you can extract from it.
About Commvault
Commvault is a worldwide leader in delivering data readiness. We're committed to ensuring you can store, protect, manage and use your data. Always. wherever it resides. Our intelligent data management software automates mind-numbing IT tasks and makes your entire data estate work harder for you — so you can gain invaluable insights for your business. Commvault solutions work wherever your data resides — on-premises and in the cloud – with the digital tools and procedures you're already using. Keep your data protected and actionable with a single, scalable solution that ensures that your data is always available — no matter what. Commvault is available direct and through a trusted partner ecosystem. Learn more by visiting us at commvault.com or following us at @Commvault. Be ready with Commvault.
Contact us
Leverage the full capabilities of Google Cloud with Commvault data protection and management today.