Customer Success 360: Essentials Program
Unlock the value of Commvault with an enhanced level of service
Successful Commvault users typically achieve positive business outcomes including quicker adoption, increased productivity and a faster Return-On-Investment (ROI).
At Commvault, we know that data is critical to the success of your business. Your Commvault Data Management Solution is a strategic investment that enables your business to simplify how you manage that data, while unlocking the hidden business value contained in that data.
With Commvault's Customer Success 360: Essentials program, we help accelerate your data journey to quickly achieve positive business outcomes.
Why invest in Commvault's Customer Success 360: Essentials program?
The Customer Success 360: Essentials program provides a single point of contact who will help guide and support your organization's data management journey with Commvault. The goal of CS360: Essentials is to provide a tactical resource who can assist with support, answer technical questions, and trigger escalations to help you meet your unique business requirements and accelerate your path to success.
The CS360: Essentials program is designed to help you reduce the number of issues and critical instances, while improving both uptime and outcomes. This will allow you to get the most out of your investment in your Commvault Data Management Platform.
Help from the experts
With CS360: Essentials, you'll have access to an assigned resource, who will take the time to become familiar with your environment. They will identify underlying challenges and provide technical guidance on what you should do, as well as what not to do, to help ensure success with your environment. Your CS360: Essentials resource is armed with technical knowledge and internal resources, supported by Commvault Subject Matter Experts (SMEs). You'll be confident in knowing that you'll have the right guidance and support to help achieve your unique business outcomes. And should the unexpected happen, you'll have someone working closely with you to help ensure that any emergent issues are dealt with quickly and efficiently.
Your CS360: Essentials resource will have the ability to:
Provide access to accelerated ticket responses for any critical or high-severity issues
Study underlying trends and provide guidance on how to best address any issues that might arise
Help you minimize your risk profile
Help you understand any gaps in your processes or procedures
Commvault can help you understand and make better use of your company's data
How you make use of your company's data is constantly evolving, and the Commvault Data Management Platform continues to evolve to meet your changing requirements. Commvault's Enhanced Services Team understands this, and will provide guidance on how you can accommodate change and continue to achieve positive outcomes, both strategic and tactical.
Maintain the highest level of system availability and support
The Enhanced Services program provides:
Access to an assigned resource
An elevated Support Service Level Agreement
A goal for increased uptime and fewer critical incidents
Improved overall performance of your Data Management Platform
Two onsite Executive Business Reviews per year
Proactive monitoring, when Commvault Cloud reporting is enabled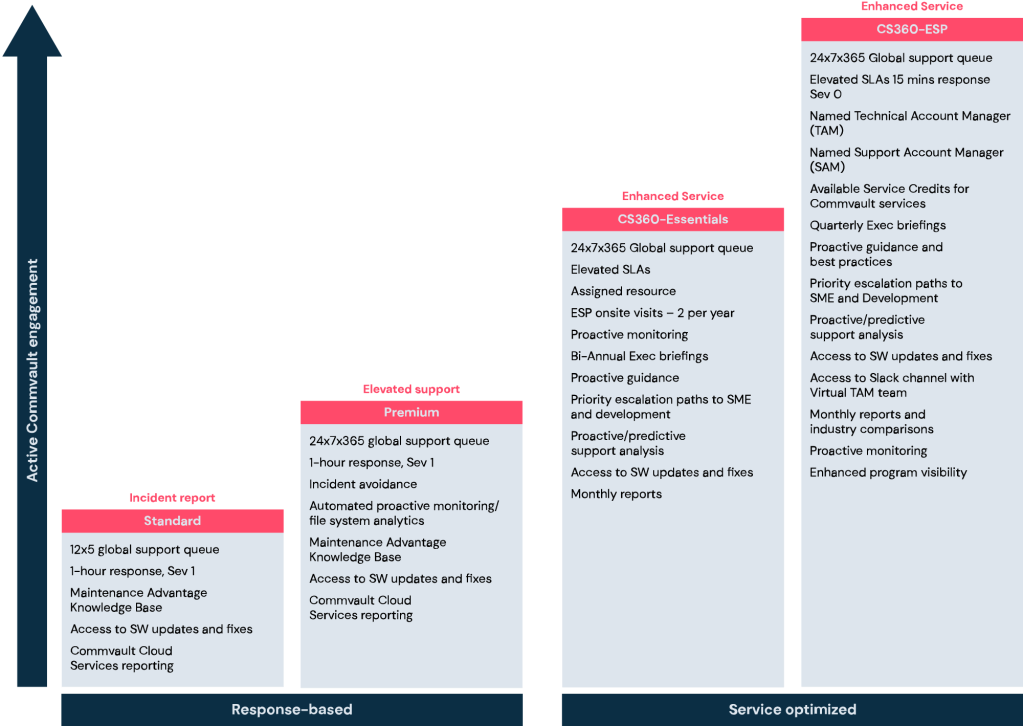 Want more information on Commvault's Customer Support 360 programs?
Please contact your Commvault representative or authorized Commvault Reseller.