Integrating Commvault with ServiceNow
April 2020
ServiceNow is a cloud-based provider of digital workflow management solutions for IT, HR and Customer Service operations. ServiceNow helps organizations take control of IT chaos and transform business by connecting the enterprise with digital IT workflows on a single, unified platform. The increased adoption of ServiceNow has organizations looking to integrate data protection solutions; however, they are often left with challenges around automation, alerting, SLA visibility and usability. To address these challenges, Commvault seamlessly integrates with ServiceNow, solving enterprise challenges with a complete data protection solution, while adhering to existing security policies and increasing operational efficiency.
Challenges, features and benefits
| Challenge | Feature | Benefit |
| --- | --- | --- |
| Automation | Service catalog-based requests automate data protection and recovery requests | Improved operational efficiency for data protection and recovery requests by reducing points of failure associated with manual ran processes |
| Alerting | Convert Commvault alerts into ServiceNow incidents | Faster status alerts for data protection and recovery operations |
| SLA visibility | Commvault role-based user access allows ServiceNow users to monitor server SLA's from ServiceNow interface | Enhanced visibility over data protection and recovery SLAs |
| Usability | Commvault Command Center™ directly integrated into ServiceNow interface | Increased operational efficiency with a single interface for ServiceNow and data protection management |
How does the integration work?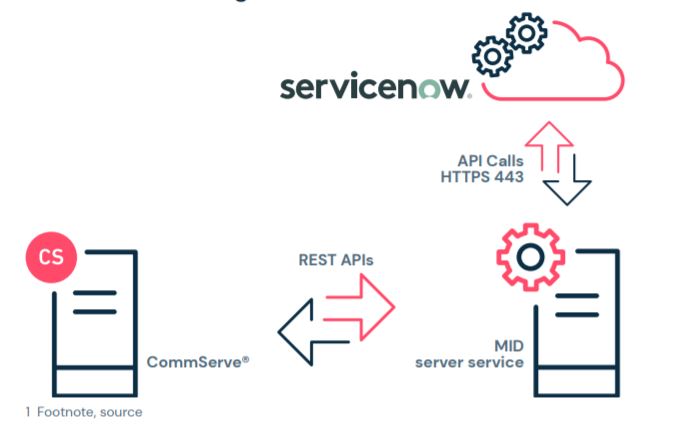 The communication between Commvault and ServiceNow is enabled via ServiceNow's Management, Instrumentation, and Discovery (MID) server service. This MID server service is installed on the Commvault server that manages all of your data protection and recovery jobs, known as the CommServe® . This service enables the communication between the ServiceNow portal and Commvault, allowing for seamless integration.
Key features
Data protection a a Service
Commvault users can be assigned different levels of access to perform specific tasks associated with data protection, i.e., backup, restore, add a server for protection, or run an SLA report. These tasks can be performed directly from within the ServiceNow interface without the need to contact your backup team or use a separate interface.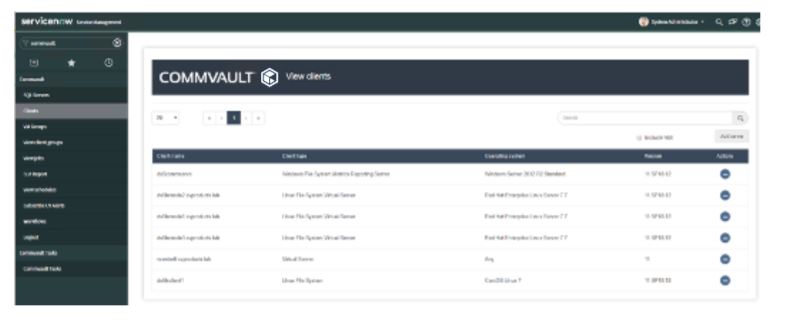 Automated data protection service – Service Catalog
Using the Commvault Service Catalog, ServiceNow users can request to back up or restore individual virtual machines, allowing for more efficient operation and incident management. Commvault administrators can then approve, reject, or delete these requests.

Automated alert management
UCritical data protection alerts, such as backup job errors or failures, can be managed effectively by subscribing to Commvault alerts. These alerts will automatically be tracked as ServiceNow incidents for improved visibility over your data protection operations.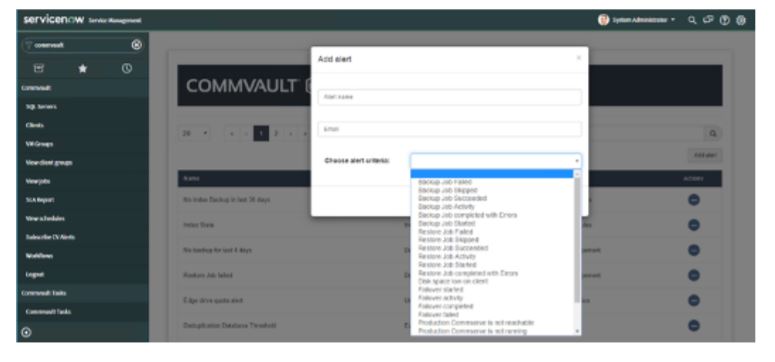 Self-service SLA management
Allows ServiceNow users to view backup and recovery job SLAs, backup job schedules and job details (both live and historical) to ensure job completion is within an acceptable operation window.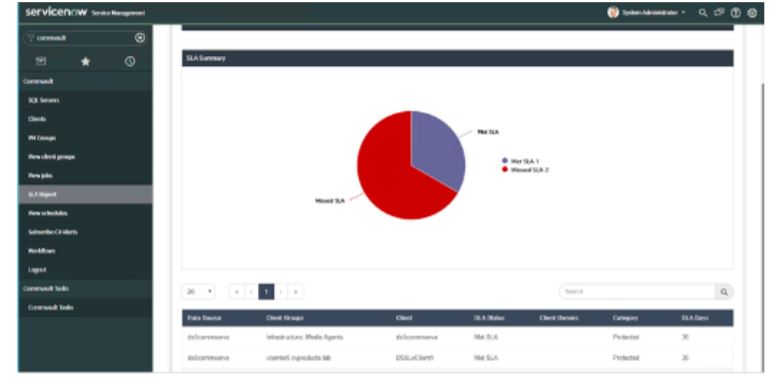 Summary
With the integration of Commvault and ServiceNow, you will be able to solve your organization's challenges around automation, alerting, SLA visibility and usability. Commvault's seamless integration provides a complete data protection solution while adhering to your organization's existing security policies to increase your operational efficiency.
Seamless integration
ServiceNow
Perform data protection and recovery operations from within your ServiceNow interface – increasing your operational efficiency and ensuring you are meeting your most critical SLAs.