Is your current solution not living up to expectations?
Tired of a solution that's barely keeping up with your business and technology needs?  With Commvault's proven innovation in the cloud, with containers, and across SaaS and PaaS applications – we have you covered.
Unify your data management with Commvault
One UI. One platform. One place for all your global data management needs.
Built-in security features for ransomware detection, immutability, data isolation, and recovery.
Reduce data fragmentation by seamlessly protecting your SaaS, Office365, and container workloads alongside your on-premises and cloud data within a single platform.
Unified governance, file storage analytics, eDiscovery – all built-in to classify and secure your data.

Separate tools, interfaces, and infrastructure for SaaS, cloud, archive, endpoint, and disaster recovery.
Requires separate tools and 3rd party solutions for core cyber security functionality.
No integration between SaaS backup solution and core backup solutions – creating more data siloes.
Which of their multiple overlapping products do you choose? Either way you're adding further complexity.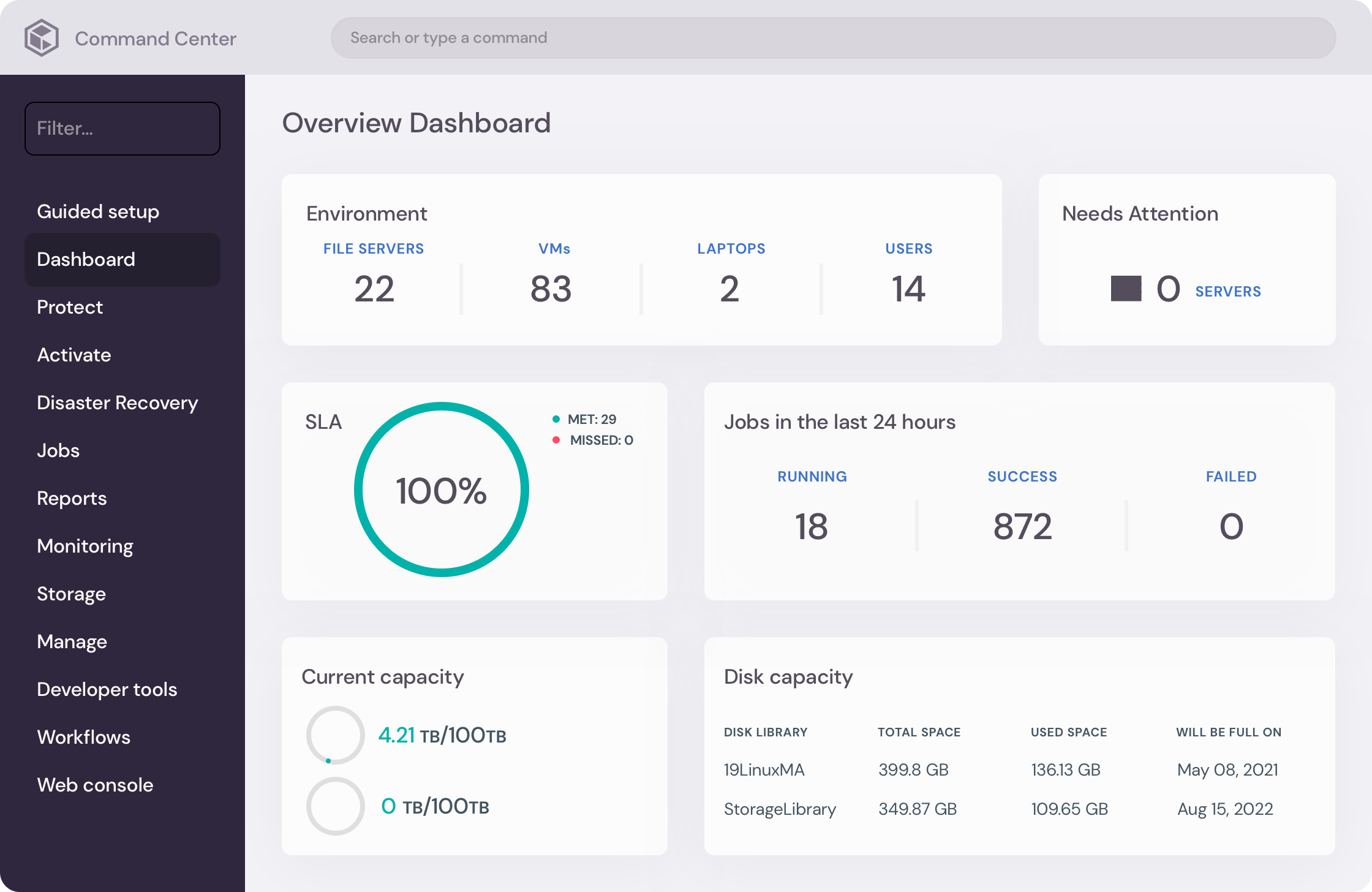 Business Transformation Consulting
Best-in class customer support
Not only does Commvault support more and delivers in within a single, unified platform, but our best-in-class customer support is there to help you along the way. Growing support offerings like managed services and proactive monitoring as well as expanding service models with new solutions like Business Transformation Consulting ensure that you and your data are assisted.
For your needs now and in the future
Your infrastructure requires a solution that can keep up with the evolving needs of your org. Say goodbye to point products that only increase cost and complexity.
Getting ready to make a switch?
Download our guide to learn how easy it is to switch from Veritas to Commvault.
Important:
The information contained herein was based on publicly available information as of the date this analysis was prepared. Commvault makes no representations or warranties about the accuracy of the information. Information about Commvault software and services can be found in our product documentation and earlier versions. Specifications are subject to change without notice.