Commvault
Disaster Recovery
Ensure business continuity and verifiable recoverability across on-prem and cloud environments, delivering replication, disaster recovery, and compliance reporting.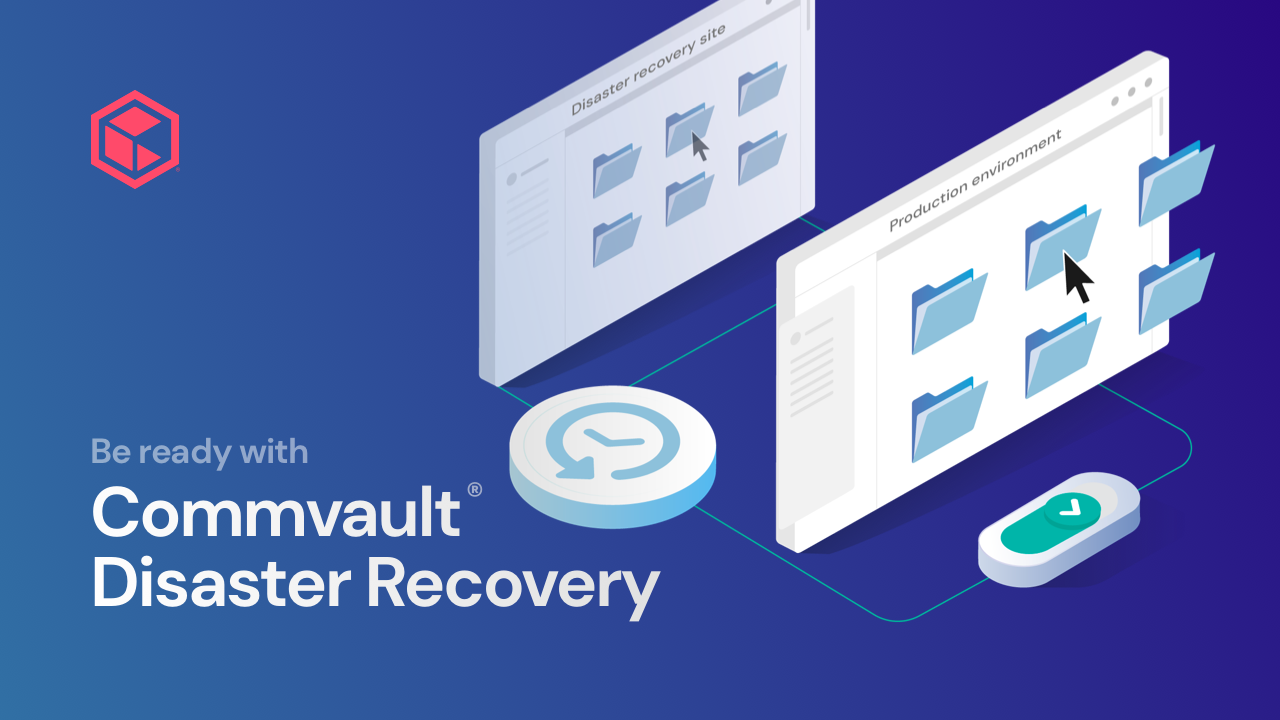 Simple, flexible & scalable
As the number and types of your workloads increase – cloud, VMs, containers, applications, databases, and endpoints – so does the complexity of protecting and managing them. Commvault Disaster Recovery software is easy to implement, extensible, and cost-effective delivering replication, disaster recovery, and compliance reporting, all managed through a single, web-based interface.
Simple, scalable replication and disaster recovery orchestration
DR script automation and one-click failover and failback for easy implementation and simple operation
Automated discovery of outages with failover to minimize operational disruptions
Fast VM, application, and storage snapshot replication, enabling sub-minute RPOs and near zero RTOs
Verifiable recovery and automated compliance reporting
Validate DR replicas via copy data management to ensure they can be put into production if needed
Test upgrades and patches
Automated compliance reporting
Scalable, cost-optimized cloud data mobility
Easily back up, recover, and move data and workloads to/from/within/between clouds
Reduce costs with minimal infrastructure requirements in the cloud or on-premises
Optimize cloud vs on-premises location of data and workloads via policy-driven automation
And, it integrates seamlessly with Commvault Backup & Recovery, for complete data protection, should your data management requirements go beyond Disaster Recovery.
Commvault Intelligent Data Services
Commvault Disaster Recovery is part of Commvault's Intelligent Data Services Platform that enables organizations to proactively simplify and manage the complexity of enterprise data.

"It has simplified disaster recovery and we have used it for migration as well."

"It's great as a DR solution because it has a lot of capabilities for syncing with a cloud provider. But if you want to keep everything in-house, it's great that way as well…"

"Live Sync replicates incremental data to remote locations. If you lose your primary data center, you just enable the replicated machines in your DR location so you don't need to restore data"
Check out Complete Data Protection
Mastering modern disaster recovery:
Why Customers trust Commvault to be Recovery Ready
Watch the video
From hurricanes to ransomware
The very nature of disasters – and how you recover from them – has changed dramatically. A spike in scams, phishing, ransomware, and malware across all platforms and attack vectors is a direct result of cybercriminals leveraging pandemic-related work-from-home scenarios. This adds to the traditional threats posed by natural disasters, weather events, infrastructure failure, and human error. But with Commvault, you can be confident that you're ready for whatever might come your way!
A robust feature set with flexibility and
scalability in mind
Commvault addresses the complexity of mixed workloads, head-on. With support for multiple data types – including applications, databases, virtual machines and hypervisors – along with multi-cloud integration, one-click failover, multi-tenancy support, live replication, and intuitive reporting, Commvault allows you to protect and recover your entire data environment, wherever it resides. And by enabling you to leverage your protected data through Copy Data Management, Commvault provides a cost-effective means to extract more business value from your data, for such things as DevOps, testing, and analytics, helping to reduce storage cost and improving business outcomes.

Commvault Command Center
A single view for managing your entire data environment
The Commvault Command Center™ is an easy-to-use, highly-customizable web-based user interface for managing your data protection and disaster recovery initiatives. With default configuration values and streamlined procedures, it saves time on routine data protection and recovery tasks.
Use the Command Center to set up your data protection environment, to identify content that you want to protect, and to initiate and monitor backups and restores. Easily access various components including downloads, forms, analytics, monitoring, reporting and more. And role-based access control enables a controlled environment for self-service, helping to reduce the load on your admins and IT support staff.
The Command Center enables single-pane-of glass management across multi-CommCell estates, to increase agility and reduce administrative costs.
Want to try it out?
Now you can with the Commvault® Disaster Recovery 30-day Free Trial