Commvault® eDiscovery & Compliance
Enable faster responses to legal and compliance requests.
Be Ready with eDiscovery & Compliance
Prevent costly compliance breaches.
In 2020, the SEC alone brought 715 enforcement actions for non-compliance, totaling approximately $4.68 billion USD in penalties – the highest amount on record.1
Fines against global financial institutions for non-compliance reached $10.4 billion in 2020.2
Streamline data collection while maintaining regulatory compliance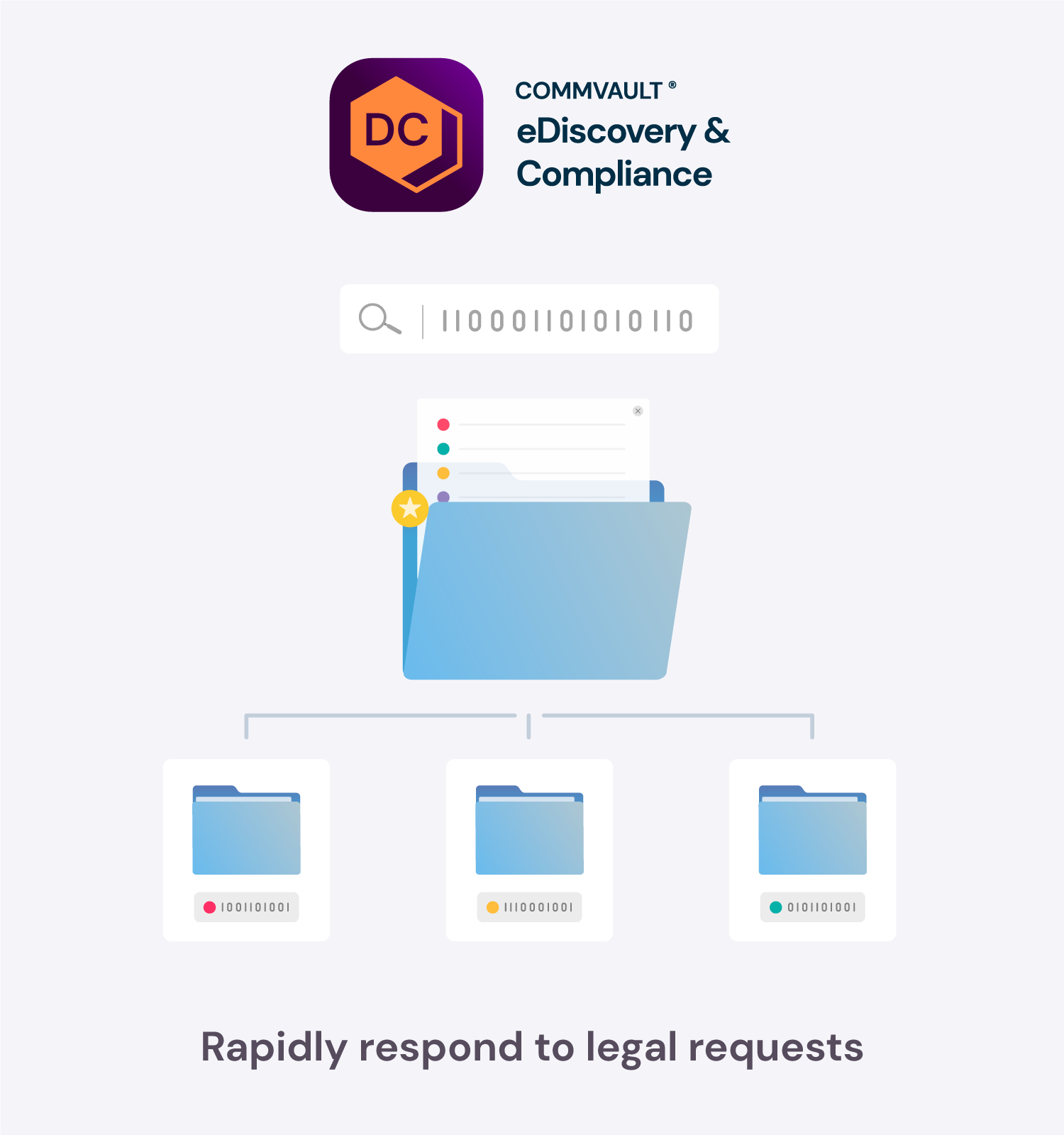 Provide a fast, efficient, and scalable data collection solution for eDiscovery purposes with a means to quickly collect electronically stored information (ESI), including emails and documents for investigations, legal and compliance matters, and Freedom of Information Act (FIOA) / Open Records requests.
Accelerate search and review of electronically stored information (ESI)
Enable simple searches of ESI using advanced search techniques (e.g., fuzzy, proximity) on content and filtering of email/file metadata
Improve eDiscovery and compliance tasks with enhanced case management review features such as tagging
Expedite export of relevant data in multi-format for use by third parties and external systems
Streamline and automate the collection of ESI
Improve operational efficiency by automatically capturing data for custodians or file locations based on rules, search criteria, and content filters
Increase productivity of data collection through supporting one-time, scheduled, or continuous operations
Greatly reduce times for collection of ESI through the use of pre-indexed backups
Assure trusted data and establish chain-of-custody
Ensure that original data cannot be lost or modified by proactively preserving ESI from immutable backups
Safeguard case folders and their contents from default data retention policies by creating legal holds
Establish chain-of-custody and trust in the data for legal and compliance purposes
Commvault Intelligent Data Services
Commvault® eDiscovery & Compliance is a part of Commvault's Intelligent Data Services Platform that enables organizations to proactively simplify and manage the complexity of enterprise data.
Commvault Command Center
A single view to manage your entire data environment
Commvault Command Center™ offers a single dashboard to manage your entire data environment. Identify data you want to protect, monitor backups and restores, and easily access analytics. Default configurations and streamlined procedures save time and role-based access enables self-service capabilities, reducing the load on your IT staff.
City of Everett secures Office 365 data and makes discovery 3X faster
DenizBank cuts OPEX by 50% and increases agility with Commvault
Expand your data insights capabilities using Commvault® File Storage Optimization
to eliminate redundancy, lower costs, and reduce risk for your data, and Commvault® Data Governance to define, find, and manage your sensitive data.
References:
1. SEC – 2020 Annual Report
2. Compliance Week – Report: Fines against financial institutions hit $10.4B in 2020