Centralized management and state-of-the-art data protection for business environments with Commvault
Challenge
Meeting the new demands of companies in the field of digital transformation
Ability to support multiple technologies from a single platform
Simplified and centralized management, optimizing IT resources
Coverage for current needs, scalability for future growth
Solution
A high-end cloud backup service based on Commvault technology
Leading technology to safeguard the most critical environments
Centralized management that allows an accurate approach to the different solutions
Result
A solid backup and recovery service that ensures data availability in all circumstances
Centralized management that simplifies the workload and optimizes IT resources
A stable, scalable platform that allows optimal coverage for large volumes of data
A 60% reduction in dedicated storage costs
An improvement of more than 70% in service response times
---
Acens, one of the hosting service provider pioneers in Spain and part of the Telefonica Group offers housing services (also known as co-location services) and communication solutions for businesses, especially for the small and medium business sector (SME). With nearly 20 years of history, it serves more than 60,000 clients in countries such as Spain, Brazil, Mexico and Peru through two data centers located in Spain, one in Madrid and the other in Barcelona.
"Within the Telefonica group, Acens offers flexible, secure and effective solutions for both SMEs and large enterprises across public, private or hybrid cloud environments, as well as 'traditional' hosting services (mail, presence, SEO…), among others," explains Ricardo de la Cruz, Security and Private Cloud Product Manager at Acens. "We're talking about innovative projects tailored to each type of business."
What are the characteristics of SMEs? "Compared with a large enterprise, the main difference is related to their IT resources, which are often limited, and as a result, they require flexible and straightforward solutions that do not involve additional costs for their business."
"Acens offers a broad portfolio that complements extensive experience in the SME segment. This feature, coupled with our flexibility to adapt to the requirements of each company, allows us to have products and services that fully fit the needs of our clients," explains Ricardo de la Cruz.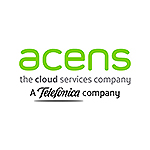 Industry
Advanced Hosting Services

Headquarters
Alcobendas (Madrid, Spain)

Website
Activity
Data centers
2 (Madrid and Barcelona), 6.000 m2
Clients
Volume of data
Storage Infrastructure
Network Infrastructure
Operating Systems
Physical Servers: Windows, Unix, Linux, Mac
Virtualized Servers: VMware/ HyperV
Applications
Mail: Exchange, Lotus
Share Point
Niche Applications
Databases
Oracle
Microsoft
MySQL
PostgreSQL
Informix
Media agents
Processing Infrastructure
Dedicated Servers: + 2,000
Virtual Machines: + 5,000
60%
reduction in dedicated storage costs, and improved service response times estimated to be 70%.
The challenge: Data integrity and reliable access to information
Within the disruption of digital transformation that companies face, Acens has especially focused on one area: data integrity with guaranteed access to information by their customers. The capacity and criticality of information stored by companies has increased exponentially in recent years, so it is essential to provide a solid backup and recovery service to ensure information availability in all circumstances.
As a global supplier, Acens has experienced firsthand the cloud explosion. "Digital transformation is underway" assures Ricardo de la Cruz. "Acens, as a leading MSP, has always offered technologies that allowed backup to ensure data availability for our clients," explains Ricardo de la Cruz "but the rise of cloud models presents new scenarios which in turn generate new challenges. On one hand, attend to this backup demand of various technologies from a single platform to centralize and simplify management, thus optimizing IT resources; and, on the other, it offers a strong market tool with a solution base to meet all current needs ensuring continuity and evolution of the product in the future."
An innovative approach: Multi-site management, but still centralized
To meet this need, Acens has chosen Commvault. "The main reason is that this vendor meets all our requirements with high-level software that fully fits with our needs."
Ricardo de la Cruz also highlights the consolidation provided by the centralized management. "After analyzing the solutions on the market, we saw that Commvault is a reference point also in this regard," he explains, "as it guarantees investment in the future. It is a technology that progresses through several research and development lines, aligned with market developments in the medium and long term."
Every day Acens handles thousands of dedicated servers and VMs from hosting environments for tens of thousands of customers, which means managing hundreds of TBs, backed with source deduplication, which in turn translates into petabytes of information stored in its data centers. "And growing" Ricardo de la Cruz says. In this sense, Acens provides all the necessary resources to facilitate the use and deployment of backup services ensuring a good experience: "We offer everything they need in terms of software, documentation, support … so that they can deploy the solution in their facilities and make use of it in a simple and self-managed manner."
In addition to offering companies the possibility of having a high-end cloud-based backup with Commvault technology, Acens makes use of this technology to support its own critical environments, thanks to an ecosystem of media agents that provide platform for hypervisors, databases, operating systems or mail, among others.
We now have a consolidated, reliable and scalable data management platform, which provides a suitable approach to the different solutions that our customers demand.

–Ricardo de la Cruz
Product Manager, Security and Private Cloud, Acens
Benefits: Flexibility, scalability, security – no surprises
With the implementation of the Commvault platform and through its data deduplication and compression technologies, Acens has leveraged the opportunity to consolidate its backup services on physical disk to the detriment of traditional systems, enabling optimized processes to cover large data volumes. "In addition, we've had a reduction of around 60% in dedicated storage costs," explains Ricardo de la Cruz, "and improved service response times around 70%."
Another key aspect is centralized management. "It's one of the main needs we had: to have a data management platform that allows an accurate approach to the different service solutions." With the deployed architecture, Acens can now safeguard its customers' data, with the option for them of autonomously running recovery efforts when necessary. Apart from traditional media agents, Acens also works to integrate its backup policies with other platforms — for example, those concerning storage with HP or NetApp solutions.
"We are very pleased with the flexibility provided by the Commvault solution, as it has given us stability and scalability, along with a strong management capacity," points out Ricardo de la Cruz, who insists on the other key factor in the choice: the human factor. "It is a key element, and it has been decisive throughout this time."
GDPR: Adapting to new European data protection laws
In May 2018, the European Data Protection Regulation (GDPR) comes into force, which will require organisations to adopt a new culture in the way they manage the information they handle through their activity.
The legislation includes the new "data protection officer" concept, which is a role to monitor compliance, and it can be done by someone from the company staff or by an outsourced IT platform. Likewise, companies must adapt their own systems or go for these outsourced platforms. "Many SMEs will opt for the outsourcing," explains Ricardo de la Cruz, "so they will have to depend on a reliable entity to meet their obligations and ensure confidentiality and availability for their data. And in this scenario is where the figure of a trusted supplier, like Acens, is key."
Responsible for its clients' files and data, Acens is adapting its platform and services to the new regulations, relying on the most innovative technologies. "This adaptation work is easier by having certifications such as AENOR's ISO 27001, which it is recognized by Information Security Management System (ISMS) and implemented in our data center of Madrid since 10 years ago." In addition, Acens has a team of experts who can advise on the most suitable services for compliance.
Future plans: Collaborating to innovate
Having solved the equation of management and protection for its customers' data, Acens now has a new objective: to offer a "360 degree" backup service. "We want to offer our customers a self-management model, with a simple and supported installation for all types of platforms."
The goal is to continue to move the platform to a multi-tenant model and an even easier backup management for the user.
Commvault Complete Backup and Recovery
You need a solution that allows your company to innovate and grow while keeping the business running uninterrupted, proactively enabling rapid change and applying effective governance in the face of regulatory shifts.