Emirates Steel accelerates digitalization and cloud adoption with Commvault
Middle East steel manufacturer cuts database restore times by 50% and lowers operational costs by reducing data center footprint by 50%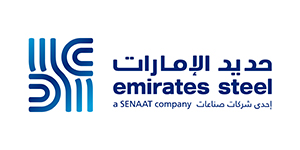 Industry
Manufacturing
Headquarters
Abu Dhabi, UAE

Website
http://www.emiratessteel.com
In numbers
11 production plants
2,800 employees
3.5 million tons of products manufactured every year
Challenge
Lengthy restore process for critical datasets puts business continuity at risk
Distributed backup systems and policies increase complexity and hinder compliance
Growing cost of data center operations and primary storage
Evolving backup needs due to public cloud adoption and IT/OT convergence
Solution
Commvault Complete™ Backup & Recovery provides centralized protection for 400 terabytes of production and operational data
Commvault HyperScale™ provides flexible capacity and enables simplified management
Result
Reduces restores from three hours to 90 minutes with sub-10 minute recoveries from snapshots
5:1 deduplication rate and 50% reduction in data center footprint decreases energy consumption and operational costs
Optimizes business continuity and safeguards steel production
Future-proofs adoption of new technologies and introduction of new services
Commvault helps accelerate our digital roadmap and makes it easier for us to add new services and datasets.

— Mohammed Azam, IT Infrastructure Head | Emirates Steel
Support digitalization with smarter data protection
Digitalization is critical to Emirates Steel maintaining its position as one of the Middle East's leading steel manufacturers. As its business processes and IT platforms evolve, protecting data remains a top priority.
"Commvault gives us the scalability and flexibility we need to meet existing and emerging data protection requirements," says Mohammed Azam, IT Infrastructure Head at Emirates Steel. "
It helps accelerate our digital roadmap and makes it easier for us to add new services and datasets."Emirates Steel's digitalization efforts include moving its SAP sales, manufacturing, finance and CRM modules to the cloud and adopting SAP HANA. It is primed to go live with Microsoft Office 365, Microsoft SharePoint Online and Microsoft Azure as soon as data sovereignty is assured.
"Commvault's interoperability with both public cloud and on-premises environments means we can make IT investment decisions that boost our competitive advantage without having to worry about backup."
50%
reduction in data center footprint and 50% reduction in database restore times.
Smaller data center footprint reduces operational costs
Headquartered in Abu Dhabi, Emirates Steel is wholly government-owned. At full capacity, its 11 plants produce 3.5 million tons of steel products annually for the construction industry. With business goals focused on efficiency and competitiveness, the manufacturer routinely invests in new technology.
Emirates Steel had already consolidated the backup of its central systems on Commvault Complete™ Backup & Recovery but needed to find a more cost-effective approach to storage.
"We needed to scale up and scale out," says Azam. "We had a mix of tape libraries and Dell hardware underpinning the Commvault solution – a lot of which were coming to end of life.
"Backup was a challenge with underlying technology scattered across different environments and running on aging Dell hardware. I initially liked another solution's simple interface, but realized at the Commvault GO® event that Commvault HyperScale™ proved a more effective solution with an interface that was just as user-friendly but with the critical difference that we installed it easily and it works perfectly across our complex environment."
Commvault Complete Backup & Recovery and Commvault HyperScale protect 400 terabytes of data hosted across SAP systems, SQL databases, email archives and 20 virtual machines. Commvault's deduplication capabilities compress this footprint to 70 terabytes, allowing Emirates Steel to save on expensive primary storage. "The data center footprint has reduced by 50 percent," adds Azam. "Lower power and cooling consumption make it more economical to run."
Safeguarding business continuity with rapid restores
Emirates Steel has also been able to boost efficiency and safeguard its manufacturing supply chain by maximizing data availability. The day-to-day operations of its plants depend on a reliable flow of financial data, shipping information, procurement orders and HR records, which are primarily hosted on the company's seven-terabyte SAP environment and multi-platform databases.
"With Commvault, we can restore a critical database in less than 90 minutes compared with three hours previously," says Azam. IntelliSnap software enables Azam and his team to recover database snapshots – which are taken as regularly as every four minutes for critical assets – in less than 10 minutes.
Two Commvault HyperScale™ clusters replicate data between the data center and the disaster recovery site to provide robust business continuity capabilities. If the replication process is interrupted, it is automatically restarted by LiveSync at the same point.
"Commvault gives us confidence that we can recover rapidly from any scenario, including potential ransomware attacks," confirms Azam. A "bubble network" between the two sites allows Emirates Steel to conduct disaster recovery tests directly on servers without moving virtual machines. "I love the fact applications get synchronized immediately, and I can easily test any server at any time from the Commvault Command Center," adds Azam. "The HyperScale™ version is more interactive; anyone can use it.
Empowering users to manage data
Commvault's self-service capabilities mean users can manage their data instead of always relying on support from the IT team, which reduces operational costs. Even complex SAP systems can be backed up and recovered by SAP administrators. The scalability and flexibility of the Commvault platform mean that Emirates Steel can take its backup consolidation one step further by adding data from manufacturing assets in its 11 production plants once they've been networked.
"Any disruption to our operational systems and the production of steel would have a national impact," explains Azam. The company currently uses multiple solutions, which could put data availability and integrity at risk. "Life before Commvault was a massive challenge," says Azam. "Now it's easy. By providing a one-stop shop for data protection, it reduces cost, complexity and risk."
Key assets protected
SAP ERP, CRM and MaxDB environments
SQL Server and Oracle databases
Microsoft Exchange and SharePoint
20 VMware virtual machines
Backup environment
Commvault Complete Backup & Recovery
Commvault HyperScale
400 terabytes of data
Commvault HyperScale
A single, easy-to-use software package that accelerates deployment, management and support. With validated reference designs from eight leading technology companies.