Commvault Activate™ datasheet
Be ready to know more about your data
Today's businesses are increasingly reliant upon data to make informed decisions. With so much data out there, you need intelligent solutions to help you find and sort the valuable data from the redundant. A recent study showed that only 54% of companies know where all their sensitive data is stored. Unfortunately, what you don't know can hurt your business in a big way – data loss, data breach, compliance failures and higher infrastructure costs. What you need is more insight to your data.
Your data: Know it. Act on it.
By knowing more about your primary and secondary data you can more efficiently anticipate and respond to changing business needs. In short, with better data you can make better decisions. Knowing your data means:
You can analyze your data across silos to classify and prioritize it – reducing data sprawl and more efficiently managingyour resources
You can visualize key details such as what data resides where, who owns it, is it sensitive and is it secured and protected
You can remediate orphaned data, quarantine or delete sensitive files and rapidly respond to eDiscovery or compliance requests – reducing your risks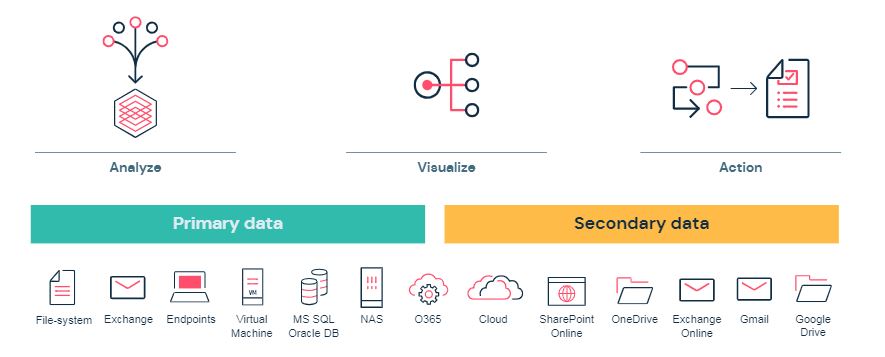 ---
What benefits will you see with Commvault?

Activate your data: Find value. Reduce risk.
Commvault Activate™ is a solution that can operate independent of Commvault Complete™ or as part of a combined solution to maximize data management capabilities for your business. This means that with Activate you can gain insights to data that isn't managed by Commvault to drive analytics, and other tasks against those data sources.
Regardless of if you leverage Activate independently or combined with Complete, it can support your data strategies through these key use cases: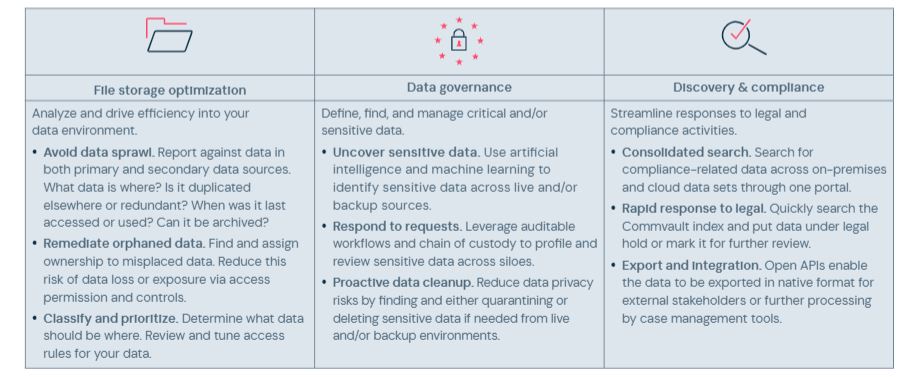 Resources
1 https://cpl.thalesgroup.com/data-security-confidence-index
2 Our Top Data and Analytics Predicts for 2019 – Gartner (Jan 3, 2019)
3 https://www.techvalidate.com/tvid/573-BB4-063
4 https://www.commvault.com/quantifying-the-business-value-of-commvault-software
Commvault Activate
An insight toolset for utilizing your data in business, search, discovery and governance contexts. Commvault Activate can help you overcome your data governance and compliance challenges.