Commvault HyperScale™ Appliance 1300
Technical specifications
Commvault HyperScale Appliances are data protection solutions that tightly integrate compute, storage and Commvault Complete™ Backup & Recovery software with a scale-out infrastructure. Built on Commvault's industry-leading technology, it allows you to significantly decrease complexity and cost while increasing both scalability and IT agility across the data center and the cloud. Because this solution is pre-designed, built, sold and supported by Commvault, you'll save time in hardware acquisition, installation and integration, daily management and patching and updating. Plus, you'll enjoy streamlined, single-call support for the entire solution.
Commvault HyperScale Appliance 1300 is ideal for enterprise environments requiring simple, easy-to-use solutions for data protection starting at 29 TB usable capacity.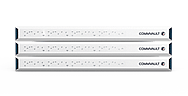 Commvault HyperScale Appliance 1300 is a modern solution for today's enterprises; providing scale-out backup and recovery with cloud-like scale, flexibility and cost.
Per node
Per block (3 nodes)
SYSTEM CAPACITY (RAW)1
N/A
48, 72, 96, 144 TB
SYSTEM CAPACITY (USEABLE)2
N/A
29, 43, 58, 87 TB
HARD DISK DRIVE
N/A
12 qty – SAS, 12 GB/s, 4TB, 7,200 rpm, 512n, hot-plug, 3.5-inch
12 qty – SAS, 12 GB/s, 6TB, 7,200 rpm, 512n, hot-plug, 3.5-inch
12 qty – SAS, 12 GB/s, 8TB, 7,200 rpm, 512n, hot-plug, 3.5-inch
12 qty – SAS, 12 GB/s, 12TB, 7,200 rpm, 512n, hot-plug, 3.5-inch
M.2-BASED FLASH STORAGE
150 GB
450 GB
NVME PCIE CAPACITY
(DDB/INDEX CACHE)
2 TB
6 TB
MEMORY
128 GB DDR4
384 GB DDR4
COMPUTE
2 x Intel Xeon Silver
4108 8C 1.80 GHz
6 x Intel Xeon Silver
4108 8C 1.80 GHz
CHIPSET
Intel® C624
Intel® C624
ON-BOARD NETWORK CONNECTIVITY
4 x 10 GbE
2 x 1 GbE
1 x 1 GbE iRMC
12 x 10 GbE
6 x 1 GbE3
3 x 1 GbE iRMC
OPERATING ENVIRONMENT
Commvault HyperScale™ Software
Commvault HyperScale™ Software
OPTIONAL ADD-IN CARDS
16 GB Dual Port PCIe FC HBA
12 GB SAS Dual Port PCIe HBA
16 GB Dual Port PCIe FC HBA
12 GB SAS Dual Port PCIe HBA
WEIGHT
up to 16 kg
(up to 36 lbs)
up to 48 kg
(up to 106 lbs)
DIMENSIONS
1 Rack Units
483mm (Bezel) / 435mm (Body)
x 770.7 mm x 43 mm
(19" (Bezel) / 17.1" (Body) x 30.3" x 1.7")
3 Rack Units
483mm (Bezel) / 435 mm (Body)
x 770.7 mm x 43 mm
(19" (Bezel) / 17.1" (Body) x 30.3" x 1.7")
MOUNTING RACK DEPTH
748.2 mm per node
29.46" per node
748.2 mm per node
29.46" per node
POWER SUPPLY
2 x hot-plug power supply for redundancy per node
450 W hot-plug, 94% (Platinum efficiency), 100 – 240 V, 50/60 Hz
2 x hot-plug power supply for redundancy per node
450 W hot-plug, 94% (Platinum efficiency), 100 – 240 V, 50/60 Hz
RATED VOLTAGE RANGE
100 V to 240 V (Platinum)
200 V to 240 V (Titanium)
100 V to 240 V (Platinum)
200 V to 240 V (Titanium)
FREQUENCY
50 Hz – 60 Hz
50 Hz – 60 Hz
MAX. RATED CURRENT
10.5 A / 5.0 A
10.5 A / 5.0 A
ACTIVE POWER
(Max. configuration)
883 W
2,649 W
APPARENT POWER
(Max. configuration)
892 VA
2,676 VA
HEAT DISSIPATION
3179 KJ/h (3013 BTU/h)
9,537 KJ/h (9,039 BTU/h)
MAIN POWER FUSE
16 A
16 A
PROTECTION CLASS
I
I
OPERATING AMBIENT TEMPERATURE
5 to 35 ºC (41 – 95 ºF)
5 to 35 ºC (41 – 95 ºF)
OPERATION (3K2)
5 ºC to 40 ºC (with ATD 40 ºC)
5 ºC to 45 ºC (with ATD 45 ºC)
10 ºC to 35 ºC (without ATD)
5 ºC to 40 ºC (with ATD 40 ºC)
5 ºC to 45 ºC (with ATD 45 ºC)
10 ºC to 35 ºC (without ATD)
TRANSPORT (2K2)
Temeperature
-25 ºC to 60 ºC
-25 ºC to 60 ºC
OPERATING RELATIVE HUMIDITY
10 – 85 % (non condensing)
10 – 85 % (non condensing)
WARRANTY COVERAGE
Onsite Warranty – Next Business Day
Onsite Warranty – Next Business Day
SOFTWARE MAINTENANCE4
Premium Software Maintenance
Premium Software Maintenance
MANAGEMENT TOOLS
Commvault Command Center™, CLI, Easy Setup Wizard
Commvault Command Center™, CLI, Easy Setup Wizard
PRODUCT SAFETY AND ERGONOMICS COMPLIANCE
IEC 60950-1 2ed; am1 + am2
EN 60950-1 2ed; A1 + A2 + A11 + A12
EN 62479
ISO 9241-3
EN 29241-3
EK1-I TB2000:20xx
CSA-C22.2 No. 60950-1-07 2ed; am1 + am2
UL 60950-1 2ed; am1 + am2
AS/NZS 60950-1
CNS 14336-1
GB 4943.1
IS 13252-1
IEC 60950-1 2ed; am1 + am2
EN 60950-1 2ed; A1 + A2 + A11 + A12
EN 62479
ISO 9241-3
EN 29241-3
EK1-I TB2000:20xx
CSA-C22.2 No. 60950-1-07 2ed; am1 + am2
UL 60950-1 2ed; am1 + am2
AS/NZS 60950-1
CNS 14336-1
GB 4943.1
IS 13252-1
ELECTROMAGNETIC COMPATIBILITY
CISPR 22 + CISPR 32
CISPR 24
EN 55032 Class A
EN 55024
EN 61000-3-2
EN 61000-3-3
ETSI EN 300386 (on demand:
FCC 47CFR part 15 Class A / ICES-003
AS/NZS CISPR22 Class A AS/NZS CISPR32 Class A
CNS 13438 Class A
GB 9254 / GB 17625.1
VCCI Class A / JEITA
KN 32 / KN 35
CISPR 22 + CISPR 32
CISPR 24
EN 55032 Class A
EN 55024
EN 61000-3-2
EN 61000-3-3
ETSI EN 300386 (on demand:
FCC 47CFR part 15 Class A / ICES-003
AS/NZS CISPR22 Class A AS/NZS CISPR32 Class A
CNS 13438 Class A
GB 9254 / GB 17625.1
VCCI Class A / JEITA
KN 32 / KN 35
GLOBAL COMPLIANCE
CB
RoHS (substance limitations in accordance with global RoHS regulations
WEEE (Waste electrical and electronical equipment)
CB
RoHS (substance limitations in accordance with global RoHS regulations)
WEEE (Waste electrical and electronical equipment)
NOTES
1. Raw capacity value are calculated using Base10 (i.e., 1 TB = 1,000,000,000,000 bytes)
2. Useable capacity value calculated using Base2 (i.e., 1 TB = 1,099,511,627,776 bytes)
3. The 1 GbE ports are reserved for routing management network traffic, when the 10 GbE data network is non-routable
4. Software maintenance is based on subscription licensing and pricing