AWS
Your AWS data management simplified
Commvault provides an enterprise-class data management platform that enables your organization to store, protect, optimize, and use data across on-premises and AWS environments — all from a single, easy to use interface.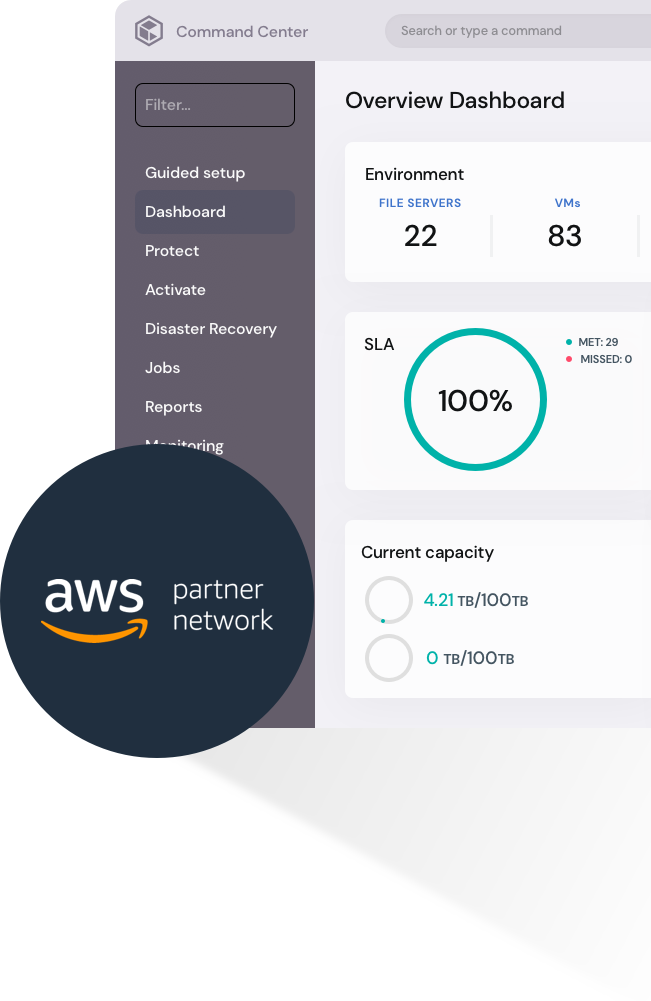 Manage your cloud data intelligently
Tight integration with AWS services
Powerful automation to simplify management and reduce cloud costs
Security down to the core
Native integration with AWS services and powerful automation help you move your data and workloads into the cloud quickly and easily — and save money by lowering compute, storage, and egress costs. End-to-end encryption and comprehensive ransomware protection make sure that data is protected at all times. Commvault is the easy way to make sure your data is cloud ready.
Broad protection for all your AWS workloads:
Compute
Amazon Elastic Compute Cloud (EC2)
Amazon Elastic Kubernetes Service (EKS)
VMware Cloud on AWS
AWS Outposts

Storage
Amazon S3 Glacier / Deep Archive
Amazon Elastic Block Store (EBS)
Amazon Elastic File System (EFS)
Amazon FSx for Windows File Server
AWS Storage Gateway
Database
Amazon DocumentDB
Amazon Redshift
Amazon DynamoDB
Amazon RDS on VMware
Commvault helps Parsons simplify their move to AWS
Listen to Benjamin Roper from Parsons Corporation describe how Commvault makes their AWS cloud data management easy.
Commvault extends your data management to AWS Outposts
When you're ready to take your workloads to AWS Outposts, Commvault is ready to take you there. Commvault is proud to have earned the "AWS Outposts ready" designation from Amazon as part of their Service Ready program. This means we're tested and validated to support protecting your workloads in AWS Outposts and migrating data between AWS Regions and AWS Outposts.
University of Canberra
University IT dramatically cuts storage costs while maintaining data availability with AWS and Commvault
Dow Jones
Commvault helps Dow Jones cut monthly DR expenditures by 50% or more
With Commvault for Amazon Web Services, you'll gain:
Modernized protection of AWS workloads

Backup and recovery for your key workloads across Amazon EC2, EBS, and RDS, as well as emerging technologies like EKS containers, Redshift, and DynamoDB.
Business agility with app migration

Automated migration of apps, databases, and other workloads into AWS.
Enterprise-class AWS disaster recovery

Continuous replication enables sub-minute RPOs and near-zero RTOs, to align recovery to the mission criticality of your data and workloads.
Cost-saving intelligence

Auto-scale and power management features, deduplication, compression, and data tiering and lifecycle management — all save you money on your monthly cloud bills.
Consistent SLAs

Provide the same SLAs for backup and recovery of your AWS workloads as the rest of your on-premises data.
Comprehensive ransomware protection

Keep your business safe with AI-based detection, alerting, and automated remediation combined with air gapped storage utilizing Amazon S3 storage with Object Locking.
Learn more about Commvault and AWS
Commvault for VMware Cloud on AWS
Government Cloud Solutions from Commvault and AWS
Take a virtual tour to learn how Commvault enables intelligent cloud data management with tight integration into AWS services and powerful automation.
References
1 Protected Amazon S3 classes include S3 Standard, S3 Standard-IA, and S3 One Zone-IA
2 RDS support for MariaDB, MySQL, Oracle, PostgreSQL, and Microsoft SQL Server databases
3 Amazon Aurora MySQL and Aurora PostgreSQL databases