HPE
Protect your critical data across environments with simple, scalable, resilient end-to-end backup and recovery solutions from Commvault and HPE.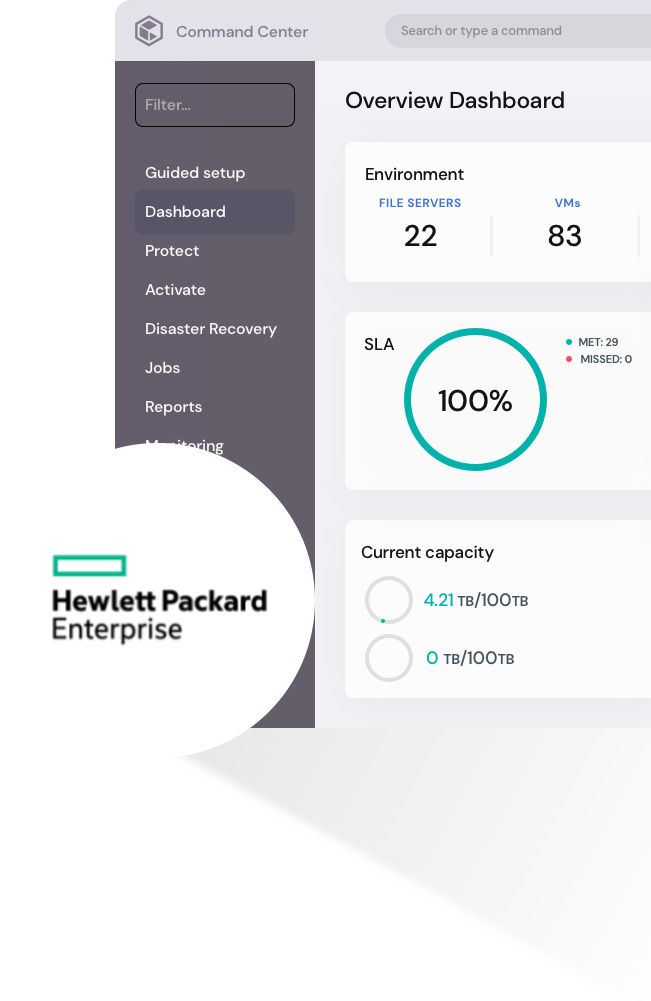 Two industry leaders, one integrated approach to data protection and management
Commvault is proud to have been named the '2021 HPE GreenLake Momentum Partner of the Year' at HPE Discover 2021. Enabling customers to be cloud-ready, Commvault was recognized for its collaborative innovations with GreenLake Backup-as-a-Service and the tight integration of its data protection solutions across HPE's storage and server portfolio.
What our partnership with HPE offers you
Hybrid Cloud Backup and Recovery

• Improve recovery SLAs (IntelliSnap® integration w/ HPE Alletra, HPE Primera, HPE Nimble Storage and HPE XP)
• Enable seamless backup to cloud (HPE StoreOnce, HPE SimpliVity, HPE dHCI, HPE Cloud Volumes Backup and HPE Cloud Bank Storage integration)
• Provide predictable/scalable performance (Commvault HyperScale™ X Reference Designs with HPE Apollo and HPE ProLiant)
• Protect data in hybrid cloud environments (HPE ProLiant for MS Azure Stack protection)
• Gain complete data portability and visibility across all public cloud options

Protect and Recover from Ransomware

• Multi-layered approach to protect against ransomware attacks
• Automated copy management with integration into HPE storage to enable adherence of the 3-2-1-1 rule of backups
• Auto-encryption on-prem or in the cloud with HPE Catalyst
• AI-based anomaly detection to identify suspicious activity
• Advanced reporting and alerting capabilities
• Immutable backups with HPE StoreOnce on-prem and Cloud Volumes Backup; true air gapped offline with HPE StoreEver tape
• Fast, reliable recovery of data from Commvault IntelliSnap integration with HPE storage array snapshots

Data Protection as a Service

• Deliver "edge to cloud"​ intelligent data services
• End-to-end data protection solution
• Pay-as-you-go managed service with consumption-based billing model (Shifting CapEx to OpEx)
• Turnkey solution with accelerated time to value
• Advanced metering by front-end terabytes used—makes costs predictable and allows for ease of budgeting
• Get instant backup capacity on demand for little or no upfront cost with award-winning SaaS based protection
• Simplify the backup experience with HPE GreenLake, with benefits of public cloud with the security and performance of an on-premises backup environment
By combining Commvault's best-in-class enterprise software with HPE servers and storage, together we deliver Tier 1 application resiliency, reliable backup, rapid data recovery, protection against ransomware and complete lifecycle data management as a 'one-stop shop' — so our customers can improve operational efficiencies and drive their IT transformation initiatives.
Only Commvault and HPE can deliver a modern data protection solution in any choice of consumption model from on-premise to As-A-Service. Commvault has the largest breadth and depth of coverage across the HPE server and storage portfolios of any vendor and has the largest ecosystem of supported enterprise applications, databases, operating systems, hypervisors, storage arrays, big data, SaaS and cloud storage providers.
This video provides an overview of the HPE and Commvault partnership, focusing on the key business outcomes that are enabled by the various integrated solutions across HPE's server and storage portfolios.
HPE Complete
In an increasingly complex, multi-vendor IT environment, you need to know your hardware and software will work together. You get a one-stop shop for validated, end-to-end infrastructure solutions — a quick, low-risk way to secure powerful data management, backup and recovery capabilities. Commvault is part of the HPE Complete program, meaning our software can be purchased through either HPE representatives or HPE channel partners anywhere in the world with a single invoice.
Simplify the buying process by getting HPE hardware and Commvault software through a single HPE purchase order.

Minimize risk with Commvault software that is tested and validated with HPE hardware.

Benefit from Commvault installation and support, backed by HPE oversight and issue resolution.
Our partnership with HPE delivers the highest levels of reliability and interoperability. The Commvault data platform is tested and validated with HPE primary and secondary storage solutions, including HPE StoreOnce Systems, HPE Alletra, HPE SimpliVity, HPE Primera, HPE Nimble Storage and dHCI, and HPE Apollo and ProLiant servers. This simplifies the backup, recovery, management and activation of your data, whether it's on-premises or in the cloud, while accelerating your digital transformation and IT streamlining efforts.
Data Protection for
Hybrid Cloud, Containers,
and Virtual Machines

HyperScale X on HPE servers

Commvault and HPE unite to defeat downtime
HPE GreenLake Backup powered by Commvault
HPE hardware and management pre-integrated with Commvault software.

Enterprise-grade control of data compliance, privacy and retention requirements.

Metering and capacity management run for you by HPE experts.
With HPE GreenLake Backup powered by Commvault, everything you need for enterprise backup and recovery — hardware, software and services — is combined in a single solution. Delivered as a pay-as-you-go managed service based on a unique consumption-based billing model, you get instant back-up capacity on demand for little or no upfront cost.
Commvault Metallic Backup-as-a-Service
Metallic Backup-as-a-Service, powered by Commvault, delivers enterprise-grade, industry-leading data protection with the simplicity of SaaS.
Comprehensive coverage across on-prem, cloud and SaaS workloads
Ransomware protection, with built-in anomaly detection and air gapped, immutable backups
Truly turnkey – rapid deployment to get you up and running in minutes
Hardened security, with Azure Government Cloud and FedRAMP High Options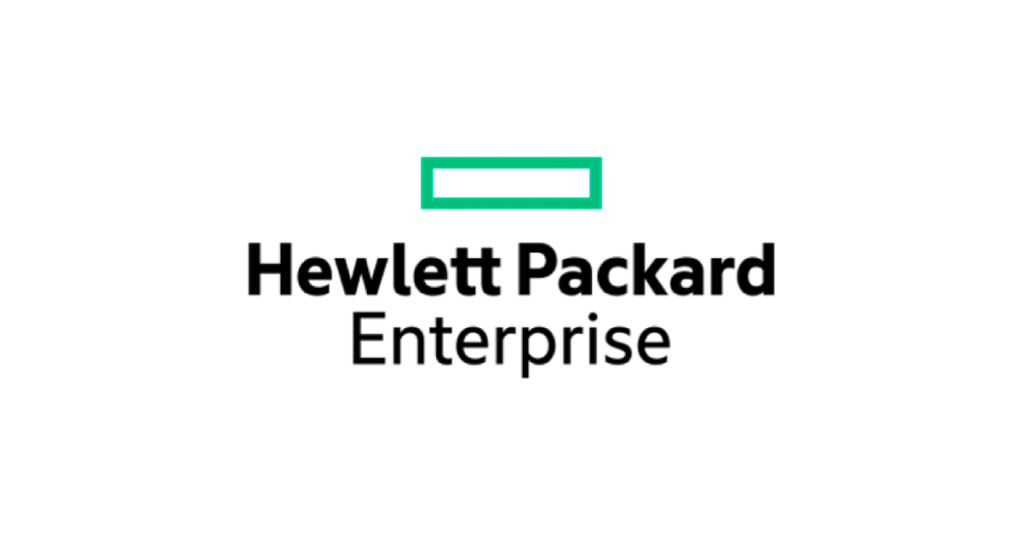 Cloud Volumes Backup
HPE Cloud Volume Backup is a cloud-native backup service that enables you to instantly start backing up to the cloud. It's a true service that lets you protect all of your data centers and remote sites without any backup hardware, eliminating complexity, getting more out of your backup data and restoring anywhere.
Learn more about how you can get the most from HPE and Commvault
2021 Momentum Partner of the Year for Greenlake

2020 Momentum Partner of the Year for Storage Solutions

2019 Technology Partner of the Year