HPE
Protect your critical data and VMs and improve business resiliency with end-to-end backup and recovery solutions from Commvault and HPE.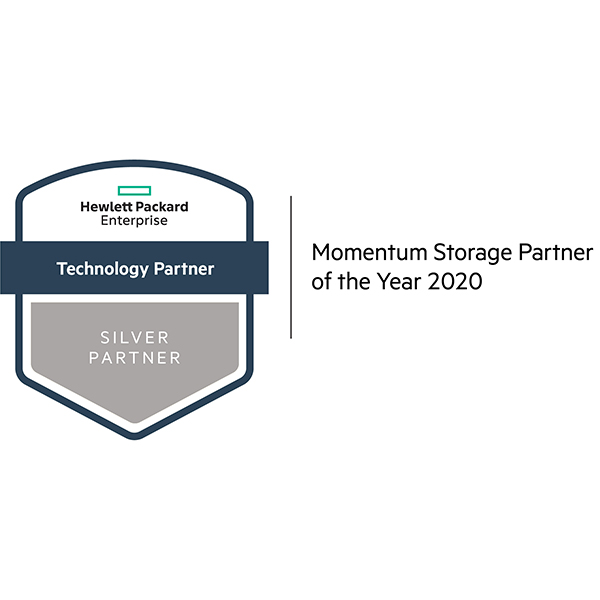 Two industry leaders, one integrated approach to backup, recovery and data management
Commvault was named the "2020 Momentum Storage Partner of the Year" during the HPE Partner Growth Summit Virtual Experience. With the ability to simplify intelligent data protection, Commvault was recognized for its outstanding performance, commitment to customer excellence, focus on growth and innovation, and professional achievements.
Building blocks to the perfect Hybrid Cloud: HPE Simplivity and Commvault
Architecting the perfect hybrid cloud starts with selecting the right building blocks that deliver best-in-class flexibility, scalability and protection for your data.
What our partnership with HPE offers you
Enterprise backup
and recovery
We provide a single platform to move, manage, protect, and use data across applications, databases, hypervisors and clouds.
Commvault HyperScale™ Technology
Our scale-out solution is tested and validated with the HPE ProLiant 360 Gen10 server, allowing you to easily scale as your environment grows.
Native
cloud integration
Efficient data migration to, from, and within the cloud and on-premises infrastructure with native cloud integration.
Hardware snapshot integration
Commvault snapshot integration with HPE storage – including Primera, 3PAR, Nimble, and XP7 – meets demanding recovery (RTO/RPO) requirements.
Reduced risk and overhead
A range of validated and supported solutions procured from a single source to meet business-specific needs.
Cross-industry support
Our software has been tested to meet the specific data requirements and standards of the healthcare and government sectors.
Protect your critical data and VMs and improve business resiliency with end-to-end backup and recovery solutions from Commvault and HPE. By combining our best-in-class enterprise software with HPE servers and storage, you get Tier 1 application resiliency, reliable backup, rapid data recovery and complete lifecycle data management — so you can improve operational efficiencies and drive your IT transformation initiatives.
HPE Complete
In an increasingly complex, multi-vendor IT environment, you need to know your hardware and software will work together. You get a one-stop shop for validated, end-to-end infrastructure solutions — a quick, low-risk way to secure powerful data management, backup and recovery capabilities. Commvault is part of the HPE Complete program, meaning our software can be purchased through either HPE representatives or HPE channel partners anywhere in the world with a single invoice.
Easy to buy
Simplify the buying process by getting HPE hardware and Commvault software through a single HPE purchase order.
Validated
Minimize risk with Commvault software that is tested and validated with HPE hardware.
Enhanced support
Benefit from Commvault installation and support, backed by HPE oversight and issue resolution.
Our partnership with HPE delivers the highest levels of reliability and interoperability. The Commvault data platform is tested and validated with HPE primary and secondary storage solutions, including HPE StoreOnce Systems, 3PAR StoreServ, Nimble Storage, and HPE Apollo and ProLiant servers. This simplifies the backup, recovery, management and activation of your data, whether it's on-premises or in the cloud, while accelerating your digital transformation and IT streamlining efforts.
HPE Solution Guide: Data Protection for Hybrid Cloud
HPE Solution Guide: Simplified Intelligent Data Protection
Commvault and HPE unite to defeat
downtime
HPE GreenLake Backup powered by Commvault
HPE hardware and management pre-integrated with Commvault software.
Enterprise-grade control of data compliance, privacy and retention requirements.
Metering and capacity management run for you by HPE experts.
With HPE GreenLake Backup powered by Commvault, everything you need for enterprise backup and recovery — hardware, software and services — is combined in a single solution. Delivered as a pay-as-you-go managed service based on a unique consumption-based billing model, you get instant back-up capacity on demand for little or no upfront cost.