Microsoft
Built on trust: Microsoft and Commvault
Optimize, protect, migrate and index using Microsoft infrastructure. Commvault works closely with Microsoft to deliver the complete data management and migration solution for today's enterprise and SMB companies.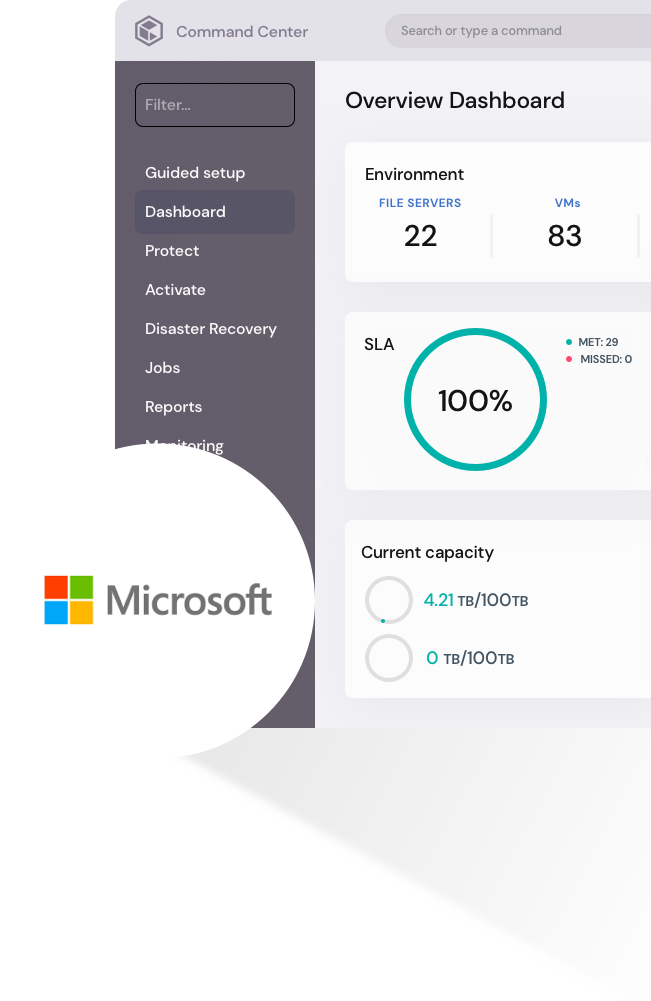 Webinar: In the new normal, cloud data management means everything.
All partnerships should last this long – and be so good
We've built our platform on Microsoft — and on mutual trust
Distributed architecture, predictable performance, and reduced risk and cost.
Commvault plus Microsoft:
Leading by example.


Is your business
"AI Ready?" Commvault can get you there.

See how Commvault gives you superhero powers with AI.


Harness the power of Azure
The cloud presents both an opportunity and a challenge. You need a strategy and a plan that ensure you can quickly migrate while maintaining control of your data. You need control—the ability to rapidly migrate your data to Azure when you need to—while protecting it. Commvault enhances and optimizes your Azure environment.
Migrate more workloads—with less work
Automation & Orchestration, so you don't have to take on risk
Protect data migrations in Azure Data Box
Data center modernization
and migration

Commvault and Azure co-author HarperCollins cloud story
University streamlines data migration and forges strategic cloud direction with Azure Data Box
Watch easy and fast VMware to Azure migrations with Commvault

Are you facing end of support for SQL Server 2008 or Windows Server 2008?
Move your databases to Azure
Trust your mission-critical applications to our experience
Moving your critical applications to Azure brings great value when you are confident in their protection and availability. No one else has the experience migrating and protecting critical applications and their databases to Azure of Commvault. We wrote the book with
Microsoft to prove it.
Commvault is the right choice to manage, move and protect SAP HANA workloads in Azure. We're "Azure Certified" and "SAP-certified for the integration with SAP HANA."
Managing SAP workloads
on Azure
Managing open source databases on Azure Paas
Cloning databases using Commvault Command Center
Is your Microsoft 365 data ready?
Can you include your Microsoft 365 content as part of your enterprise search?
The move to Microsoft 365 brings great advantages, and Commvault can help you efficiently migrate to it. Commvault enables search and indexing of Microsoft 365 data along with data that extends to poly-cloud and across the enterprise. If you're currently protecting your Microsoft 365 data with "the other guys," then you could be in for a big surprise when asked to find data—and find it fast! Protect, migrate and search your data.
It's one platform—that's all.
Learn more about maximum protection for Microsoft 365
Enhance your Azure Stack environment
It's one platform – that's all. Across Azure plus Azure Stack.
Just as Azure Stack and Azure provide a single platform for hybrid cloud, Commvault mirrors this approach by providing a single platform to manage, migrate and protect applications across Azure, Azure Stack, on-premises and all other environments.
With the advantage of running fully native Azure Stack, Commvault enables immediate migration from wherever your data is to and from Azure, Azure Stack or anywhere else data resides, the Commvault solution is complete.
See other Microsoft supported technologies
Commvault for Microsoft 365 backup

Commvault for Microsoft Hyper-V
Commvault for Microsoft SQL Server

Commvault and Azure NetApp files