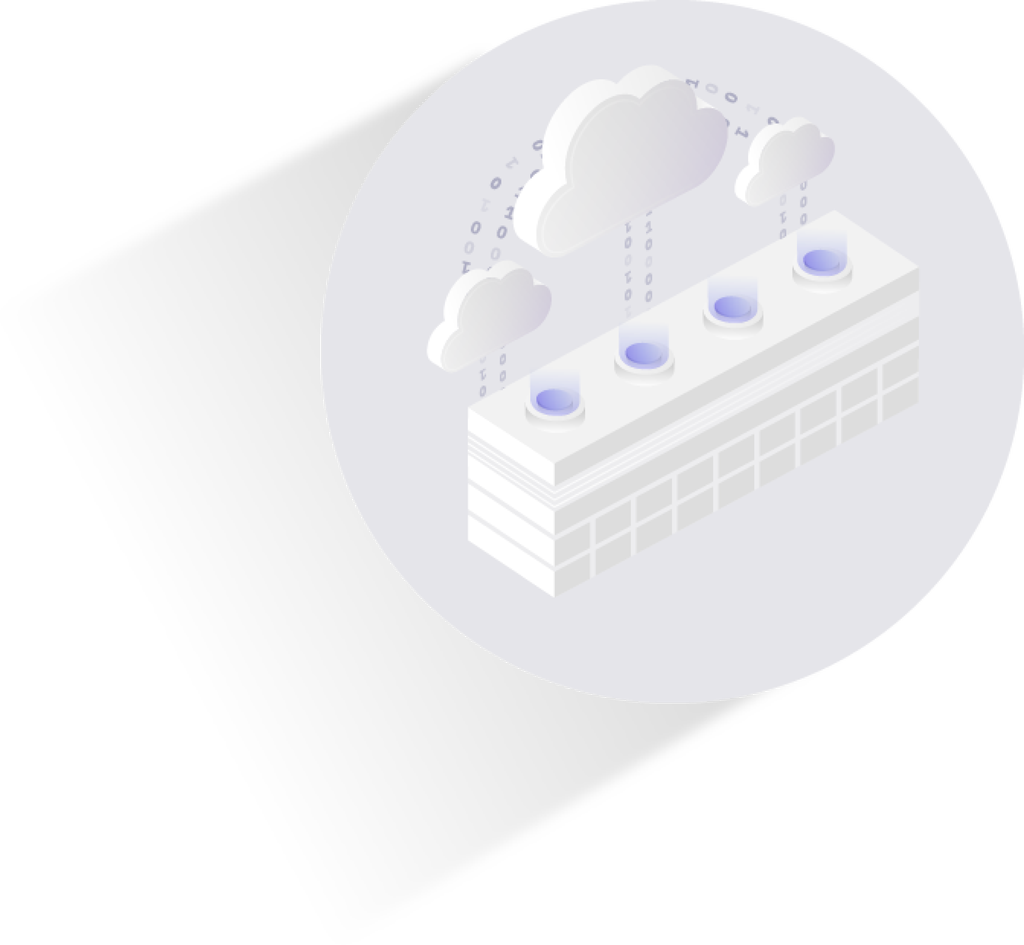 Cloud data migration
Fast. Simple. Scalable. That's cloud data migration that works for your changing business needs. What kind of flexibility do you need today — and tomorrow?
Cloud data migration that's secure, streamlined and fast
With Commvault, you can align your data storage needs and cloud data migration – seamlessly. Easily move production data and backups to the cloud.
Choose to use cloud as a secondary or tertiary storage target for data archiving. Automatically migrate cloud data to lower cost storage tiers in alignment with your SLAs.
That's how cloud data migration should be ‐ and is when you use Commvault data migration software. When business needs change, easily move workloads to the cloud or clouds of your choice.
With comprehensive cloud data management it's easy to meet business demands and efficiently manage data migration:
To the cloud
Across multiple clouds
Across cloud geographic regions
Back to the on-premises data center
---
Easy, integrated cloud data migration from Metallic
Move backups to the cloud – fast! The new Metallic® Recovery Reserve™ cloud storage is a fully integrated cloud storage target accessible from the Commvault dashboard. Now you can adopt cloud storage directly from the same interface you use for daily data management.
No cloud skills are needed. The Metallic® Recovery Reserve™ cloud storage is ready in minutes, so you have an easy onramp to cloud storage. No special cloud experience is needed – no need to hire new engineers. The Metallic® Recovery Reserve™ cloud storage helps you be ready with daily cloud backups, typical retentions, ad-hoc recoveries. Plus built-in ransomware protection keeps your data safe.
---
Data migration software that keeps cloud data secure
Manage cloud disaster recovery and protect against ransomware. With cloud-based disaster recovery, you have the flexibility to meet SLAs, recover data across geographies, and secure data in immutable cloud storage. Commvault helps you be ready for data emergencies.
A strong cloud data protection strategy includes plans for cloud data migration, cloud disaster recovery and ongoing cloud data management.
You can move all the workloads seamlessly from on-premises to cloud or cloud to cloud. Commvault has great functionalities of how to use your protected data in an efficient way.
Compare Commvault to vendor cloud migration tools
Business demands may require you to move applications, databases and workloads from one cloud service to another. Today's situation may change tomorrow.
When you use separate tools for each of your clouds, plus other tools for your on-premises data, you're duplicating effort, introducing discrepancies and spending more time than you should.
Commvault gives you incredible flexibility to migrate cloud data – with unmatched hypervisor flexibility.
Only a professional cloud data migration solution lets you easily and securely transport data between clouds. If you're relying on a cloud vendor migration tool, you may have challenges:
Cloud vendor migration tools use snapshots. In short, snapshots are not portable. Snapshots won't support flexible data migration of cloud apps and databases – especially at scale.
Cloud native tools don't allow you to see data across multiple different platforms. You need to manage your entire on-premises and cloud environment from a single intuitive interface.
You need one place to securely manage SLAs during cloud data migration. One interface, one place to manage SLAs, one solution to manage your entire data estate.
Streamline with Commvault
data migration
Best of all, automation and orchestration further streamline Commvault data migration processes: you can define process flows once, then apply them consistently across data projects. Automation saves you time and effort on your cloud journey.
Built-in compression shrinks the data as much as possible
Built-in deduplication reduces the volume of data moving to the cloud
Encryption protects workloads in flight

.
Integrated reporting shows success, failure and job restart
Easily confirm your workload migration is successful and secure
Scalable cloud data migration
Smoothly manage even large data volumes moving to the cloud – Commvault has seamless integration into tools like Azure Data Box and AWS Snowball. There is no need for additional third-party appliances for large data migrations.
Commvault software seamlessly integrates with large scale data migration tools, including:
Microsoft Azure Data Box family
Data Box, Data Box Disk, Data Box Heavy, Data Box Edge, Data Box Gateway
AWS Snowball
AWS Snowball, AWS Snowball Edge, AWS Snowmobile
Google Transfer Appliance
Commvault integration into these public cloud, large scale data migration tools provides more secure data migration than competitors who require additional third-party appliances for large data migrations.
We uploaded, copied, and synced our data management with Commvault using Azure Data Box in a third of the time it would have taken without it — and we avoided risks to network performance or sensitive information.
Flexible virtual machine data migration to hypervisors and clouds
Use the hypervisors and clouds you need, where you need them. In one click, Commvault can migrate virtual machines to the cloud of your choice.
Moving from one cloud or hypervisor to another involves data conversion. You need simplicity. Enterprise data protection should make it easy to support a wide range of hypervisor conversions.
Hypervisor flexibility is included with Commvault. Move VMware workloads to Azure, AWS workloads to VMware, Hyper-V to AWS — Commvault eliminates the challenge of hypervisor compatibility.
No other vendor offers the hypervisor flexibility that Commvault includes at no extra charge.
Choose virtual machine migration to the cloud as a one-time operation or automate regular cloud copy creation for common use cases such as disaster recovery and dev/test operations.
97-99% deduplication ratio helps Parsons Technology save on cloud storage costs. Commvault has simplified cloud data migration for this technology provider.
Find efficiency and agility in the cloud
Database-as-a-Service (DBaaS) projects include your most valuable data. How do you protect DBaaS and ensure you can easily migrate DBaaS data across clouds?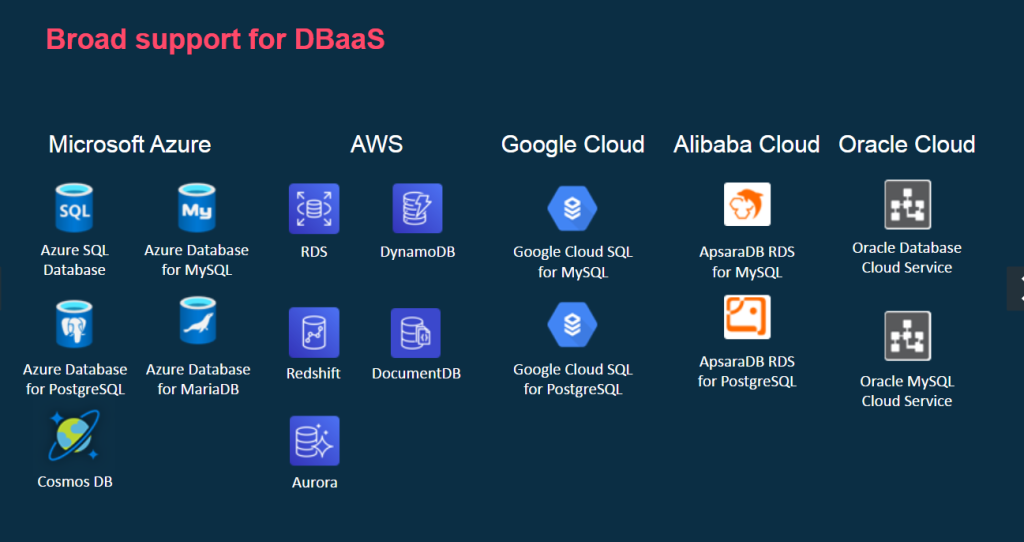 Cloud applications and databases still need backup. Cloud vendors like Microsoft Azure, Amazon AWS and Google Cloud Platform offer extensive DBaaS options, but these DBaaS services actually need data protection just like any other cloud service.

Using Commvault data protection, you can have a streaming granular backup of tables. Be ready to recover DBaaS data – whether it's streaming or a snapshot of individual tables, databases, all databases in the region, or across regions.

Get the flexibility to transport data easily and securely between clouds.

Commvault supports cross-cloud data movement, helping you benefit from the flexibility that it provides to move cloud apps and databases across various cloud platforms of your choice.

Commvault supports the widest range of DBaaS across the widest range of clouds. Plus, Commvault manages it all from a single pane of glass – the same interface used for other cloud and on-premises data protection.
Long-term retention doesn't have to mean managing multiple backup products. With Commvault you can easily migrate legacy backups to the cloud.

Save money and end maintenance on old backup systems. Move legacy backup and archive data sets to inexpensive cloud storage while retaining compliance and retention requirements.
How to migrate legacy backups to the cloud with Commvault
Many organizations realize tape storage is no longer economical, efficient or even pleasant for employees unused to the physical labor of managing tape.

Some organizations move entire archives to the cloud, using Commvault to manage large-scale data migrations. Other organizations employ Commvault pre-set retention schedules to automatically shift workloads to cold cloud storage when SLAs indicate the data should be archived.

With the broadest range of cloud storage options, Commvault helps you quickly move archives to the cloud. Commvault offers native integration to multiple cloud archive storage options, including Microsoft Azure Blob storage (Cool, Archive and Immutable), Amazon S3 Glacier and Amazon S3 Glacier Deep Archive, and Google Cloud Platform Coldline Storage.
The cloud has changed everything. Are you prepared?
The dive deep into our definitive guide on protecting cloud data to learn:
What it means to be cloud ready
Why you need a new way to protect cloud data
How to start moving your data to the cloud
How to evaluate your cloud data migration and protection options