Metallic
Azure Restore Point and Commvault Reduce Costs & Improve Resiliency
Learn more about how Commvault's long time partnership with Microsoft has given us the opportunity to offer our customers cutting edge features.
Commvault's long time partnership with Microsoft has once again given us the opportunity to offer our customers cutting edge features and functionality. We are excited to have had the opportunity to develop this feature in lockstep with Microsoft allowing us to release our enhanced capabilities on Commvault Complete and Metallic® DMaaS simultaneously when Azure Restore Points became publicly available on July 19th 2022.
Commvault Protection for Azure Virtual Machines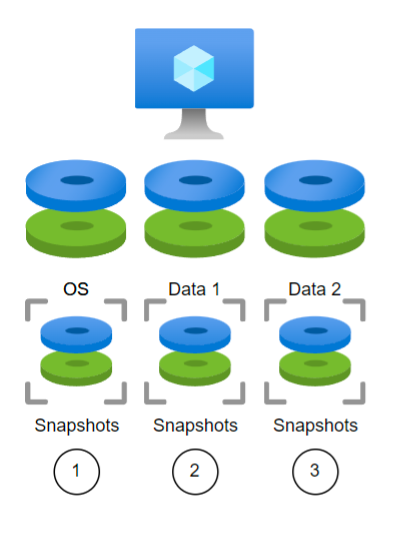 Commvault has always offered options for protecting Azure Virtual Machines (VM) by using snapshots or even installing software on the VM to provide Application Awareness. Each disk resource is individually snapped and protected. The process is serial by nature as each resource request needed to be made in series.
In Figure 1, a backup request would need to protect the OS disk, then Data 1 disk and then Data 2. All 3 create the virtual machine and would be protected together, but their snaps may not complete at exactly the same time and additional coordination with the application layer may be needed to ensure consistency at an application level.
New Restore Point Functionality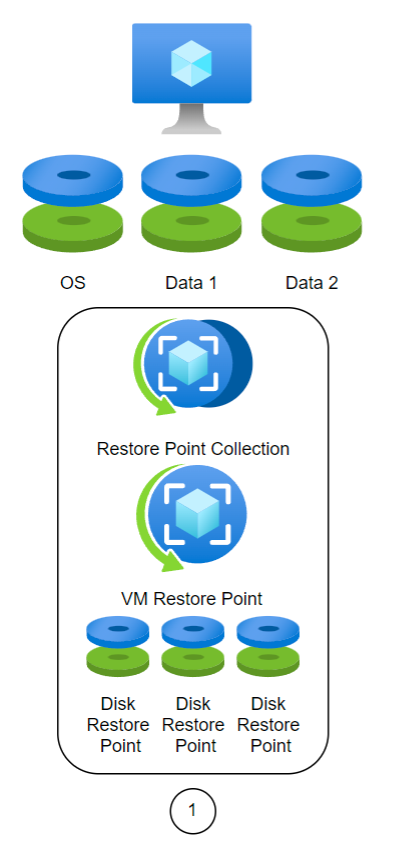 With Restore Points, Commvault will now have the ability to create collections of restore points across all volumes on a VM. When doing so, the restore process is simplified, and the collection points are stored on cost efficient storage. This is a major architectural change in data protection for Microsoft that Commvault Complete and Metallic enable with a click.
In the example in Figure 2, once a Restore Point Collection is created, the same VM would be protected as a single API call to create a Restore Point. Every Restore Point is incremental and should complete in seconds. All disks within the VM are consistent with the restore point automatically. Every Restore Point will contain a Disk Restore Point for all managed disks. The Disk Restore Point consists of a snapshot of that disk. This reduces the restore process in this example from 3 steps to 1.
How is it simplified?
Leveraging the Commvault platform to orchestrate VM protection and more importantly, the recovery of VMs at enterprise scale is a critical need. Getting away from point solutions and homebrew scripting naturally promotes growth and reduces downtime. Being able to recover dozens or hundreds of instances with a few clicks keeps end user time from being sacrificed.
Improve resiliency while reducing tech waste
Commvault supports creating snapshots in cost audited resource groups already and automatically tags resources as they are created so that cost reporting is accurate. Adding VM Restore Points to our portfolio now allows us to create the restore points in cost efficient and less redundant storage tiers. It might be a minor cost difference, but at cloud scale, the billing is in the details and every improvement brings value to the solution. There's no tradeoff in taking advantage of Restore Points. It simplifies and reduces cost while improving resiliency. Azure Restore Points ensures that the applications and the operating system are consistent when creating these collections at the native instance level.
A quick recap
Better cost efficiency, better performance, better resiliency, and a simplified design. A resounding win! We are excited to have had the opportunity to develop this feature in lockstep with Microsoft and prove yet again our commitment to making the latest enhancements in Azure readily available within the Commvault Intelligent Data Services portfolio of solutions.