GigaOm Radar for Kubernetes Data Protection publishes report and Commvault is an 'Outperformer'
By Ranga Rajagopalan
We are excited that Commvault has been rated as an Outperformer in the recently pushed GigaOm radar report for Kubernetes Data Protection – awesome validation of our continued innovation to simplify how our customers store, protect and migrate their Kubernetes applications!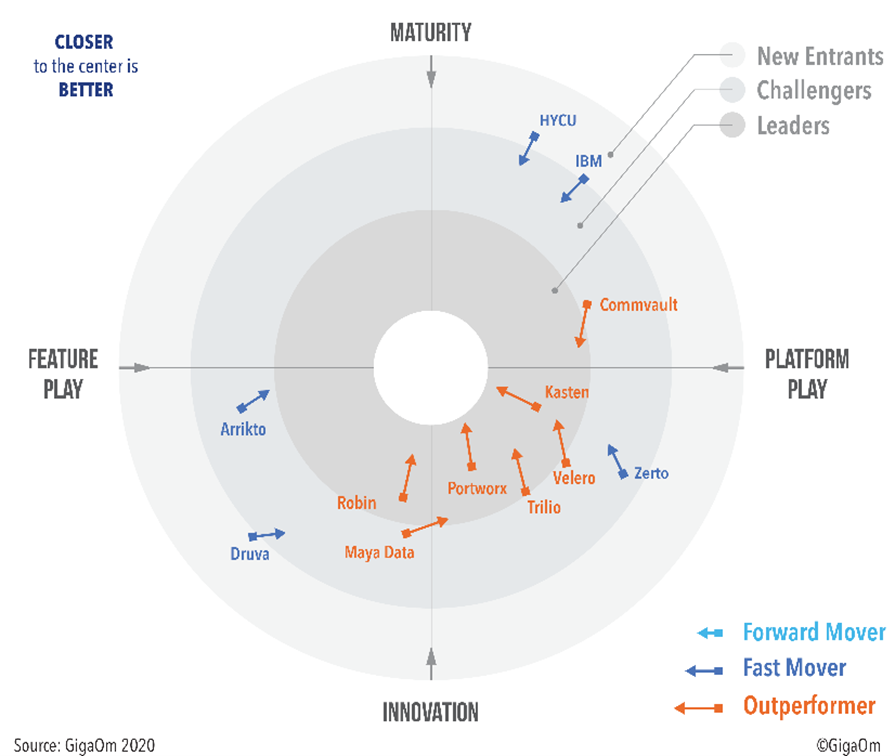 Enrico Signoretti, author of the GigaOm report, summarized it perfectly: "Commvault is demonstrating a strong commitment to Kubernetes and its operational models while continuing its robust support for traditional platforms and operations. And thanks to Metallic, the company's SaaS solution, Commvault can provide data protection for Kubernetes across a broad range of organizations. At the end of the day, Commvault is a market leader for enterprise data protection."
Thanks, Enrico. We couldn't agree more!
Enterprises are rapidly accelerating their cloud-native journey by adopting containers to provide application portability, faster onboarding and lower infrastructure costs. We predicted this trend more than three years back when we started our container data protection journey, starting with our support for Docker, followed by OpenShift and now, Kubernetes.
We also saw storage and data protection needing to come together for effective – or shall we say, intelligent – data management of containers. This is exactly why we added native data protection to Hedvig software-defined cloud-native storage for containers, fully integrated with Kubernetes and designed for DevOps.
And this week, we further transformed data protection for Kubernetes by introducing Metallic VM and Kubernetes backup, as a cloud-delivered BaaS solution for Kubernetes applications. Metallic protects the Kubernetes applications, regardless of whether they are running on-premises, in Azure or AWS, in just four steps!
With hybrid cloud-native software-defined storage and BaaS data protection, fully integrated with Kubernetes, Commvault is a simple and comprehensive data management solution for containers. Say goodbye to point product complexity – enjoy the Commvault simplicity of one solution across all workloads, including containerized applications, regardless of where your application lives. Or as the GigaOm report nicely puts it, enjoy Commvault's strengths of "an easy-to-use and familiar environment to operate, helping the user to consolidate all backup operations on a single platform."
Ranga Rajagopalan is Commvault's VP, Products.