Data Immutability
What is Data Immutability?
Discover how Commvault's immutable architecture ensures data security, compliance, and rapid recovery, even in the face of ransomware attacks.
Cyber threats continue to evolve and become more persistent. Worldwide spending on security solutions and services is expected to reach nearly $300 billion in 20261 – a 37% increase from current spending, indicating the increasing threat level. Surprisingly, despite greater awareness and investment, 83% of organizations have experienced more than one data breach in their lifetime2. These numbers highlight the crucial need for recovery readiness, with data security a top concern as cloud storage becomes the popular option for offsite backups.
The need for immutability
Immutability is defined as "the ability of any data to be maintained in a non-fungible state for a specific duration of time". Data immutability can be attained via various methods working in conjunction with each other.  An immutable architecture, then, is a model in which no updates, security patches, or configuration changes happen "in-place" on production systems. If any change is needed, a new version of the architecture is built and deployed into production.  Immutability protects within, as well as outside of the backup solution.
Organizations need an immutable architecture to ensure their data is safe and secure and, more importantly, ready whenever they need to restore it. Immutability is a proven technique used to reduce cyber-attacks on backup data and ensure that backup copies aren't changed in any way.
The best indicator that you have a reliable backup solution is your ability to recover data quickly. This comes partly from proper planning and architecting your backup and recovery solution. However, this can be a difficult challenge when your data is up against so much opposition. In the past, hardware failures, natural disasters, and human error were likely "top of mind" outage threats. Today, ransomware and insider threats have taken over as top concerns. It's apparent that planning and architecture design is not enough; today's backup and recovery solution must be immutable, so you have peace of mind that your data is safe.
Mutable vs. Immutable
There is an essential distinction between mutable and immutable infrastructure when protecting valuable data. Traditional mutable infrastructure is more flexible and allows for updates and integrations to be made quickly, but this can also make it easier for cybercriminals to access and manipulate data.
These bad actors often target businesses through data breaches, which can have severe consequences such as reputational damage, loss of revenue, and legal problems. This is where an immutable architecture comes in, offering a more secure and tamper-proof solution to protect data from internal and external threats.
Immutability for regulatory compliance
Immutable storage is essential for any organization to protect its business-critical or private data. This is especially important for industries like healthcare, finance, and law, which have strict legal and regulatory requirements to safeguard sensitive data from unauthorized access or tampering. Immutable storage helps organizations comply with requirements like those put forth by the SEC, CFTC, and FINRA related to the recording, storage and retention of electronic records and facilitates easy recovery in case of data loss or corruption.
Commvault is immutable by default
With every environment having its own mix of infrastructure, securing backup data against random unauthorized changes can seem challenging. Therefore, Commvault has taken an agnostic approach to immutability. Leveraging a hardened, multi-layered approach to data protection, we provide robust controls that prevent various types of threats to backup data and ensure copies are highly recoverable from accidental deletion or malicious attack. Natively, all backup data is protected at the storage level. Backup copies and operations live in a virtually air-gapped location, in an isolated security domain, decoupled from source environments. Retention locks can also be applied to prevent unwarranted modifications to data retention policies.
With Commvault, you do not need special hardware or cloud storage accounts to lock backup data against ransomware threats. If you happen to have Write-Once, Read Many (WORM), object lock, or snapshot supported hardware (which Commvault fully supports), you can still use Commvault's built-in locking capabilities to complement and layer on top of existing security controls. Having the ability to layer security controls across different infrastructure types is what places Commvault's immutable solution ahead of the competition.
Multi-factor authentication, AES 256 bit at-rest encryption, firewalls, and other zero-trust access controls block internal and external movement of data by unauthorized parties. All security protocols employed adhere to security best practices and are based upon NIST 800-53, SOC2 type II, and ISO27001:2013 guidelines and compliance requirements.
With built-in zero-trust security protocols, Metallic meets the most stringent confidentiality, integrity, and availability standards for government agencies and business, alike.
Commvault's immutable infrastructure architecture
Commvault's machine learning platform extends immutable protection capabilities by providing a proactive platform for detecting and responding to threats accordingly. We employ a multi-layered approach to protect against various threat vectors and ensure data is safe and include storage locking to combat ransomware and Zero trust AAA controls up and down the backup and recovery stack to provide comprehensive protection. Isolation and air gapping utilizes TLS encrypted network topologies and infrastructure is hardened to reduce the attack surface.
At a high level, the Commvault platform includes these seven layers combined with immutable cloud storage: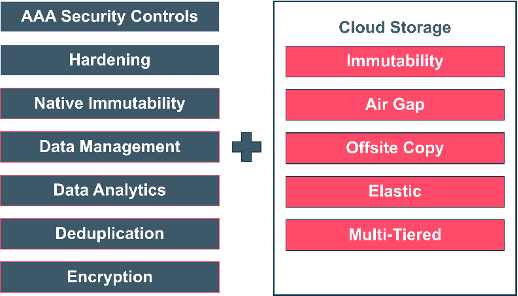 Cloud storage provides enhanced options for defending, securing and restoring your data. Immutable by default, it all adds up to the most flexible data protection you can deploy anywhere and at scale for any workload.
Your Protection, Your Way: Immutability for Software and SaaS
Commvault's HyperScale X makes implementing an immutable architecture as an integrated appliance or reference design for an all-in-one solution easier. It delivers comprehensive data management for all workloads from a single, extensible platform. Commvault employs a multi-layered approach to protect against various threat vectors and ensure data is safe. Commvault's immutable architecture consists of:
Software (Compliance Lock)

Attempt: Backup admin tries to reduce retention, delete backup job, policy, or library accidentally

Action: Denied by Compliance Lock

Operating System (Access controls)

Attempt: Authorized user tries to encrypt, move, or delete files or reformat a disk

Action: OS blocks users and/or ransomware attacks through access controls

File System (Immutability at the storage layer)

Attempt: Authorized or malicious user tries to modify or encrypt protected backup data

Action: Immutable file system prevents backup data from being modified/encrypted
Metallic® Recovery Reserve™ is a fully managed cloud storage target for the Metallic hybrid cloud and SaaS portfolios, as well as Commvault Backup and Recovery, Complete Data Protection, HyperScale, and HyperScale X. Cloud adoption is accelerated with optimized storage options and air gapped copies of data to ensure ransomware recovery.
Metallic Recovery Reserve is optimized cloud data protection, offering:
Short or long-term cloud storage, from one vendor, managed in one interface
Controlled costs via optimized storage
Unified naming for all cloud storage
With Metallic Recovery Reserve, you can have both primary and secondary backup copies for all your workloads in the following storage tiers:
Azure Hot
Azure Cool
OCI Standard (Metallic only)
OCI Infrequent Access (Metallic only)
In addition to Metallic® Recovery Reserve™ offered within the Commvault platform, Metallic also offers SaaS data protection solutions that can be purchased separately — for SaaS workloads, hybrid cloud, remote laptops/endpoints, and more.
And while all the above solutions can elevate your data protection strategy, it also provides significant cost savings. Commvault and Metallic's air-gapping, immutability, and more importantly, ability to effectively restore an environment can have a $1.06 million ransomware benefit over the 3-year analysis.3
Conclusion
Data threats are becoming increasingly sophisticated, and there's no getting around the fact that backup and recovery platforms today must offer greater protection against cyber threats. Commvault solves this problem with an immutable architecture that provides complete data protection and fast recovery of any workload, no matter where it lives. Our layered approach reduces risk while helping organizations meet compliance requirements without sacrificing performance.
Now is the time to ask the tough questions regarding your data protection provider so you can be fully confident that your data is safe, secure, and compliant. Start exploring our immutable architecture today and discover how with the right solution, staying ahead of potential threats has never been easier or more secure.
References
1. IDC Worldwide Security Spending Guide – 2. IBM Cost of a Data Breach Report 2022 – 3. Analyzing the Economic Benefits of Data Protection with Commvault on Microsoft Azure