Cloud Backup FAQ
Cloud backup is on the minds of IT leaders. While enterprise cloud backup solutions have been available for some time, adoption is now increasing. As IT organizations look to be more agile, lower costs provide the opportunity for innovation, many are looking to cloud backup. There are many questions about cloud backup solutions – from novices to more advanced data protection professionals.
Learn more about cloud backup, available enterprise cloud backup solutions and how they affect your IT data protection strategy.
Cloud backup – the basics
Cloud backup is part of an overall cloud data management strategy. Interest in cloud backup is growing.
According to an ESG Research survey from June 2019, 61% of surveyed organizations were already using cloud backup targets. This was an increase from 2016 when only 25% of organizations were using cloud backup targets.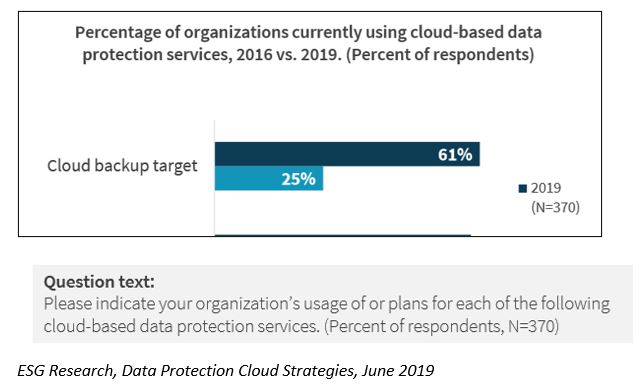 Cloud backup is storing a copy of essential data in a safe location. Cloud backup can be applied for resources that are on-premises and cloud backup helps to keep a data copy safe. Cloud backup can also be applied to resources residing in the cloud, such as IaaS virtual machines, PaaS databases, or SaaS applications, which are also managed with cloud backup.
Every organization relies on data. Customer data, product data, employee data, financial data – all data makes an organization successful.
Organizations have backup and recovery policies that guide when data should be copied and a backup copy sent to a storage location. Some organizations back up data to tape storage, which requires physical labor from employees who need to change tapes, move tapes and check tapes.
Modern organizations of all sizes and backgrounds are choosing cloud backup – storing data in public cloud, private cloud, or a combination of on-premises and cloud storage locations.
More organizations are looking to the cloud for agility and innovation. The economics and flexibility of cloud storage makes it an ideal option for housing cloud backups.
Cloud backup solutions are in demand because organizations want an inexpensive storage option that provides accessibility from any geographic location.
Older backup products have not necessarily advanced to provide complete flexibility across private and public cloud storage options. Many IT groups are choosing modern cloud backup solutions to meet on-premises and cloud storage demands.
Cloud backup solutions
Any public or private cloud needs backup solutions. Each cloud is highly available, but protecting data is your responsibility. Cloud backup solutions include:
Even SaaS solutions need backup – enterprise data protection can accommodate Metallic Backup for Microsoft 365. a unified Microsoft 365 backup solution for Exchange Online, SharePoint Online, OneDrive for Business and more.
It's a rapidly changing cloud world. The top cloud providers – Microsoft Azure, Amazon AWS, Google Cloud Platform – are growing rapidly. Each is opening up cloud data centers in specific global locations to accommodate local data privacy regulation or regional innovation demands.
Each public cloud also offers multiple types of storage locations. Data that will be needed quickly and frequently should be stored in an easily accessible storage option. Choices could include Microsoft Azure Hot access tier, Amazon AWS S3-IA, or Google Cloud Platform Nearline storage.
Data that is not needed frequently – such as archive data – can be stored in a lower cost, less accessible storage location. Archive data typically lives in locations like Microsoft Azure Archive Storage or AWS Glacier.
Enterprises, government organizations and educational institutions of all sizes, geographies and backgrounds are choosing multiple cloud backup locations.
Each chooses a multi-cloud strategy to meet diverse business use cases. In fact, IDC Research found that by 2021, 90% of enterprises worldwide would rely on a multi-cloud and on-premises cloud strategy.

Today's cloud backup trends
Many organizations are adopting cloud backup as part of an overall IT modernization strategy. Moving to the cloud is seen as a modern, agile way to do business. Pricing is also a factor. Many organizations can move from a multi-year capital expenditure (capex) storage purchase to an operational expenditure (opex) monthly payment for cloud storage.
The pay-as-you-go nature of cloud fits into IT modernization goals. In a recent survey, 72% of Commvault cloud customers said their data protection environment is changing due to IT modernization.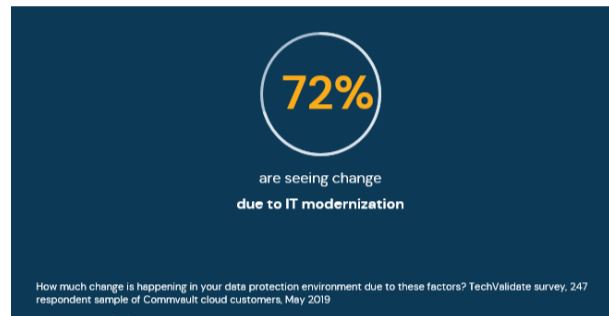 Because cloud is elastic, globally accessible and highly available, many organizations are choosing cloud backup options to replace storing backups in a physical data center.
In a recent survey, 59% of Commvault cloud customers said their data protection environment is seeing changes from efforts to reduce the physical data center.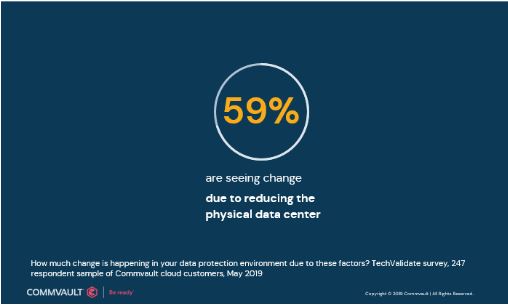 Most cloud moves are driven by cost, agility or innovation demands. The cloud offers a flexible storage location that is globally accessible.
Cloud is also part of an overall digital transformation strategy. As organizations modernize to better serve customers, engage employees and discover product innovations, cloud is a natural fit.
In a recent survey of Commvault cloud customers, we asked why you originally chose to move data to the cloud.
41% of survey respondents chose agility as the main reason for moving data to the cloud
38% chose digital transformation as their main reason for cloud
21% chose cost savings as the driver for cloud data migration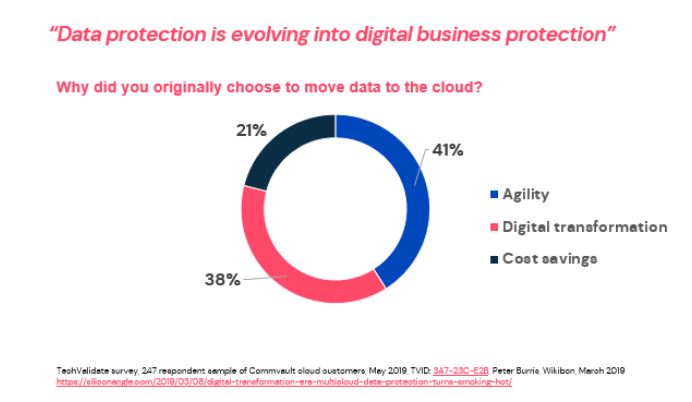 Cloud backup – how to get started
Data protection professionals are busy people, with many demands from the business. Many IT professionals who manage backup and recovery choose a cloud backup option that is already integrated into the data protection product that they use today.
For example, Commvault customers can use the same interface that they already use for on-premises, tape or disk backup. To back up to the cloud, Commvault customers simply change the dropdown to include a cloud storage location. Configuring the cloud storage option is fast and secure. Check out a demo of Commvault cloud backup.
To compare cloud backup vendors, think about your requirements.
Do you need granular recovery of files, items within virtual machines and data within cloud backups?
Are you willing to spend extra money and time working with complex and expensive cloud gateways to move data to the cloud?
Do you want to add the burden of a virtual appliance in the cloud to receive the data?
Do you want native integration with the top public clouds so that you can write data directly to the cloud?
Will it be easier if you can start backup, recovery and data migration projects from within the actual cloud interface?
Commvault offers a simple tool to compare cloud backup and recovery options. Explore the Checklist for Cloud Data Management to guide your cloud backup comparisons.
Comparing cloud backup to native cloud tools
Cloud vendors are creating highly secure, highly available cloud services. The innovation is amazing and moving very rapidly. Today's public and private clouds are very good at what they do, but they are not designed to be an enterprise grade backup and recovery system.
Native cloud providers help data and workloads stay persistent online and usable, but their current tools are not designed to backup, granularly recover, or extensively meet the data recovery SLAs of enterprise customers.
Cloud backup software provides the scope, scale and proven methodology to cover the data protection needs of your cloud environment.
Many native tools require manual processes, "recipes" to follow, and/or writing scripts, all of which are susceptible to human error that can create problems with the execution, leave data exposed, or cause failures in the process.
Native cloud backup tools usually do not provide deduplication. Most organizations find huge storage savings with cloud backup deduplication tools, saving storage time, cost and effort.
Native cloud backup tools also do not provide granular recovery. If you need to recover just a file located within a virtual machine, most native cloud recovery options – and many smaller cloud backup products – do not allow granular recovery. With cloud native backup, you may recover an entire snapshot, but you will have trouble finding exactly the information you need.
A cloud backup software product can automate processes, saving time.
For example, Commvault software includes with native integration into today's top public clouds, which provides a highly secure option for backup. Native integration reduces the work, streamlines the process and provides a level of security that you need.
Without Commvault's deduplication capabilities, we would need 15 petabytes of space to store all our backups. Instead, we can scrunch it all into 1.6 petabytes.

–Mark Penny, Infrastructure Systems Specialist, University of Leicester
Replication is not the same as data protection. With a cloud backup solution, the backup data can be held in immutable recovery points. In a cybersecurity attack, even if the backup infrastructure was part of the attack the data itself will be safe for recovery.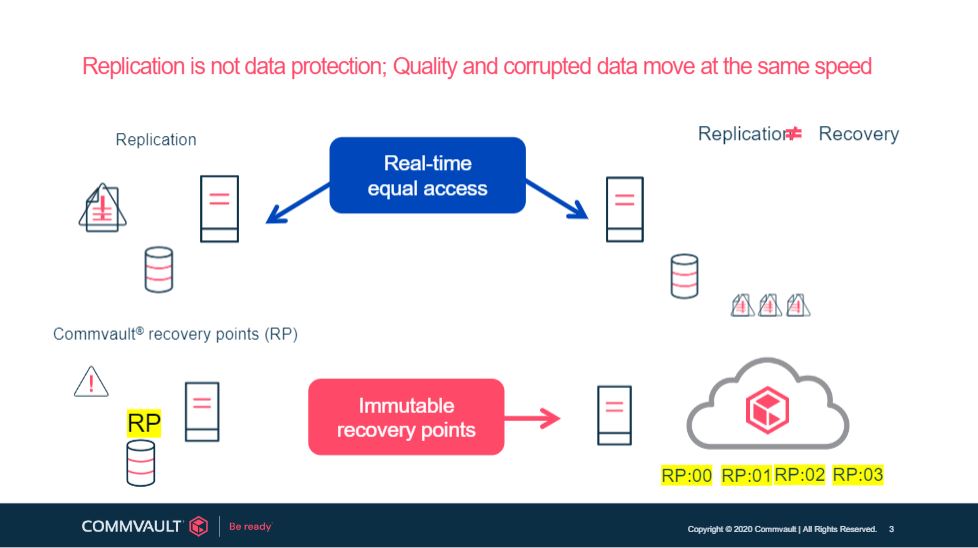 Be sure to compare SLA requirements before using native cloud tools.
An enterprise grade cloud backup software offers speed, reliability and flexibility that native cloud tools cannot offer, including:
High speed recovery, instant accessibility, portability to different infrastructures and a platform to provide governance and insight
Error checking, restartability, efficient deduplication, compression and reporting on migration processes
Data stored and recovered in usable formats
Cloud backup – some technical questions
Cloud Platform as a Service (PaaS) still needs backup. Cloud vendors like Azure, Amazon and Google offer extensive PaaS services. In PaaS services, the underlying infrastructure is not accessible in the same way as an on-premises solution. You still need to protect the data.
Cloud vendors may offer 0- to 35-day retention through snapshots. This process can be manual and involve scripting. Using a cloud backup solution like Commvault likes you perform a streaming granular backup of tables, a complete region, or multiple regions. With a cloud backup solution, you can define your backups based on your requirements.
To save on cloud storage costs, cloud backup software should include comprehensive deduplication and compression. Your goal is to reduce the amount of data that is migrated from on-premises to the cloud.
Good deduplication and compression practices reduces the amount of data that is sent over the wire and subsequently stored in the cloud, saving on overall costs, including time, cloud egress charges and network bandwidth when moving to the cloud or moving data between clouds.
Make sure you ask about integrated deduplication support before deploying a different backup and recovery software solution: some data backup systems don't integrate deduplication or actually use a third-party deduplication system that makes your data unusable.
Commvault customers love to compare their deduplication ratios. Commvault software compresses, deduplicates and encrypts data without rehydrating the data, reducing transmission time to the cloud. Plus, Commvault cloud backup integrates deduplication and stores your data in usable formats.
Today organizations are using cloud backup for many types of workloads. Some examples are:
Applications – Microsoft 365, Google Suite, Salesforce, SAP, Oracle Enterprise Business Suite, Microsoft Active Directory, Microsoft Exchange Server, Microsoft SharePoint Server and more
Distributed applications – Hadoop, Cassandra, MongoDB and more
Databases PaaS databases, SAP HANA, Oracle, Microsoft SQL Server, IBM DB2, PostgreSQL and more
Hypervisors – Microsoft Azure, Azure Stack, VMware vSphere, AWS, Docker, Kubernetes and more
Clouds – Microsoft Azure, Amazon AWS, Google Cloud Platform, Alibaba Cloud, VMware Cloud on AWS and more
How do I get started with cloud backup?
With this information in hand, you can start to develop a cloud backup strategy that fits in your overall data protection plan. It's important to first develop a general plan. Start by asking these questions:
What workloads will you choose for cloud backup?
What cloud or clouds will you use for backup?
What cloud storage levels will your backup need?
Do you have modern cloud backup solutions in place?
This is a big decision and all organizations have unique needs. Let's set up a demo conversation – we'll discuss your unique requirements and see how Commvault can help save money, prevent downtime, and give your organization the confidence and flexibility it needs now and into the future.