Cloud disaster recovery
Cloud disaster recovery needs speed, agility and granularity. Different cloud workloads have different demands. It can seem nearly impossible to align all of them at times.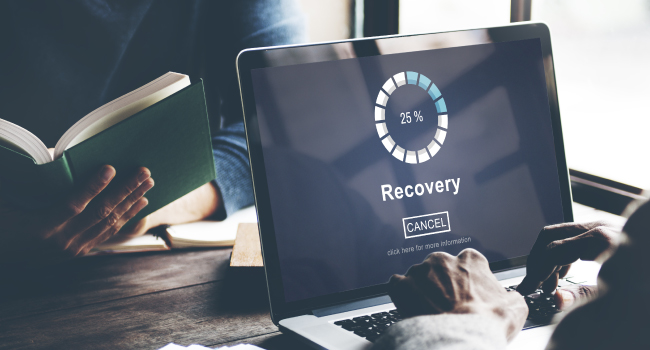 Automate cloud disaster recovery for today's business demands
Commvault software helps you build custom recovery workflows to reduce manual effort and minimize human error.
Quickly spin up cloud storage, data and policies
Choose the type, source, target and location of your data
Determine the best route for continuity – full recovery or rebuilding and repopulating data
Recover both the state and data inside hypervisors
Meet multiple, different RTO and RPO targets
Prepare for today's cloud environment – and tomorrow's demands. Commvault supports more than 40 cloud storage options and multiple hypervisors.
Whether your challenge is a natural disaster, ransomware attack or human error, Commvault gives you the power and control to handle disaster recovery situations.
TechValidate survey, Commvault cloud customer sample
59%
of surveyed cloud customers are seeing change due to executive focus on risk and threat mitigation
Disaster recovery in the cloud
Recover cloud-native workloads within their cloud, across cloud regions or from another cloud. Cloud-first organizations need the choice for rapid recovery within the cloud.
Cloud disaster recovery
for today's business
Automate disaster recovery workflows with tested cloud management policies
Set and manage multiple RTO and RPOs tiers – distinct for different application groups – saving effort and budget automate disaster recovery workflows with tested cloud management policies
Understand current status with built-in alerting, monitoring and reporting
Initiate either a planned or unplanned failover while prioritizing what is most important to the business – recovery time or data types
Efficiently replicate data, saving time and bandwidth, especially with cloud-to-cloud disaster recovery


Harnessing multi-cloud disaster recovery
Reduce costs and accelerate recovery with cloud disaster recovery
Save time, budget and efficiency by managing your multi cloud disaster recovery strategy with Commvault. Align your organization's unique data needs with your own custom business-continuity plan.
Speed up work by starting in your public cloud interface. Native integration means backup and recovery jobs can run from the cloud interface or your Commvault Command Center™ .
Choose your fastest continuity route – full recovery or rebuild and populate data.
Reduce costs with power management. Automatically power on Commvault cloud-hosted agents for backup, restore or pruning, and gracefully power down resources when the job is complete.
Best of all, reduce the cost of maintaining multiple point technologies. Consolidate and streamline your on-premises and cloud-based disaster recovery strategy with a single point of management.
University of Canberra automates disaster recovery, saves time and cost, improves data availability with Commvault and AWS.
Cloud disaster recovery
with hypervisor flexibility
Your environment changes quickly. Be prepared for cloud disaster recovery from your ever-changing hypervisor stack. Commvault supports:
Gentless API integration with the hypervisor for lower RPOs
Flexibility to replicate and recover to both like and unlike hypervisors
Protection of native cloud workloads for compliance with SLAs
With Commvault you can manage data across on-premises data centers, public and private clouds – becoming an agile IT organization with consistent, strategic data management practices.
Align with a cloud partner
Commvault software supports more than 40 cloud storage options across public and private clouds. Get a comprehensive view of data storage locations, consistent service level agreements for hybrid IT environments, and policy control management for cloud and on-premises workloads.
Your cloud disaster recovery action items
Want to see how these tools would apply to your cloud disaster recovery goals?