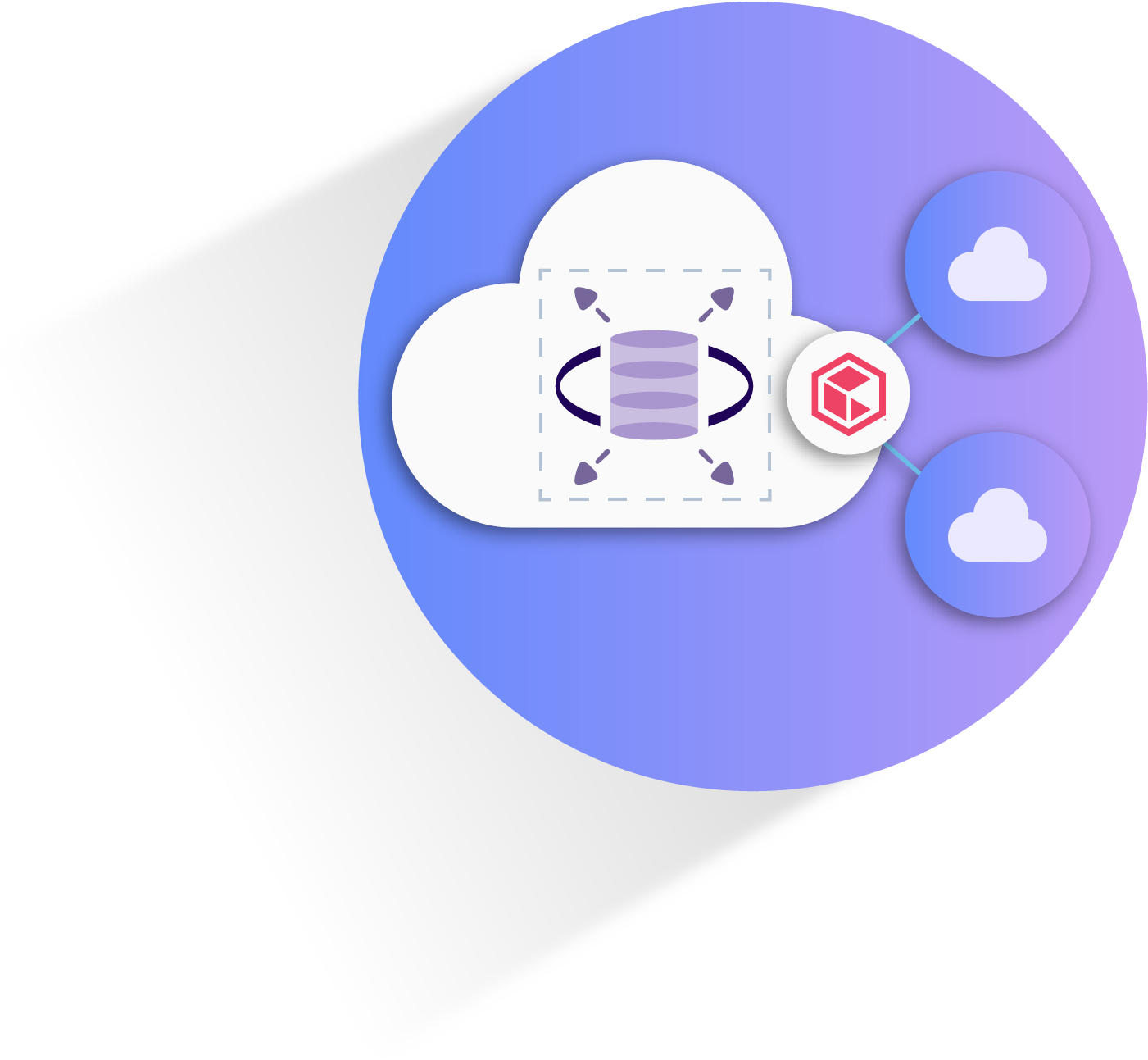 Protect your Cloud Databases (DBaaS)
Cloud databases need data protection – backup, recovery, disaster recovery, and compliance management. Commvault makes it easy to add Database-as-a-Service (DBaaS) data protection to protect your critical cloud database workloads.
Using databases in the cloud? Choose simple, streamlined Database-as-a-Service (DBaaS) backup and recovery.
65%
of companies across all industries report DBaaS adoption.1
Cloud Databases (DBaaS) need data protection
Join this 20 minute Tech Talk to learn the compelling reasons why backup and recovery is critical in your DBaaS environment.
3 Reasons Why DBaaS Needs Data Protection
Why do Database as a Service (DBaaS) projects need data protection? It's a common question – and one answered in a new Commvault tech talk and demo.
Widest Range of DBaaS Data Protection
Organizations are rapidly shifting on-premises databases to cloud databases. 33% of enterprises predict DBaaS spending to increase in 2021. 2
Just as Commvault supports your critical on-premises databases, the top-ranked data protection software also provides backup and recovery for the widest range of DBaaS across a broad range of clouds.
Cloud ready: protect your diverse types of databases
Compare Commvault data protection for DBaaS across different clouds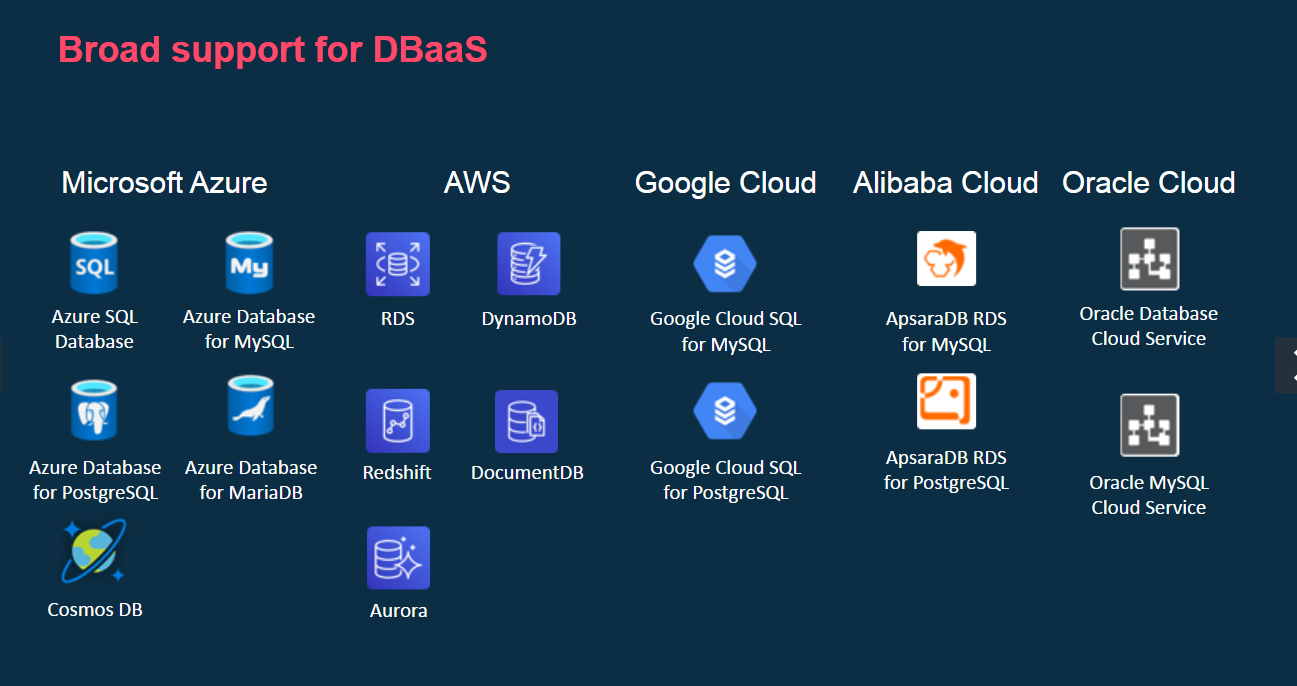 What is a cloud database or Database-as-a-Service (DBaaS)?
A cloud database is a database that typically runs on a cloud computing platform, and access to the database is provided as-a-service. Database services take care of scalability and high availability of the database. Database services make the underlying software-stack transparent to the user. The advantages are agility, flexibility and scale.
Cloud databases or DBaaS include services such as Azure SQL Database, Azure Cosmos DB, Azure Database for PostgreSQL, Azure Database for MariaDB, Amazon RDS, Amazon DynamoDB, Amazon Redshift, Amazon Aurora, Google Cloud SQL for MySQL, Oracle Database Cloud Service or Alibaba Cloud ApsaraDB for PostgreSQL.
DBaaS adoption is rising exponentially. Application owners can quickly and easily create new DBaaS projects. Sometimes in the rush to create new DBaaS initiatives, data protection is an afterthought. You can add data protection for DBaaS before projects are created and for existing projects.
Why do cloud databases need data protection?
Cloud databases are powerful services to accelerate innovation in your organization. The data that's used by your cloud databases is vital to creating new products, providing the best customer service, or making financial gains.
Just like all your other on-premises and cloud-based business data, the workloads in your cloud databases need data protection to safeguard against disasters, accidental deletions and security attacks.
How can Commvault protect cloud databases?
Commvault uniquely provides data protection that works with cloud native systems to protect the data. With more breadth and depth of cloud database-as-a-service data protection than any other data protection product, Commvault covers your diverse needs. From the same dashboard that IT professionals use to manage on-premises and cloud data, Commvault gives you control over data protection for cloud databases.
With native integration to today's most popular clouds – Microsoft Azure, AWS, Google Cloud Platform and more – plus support for a diverse landscape of applications, databases and virtual machines, Commvault has the experience and innovation to simplify cloud data protection.
Get flexibility and control for DBaaS data protection. With Commvault, simply manage policies to automate multiple backups a day for production data and once a day backups for Dev/Test data.
How to reduce complexity in managing cloud database workloads?
Cloud vendors may offer short term (0- to 35-day) retention through snapshots. This process can be manual and involve scripting. Automation is needed to streamline data protection.
Simplify your cloud database management. Easily add cloud database backup and recovery from Commvault data protection software. In the same familiar interface that's used for daily backup, recovery and disaster recovery processes, you can perform backup of cloud database tables.
Choose a cost-saving streaming granular backup to leverage compression and deduplication, reducing storage costs. Manage snapshots of individual tables, databases, all databases in the region, or across regions. Avoid the high costs associated with long term retention of cloud snapshots.
With cloud database backup from Commvault, you can define your backups based on your requirements, automate the process and be consistent in how you protect cloud applications and databases.
Be ready with disaster recovery for DBaaS
DBaaS workloads need a disaster recovery strategy, just like all business data. From accidental deletion to cloud outage, Commvault helps you be ready for disaster recovery.
From the same single dashboard that manages on-premises and multi-cloud data, manage disaster recovery for you DBaaS applications.
Recover a single table or multiple tables
Rename recovered tables with new names when needed
Verifiable recovery – no guessing
Restore across different regions, different accounts or even different clouds
Reporting to confirm RPO and RTO targets with database owners and management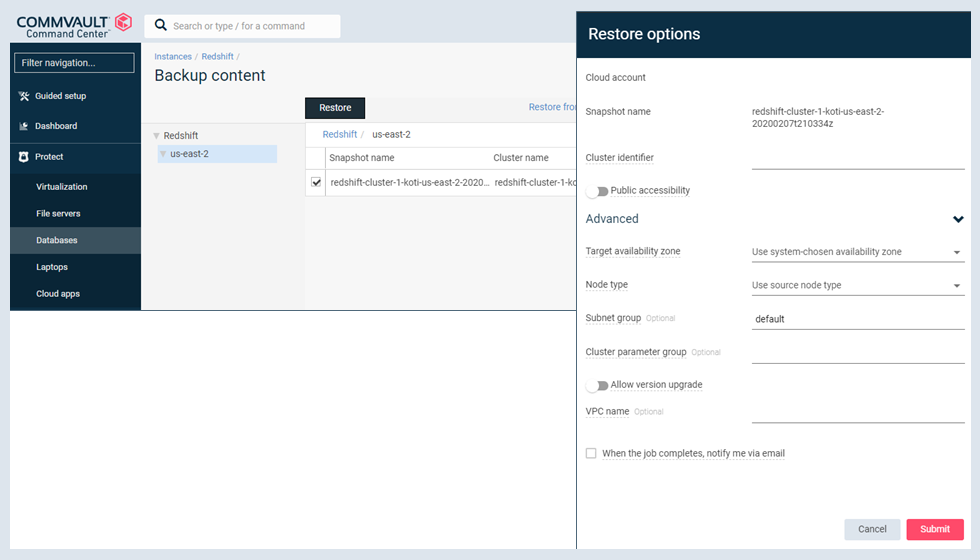 How to move existing traditional databases to the cloud?
If you are using traditional on-premises databases such as SQL server or Oracle and planning to move to a cloud database as a service, Commvault can assist you with a fast, secure cloud migration.
You can backup and orchestrate the recovery of your on-premises databases to DBaaS as the destination, effectively migrating your data to the cloud.
Business demands may require you to move from one cloud service to another. Get the flexibility to easily and securely transport data between clouds and cloud services.
Snapshots are not portable. Snapshots of your DBaaS workloads won't support flexible data migration across cloud databases services – especially at scale.
Commvault supports data movement across clouds and cloud services. You benefit from the flexibility to move cloud apps and databases across cloud platforms.
Database administrators may be okay with data dumps, but you want control over the data. Where do you look when you want application consistency? Choose when and how backups run. Manage data at scale. Select the way data is collected and accommodate large, customized web-based applications and databases with ease.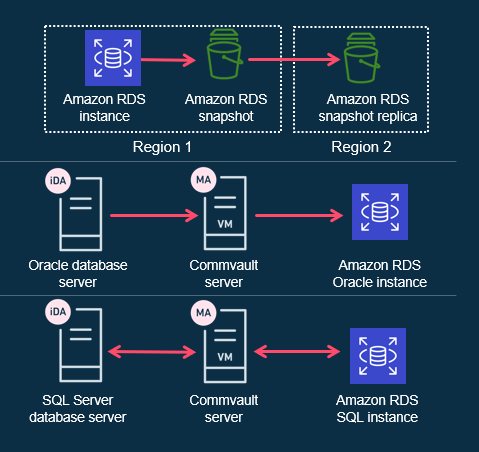 If you're using just native cloud snapshots, are you covering all of your compliance needs? The snapshots taken by cloud-provided services are not transparent. Snapshots don't let you have visibility into your data sets, you need to know your data.
You need granular control to know what is in your snapshots. Control compliance demands with an enterprise approach to DBaaS data protection. With Commvault you can search, label and find data. Plus, you can tag PII, HIPPA, or SOX-related data.
Learn more: 10 Times When You Need More Than "Free" Cloud Backup
Cloud databases need to be included in a long-term data retention strategy. Most cloud vendor provided snapshots only offer 0-35-day retention.
From a single dashboard, Commvault can easily add cloud databases to your usual long-term retention data strategies. Gain control, granularity, and scale to meet business demands.
Workloads change – and budgets are tight. Commvault helps you to provide comprehensive data protection for the workloads you have today, with flexibility to save your IT budget.
Auto-scale your Commvault infrastructure as DBaaS requirements expand or shrink
Deduplication and compression – all from the same dashboard – keep costs low
Store your backups on cheaper storage tiers in the cloud
Eliminate the need for point solutions – Commvault covers your diverse environment
Watch webinar
AWS Cloud level-up – DynamoDB, Redshift, DocumentDB
Reference
1 Forrester Research, The Forrester Wave™: Database-As-A-Service, June 2019, Noel Yuhan et al
2 ESG Research, 2021 Technology Spending Intentions Survey, Dec 2020