Enterprise backup solutions
Backup and recovery is a dynamic challenge with ever-changing needs. It's time to get one step ahead and leave reactive plans in the dust.
The challenges of data management and backup
Organizations are challenged to meet their data availability and management needs as technology changes. Adding to this pressure is the speed at which they have to change due to new market requirements, evolving global supply chain dynamics, and competitors' moves. All putting strain on IT to support business growth and innovation.
As more and newer technologies are added to meet the organizations' needs and demands, data is located across multiple environments, including hybrid and multi-cloud as well as remote and distributed environments, increasing the risk of data loss and compromising data recoverability. This mix of technology is unavoidable as IT evolves and new technologies are introduced to solve them. Multigenerational technology causes data and workloads to fragment across the entire data landscape, creating data silos. Ultimately, this increases the complexity and difficulty to ensure consistent recoverability across the environment.
79%
of organizations had at least one production application outage in the past year
57%
of organizations report their mission-critical applications must be back up and running within an hour of going down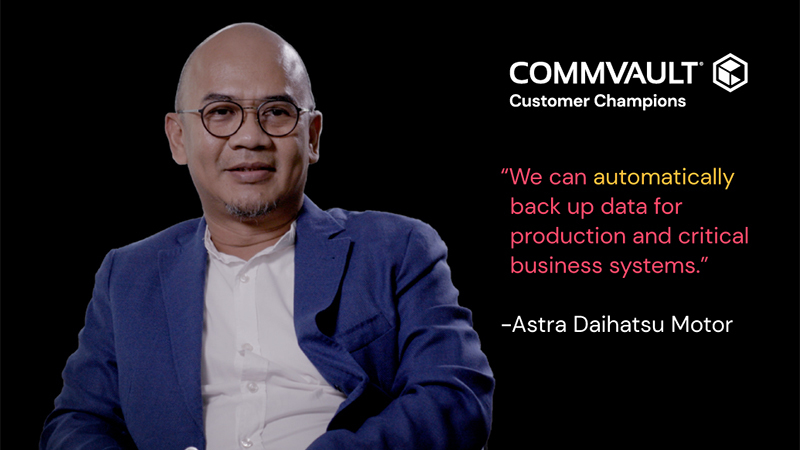 Leading Indonesian auto manufacturer Astra Daihatsu Motor, a subsidiary of the Toyota group, chose Commvault Complete™ Backup and Recovery to replace legacy backup products because the previous process to restore data was slow and complicated.
The challenge with backup
and recovery point products
Not long ago, you needed separate point products or custom scripts for almost every application, platform, or array with data that required backup. Each of these came with its own infrastructure, licensing, schedules, and unique user interfaces that IT teams were required to operate and support. Even today, we see newer vendors in the market only supporting a limited set of workloads, forcing you to either deploy multiple solutions or build your own customizations to cover all your data needs completely.
As an IT professional, you've experienced the pain of cobbling together multiple products to try to function as one unit. Unfortunately, it takes time, effort, and cost to keep that kind of complexity in your environment. The good news? There is a better way. Start with a comprehensive solution that not only addresses your current backup and recovery needs but is flexible and innovative enough to cover what may come tomorrow. You need to be able to account for workloads on-premises, in the cloud, across multiple clouds, and even your SaaS data sets. Native integration into these platforms and applications means that everything will work as you expect it to and deliver the kind of reporting and analytics that can help you make better-informed business decisions.
Commvault® Backup & Recovery
Commvault Backup and Recovery provides powerful backup, verifiable recovery and cost-optimized cloud workload mobility, helping to ensure data availability, even across multiple clouds.
What does 3-2-1 mean for backup and recovery planning?
Best practice in backup and recovery revolves around having a 3-2-1 data backup plan. This dictates that you always maintain three copies of your data: two stored locally (but on different storage media) and one copy off-site, for a total of three.
Consider a backup copy of critical application data; your primary backup copy is stored in your data center for quick recoveries, with a second copy kept on different infrastructure (e.g., tape or disk media) to avoid a single point of failure. Then, you periodically upload your data to an off-site cloud; this would be your third copy. This copy can even be "disconnected" if needed, providing an "air gap" to protect against cyber hacking or ransomware.
---
The keys to success in an enterprise backup strategy
There are a few things to keep in mind when developing your enterprise backup strategy:
The first is being able to backup your data within a defined operating window efficiently. An initial backup usually takes longer, but future incremental backups should have virtually no impact on end-users' and backup admins' performance.
The need for speed is a given but being able to recover to meet business objectives quickly is also critical. And with today's rapidly-evolving threat landscape, you need to be able to recover quickly after a ransomware attack or other event, to minimize both downtime and data loss.
Reliability is also crucial, translating to having a robust, security-focused, and scalable data protection architecture that can expand and contract to meet evolving requirements.
And finally, the total cost of ownership (TCO) is essential. You need a tiered storage strategy that can provide high performance aligned to the business value of your data, placing the most critical information on the highest performing infrastructure.
---
Types of enterprise data backup
A comprehensive data protection solution needs to provide seamless and efficient data backup and recovery of any operating system, database, or application. Here are some specific examples of data backup types:
Backups for any client start with a full backup. The full backup is the baseline against which subsequent backup types are applied.
Contains only data that is either new or has changed since the most recent backup. Incremental backups typically consume far less media and place less of a burden on resources than full backups.
Contains only the data that is new or has changed since the last full backup. As with incremental backups, differential backups typically consume less media and place less of a burden on resources than full backups.
Consolidate the data from the latest full backup or synthetic full backup, together with any subsequent incremental backups, into a single archive file, instead of reading and backing up data directly from the client computer. Since synthetic full backups do not backup data from the client computer, this operation puts no load on the client computer.
For certain databases, a selective online full backup is a full backup that you perform when the database is online. A selective copy subclient includes the data, logs, and control file. The backup is copied during the auxiliary copy operation, and you can restore it from that copy.
Integrate snapshot technology with efficient block storage mechanisms to speed up backups.
Building an enterprise backup and recovery strategy
Having a proven, comprehensive enterprise backup and recovery solution gives you the confidence that your essential information is always available, no matter the scenario. From traditional disaster recoveries – everything from weather events and hardware failures to ransomware attacks – your entire environment needs to be protected and recoverable with a solution that's both effective and easy to use. Some must-haves:
Simplicity:
easy for your IT staff to manage, protect, and use your data where it exists today and wherever it is moved and stored tomorrow.
Cost-optimized:
streamlines operations and enables predictable growth and cost management, so you know what to expect and how to budget.
Flexibility:
supports your diverse environment today and the confidence to know that your future technology decisions will be supported as well.
So, what are you waiting for? Choose a data protection solution that delivers all that you need; simplicity, cost-optimized, and flexibility.
---
Commvault® Backup & Recovery
Commvault® Backup & Recovery helps ensure data availability for all workloads across cloud and on-premises environments. Available in multiple delivery models, Commvault allows you to manage data and workloads efficiently and securely.
Simple, comprehensive backup and archiving from a single extensible platform and intuitive user interface.
Trusted recovery, including rapid, granular recovery of data and applications.
Scalable cost-optimized cloud data mobility via automatic scaling and tiering of cloud usage.
Resilient ransomware protection and end-to-end data security with encryption.
Flexible data reuse with copy data management to facilitate DevOps, perform security testing, test patches, and upgrades, and more.
Also, Commvault's market-tested technology helps organizations extract more business value from that data, facilitate business planning, and improve business outcomes.
Learn more about Commvault Backup and Recovery.
Commvault is simple and easy to use. We were also impressed with the speed to backup and restore our data, giving us confidence that we can support the entire manufacturing operations with minimal interruption."
Weikang Yu | Head of Information Center, Camel Group
By automating our backup and recovery processes with Commvault, we gained a deduplication ratio of 86% and slashed data volume by 80%. This has not only dramatically reduced our workload but also enabled us to continue leveraging our existing investment."
Ryohei Kiyoyama | Infrastructure Operation Section, IT Platform Department, System Engineering | Sony Network Communications Inc.
Our backup success rate is now at 97% and improving all the time as we refine our processes," says Hubbard. "Commvault has been life-changing for the team; we now have consistent, reliable and secure backups."
Barry Hubbard | Senior Director of Infrastructure at TiVo
Camel Group ensures continuous manufacturing operations with Commvault
Sony Network Communications slashes backup window by 66% and data volume by 80%
TiVo safeguards audience innovations with Commvault and Eagle Technologies™
Data backup and protection for your entire environment
Modern problems need enterprise backup and recovery. Commvault® Backup & Recovery is a single, powerful backup software solution for data protection – wherever your data lives. You need a data backup and recovery solution that can keep up with you. Say goodbye to point products that increase complexity and costs. Commvault can meet all your needs:
5 steps to application-aware data protection
With hybrid IT and the increase of applications being "lifted and shifted" to the cloud, protecting your data has become much more challenging.
Solving your database backup and recovery problems with Commvault
Commvault® Backup & Recovery datasheet
Got questions?
Every business is unique in its needs for data backup; we are here to answer questions and help provide a quote on what an enterprise backup and recovery solution would look like for your business.