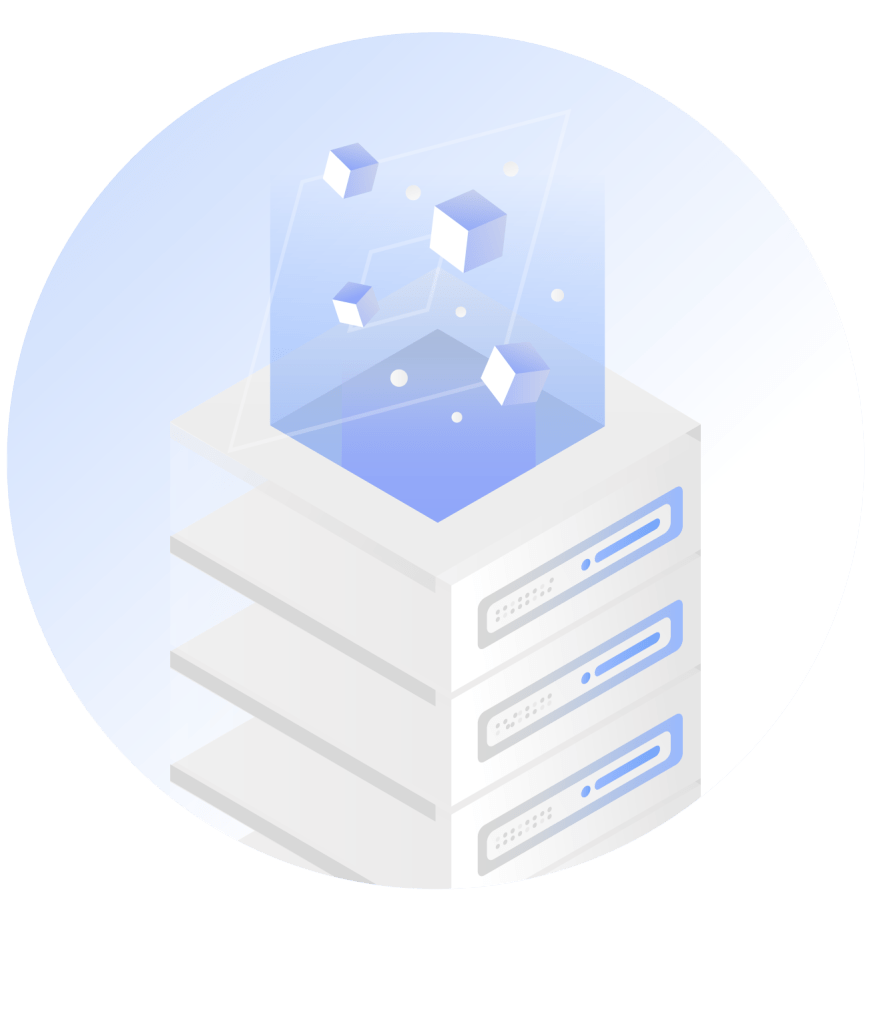 Software-defined storage
SDS is reshaping the storage industry. According to Gartner, by 2024 half of global storage capacity will be deployed as SDS.1 The premise for SDS is simple: by abstracting, or de-coupling, software from the underlying hardware, enterprises can unify storage management and services across diverse assets throughout their hybrid multi-cloud environment.
What is software defined storage (SDS) and how does it work?
Unlike traditional approaches to storage, SDS was designed explicitly to support the diversity, virtualization and self-service that define the modern enterprise data center. Based on hyperscale (or webscale) approaches pioneered by Amazon, Facebook and Google, SDS allows an automated, agile and cost-effective infrastructure to keep pace with the exponential growth of data.
Definitions of SDS vary from vendor to vendor, but Gartner Research captures its essence: "to abstract storage software from the underlying hardware, and to provide a common management platform and data services across an IT infrastructure composed of heterogeneous or homogeneous enterprise storage assets."2
In other words, by de-coupling software from hardware, you can gain efficiencies on both fronts — for example, lowering costs by using industry-standard servers instead of higher-priced proprietary storage. This allows IT to do several important things:
Reduce data fragmentation by consolidating storage technologies
The fragmentation caused by data silos limits visibility and adds friction in a broad range of use cases, from data analytics to regulatory compliance. An SDS platform that supports multiple storage protocols, including block, file, and object, lets you consolidate these silos in a common infrastructure. Complemented with APIs to enable orchestration and automation, this consolidated SDS platform can simplify storage management while improving overall cost efficiency.
Maximize availability and improve disaster recovery planning
The ability to store and manage data easily across environments can help organizations reduce the business impact of a potential hardware failure — from a single disk or node to an entire site. With a distributed storage platform, data can be written to multiple locations simultaneously, making it unnecessary to physically move data in the event of a disaster. This makes it simpler to ensure multi-site high availability for applications across geographically dispersed data centers. Enterprises are also spared the need to deploy a lot of complex and expensive replication technologies on top of their storage infrastructure to meet business continuity and disaster recovery SLAs. As a result, uptime increases while costs decrease.
Provision the right kind of storage for each situation
Given more flexibility to store and manage data across diverse assets, IT can choose the right environment for each application and technology stack according to its specific requirements. This granular approach to provisioning lets storage admins avoid the challenges and compromises of one-size-fits-all storage and support business SLAs while lowering operational costs.
Improve scalability while reducing cost
SDS can be scaled out seamlessly using off-the-shelf commodity servers. In other words, you can "pay as you grow" and add capacity only when it's needed. This eliminates the need for overprovisioning — and the wasted capital expense it brings — while helping storage admins respond quickly to changing business needs. As a result, IT can improve business alignment while avoiding the dreaded forklift upgrade.
Why do we need a new way to store data?
Consider the key priorities of the modern organization: business agility, cloud-native applications, cost efficiency and IT flexibility. These requirements are driving change throughout the enterprise environment — in particular:
Multi-cloud environments, which allow more flexibility to support a variety of use cases, business units, and development groups. A multi-cloud strategy also makes it possible to realize cost efficiencies by shifting assets to lower-priced vendors.
According to a Flexera study, 92% of enterprises have built a multi-cloud strategy.3
Containers, which package all of the code and dependencies for an application into single piece of software that can run reliably in diverse computing environments. This accelerates application modernization and improves portability.
By 2025, Gartner predicts that more than 85% of global enterprises will be running containerized applications in production.4
Take three minutes to find out why now is the time for software-defined distributed storage
---
Traditional storage presents challenges in modern environments:

Multiple data silos across different storage architectures, leading to data fragmentation
Complex operations managing resources across the different technologies, increasing cost and the need for specialized skills
Separate and disparate management tools for each product, further increasing complexity
A lack of universal data visibility and management across the environment, adding friction and limiting insight
An inability to easily move data between on-premises and cloud environments as needed
Benefits of SDS vs. traditional storage
Traditional storage
Data silos/complex management
Purchase storage for a specific purpose
Vendor lock-in and expensive forklift upgrades
Software-defined storage
Collapses data silos and reduces data fragmentation
Mitigates technology refresh risks with non-disruptive upgrades
Creates an agile infrastructure hybrid environments
A more predictable, resilient, and simple way to store data in today's hybrid multi-cloud environments
Predictable
With SDS, organizations can adapt quickly to changing business and IT requirements without having to worry about the implications for performance, scale and cost.
As competitive pressures place a premium on agility, time-consuming manual storage provisioning methods can be replaced with automated and dynamic provisioning to speed application development. SDS also makes it simpler to support DevOps through integration with container orchestrators (COs) such as Kubernetes, and enables portable, persistent storage of containers for easier application migration between on-premises and public cloud environments. By streamlining DevOps cycles, the organization can accelerate innovation without being held back by storage considerations.
Seamless scalability and migration helps IT meet changing needs more cost effectively. Upgrades and additions can be performed without massive downtime scenarios, and IT can move data easily between cloud providers and environments to capture opportunities for cost savings.
Resilient
Traditional storage management solutions rely on point-in-time copy operations to synchronize data across locations. With software-defined storage, data can be written across multiple locations simultaneously. This maximizes availability by providing fault tolerance, and by ensuring fast and full recovery in the event of an outage — without the long and complex recovery processes usually required for public cloud locations.
Simple
With a unified approach to manage block, file, and object storage across hybrid cloud environments, IT can eliminate data silos across different storage architectures. This makes it possible to consolidate disparate management tools, which in turn simplifies administration and reduces the need for specialized skills. The ability to use industry-standard compute nodes rather than proprietary storage further reduces complexity as well as cost. Applications can be moved easily from on-premises to cloud and back to support hybrid environments.
Distributed storage also makes disaster recovery far less painful. Instead of sending copies of snapshots of your on-premises data to the cloud, you're writing actual data simultaneously in both locations. In the event of a recovery, you can simply fire up the application instances in the secondary location and start using that data, without the need for migration back from the public cloud — or the costly egress charges it brings.
Distributed storage
Stop the infrastructure and data fragmentation. Software-defined distributed storage provides a single, scalable storage solution for all your workloads, wherever they live.