Metallic
Building a DMaaS Rocketship – Metallic soars to the next wave of innovation
Metallic was launched as a Commvault Venture, a start-up within the company, that boasted the technology, talent, and GTM chops.
In the world of SaaS businesses, new ventures pop up every day. However, the growth potential – and even survival – of a SaaS business can't be taken for granted. In fact, the year that Commvault launched Metallic – our own SaaS venture – it was estimated only .04 percent of SaaS start-ups make it to $10 million. But Metallic had something special: it was an elegant, cloud-native solution that leveraged the best of cloud technologies together with Commvault's industry-leading IP. We had a great team at the ready, committed to a singular mission of changing the status quo in data protection, and a market ready for change. Metallic was launched as a Commvault Venture, a start-up within the company, that boasted the technology, talent, and GTM chops to fuel a truly disruptive entrance to the market. In two short years, Metallic has experienced amazing growth and accomplished what most start-ups would dream of: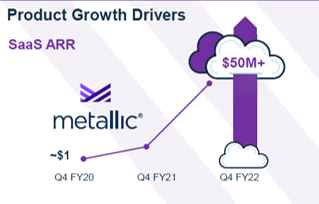 Rapid-fire portfolio expansion – more than tripling our offerings from launch
Growing from 1M to $50M ARR in 6 quarters
Establishing incredible cloud partnerships – including Microsoft, and a newly launched MSP business with global design partner SoftwareOne
Expansion to serve more than 2,000 customers, with availability in more than 30- countries around the globe
Made Enterprise grade DMaaS a reality for companies of all sizes, from the largest Fortune 500s to the smallest companies
But more than anything – our growth and success today is testament that we have struck a chord for customers: Metallic offers the security and flexibility companies of all sizes need to meet this unique moment of accelerated change … and rising risk.
Growth comes from meeting the moment
Data protection as a service is the fastest growing segment of our industry1, and Commvault had the foresight to know there was a gap: enterprises needed a SaaS-delivered solution that they could trust. What we couldn't have predicted was a world plunged into a global pandemic, and the meteoric rise of cyberthreats alongside hyper-accelerated cloud adoption. Last year, companies predicted they would double their pace of cloud adoption by the time the year was out2. Adding to that, environments are increasingly hybrid and multi-cloud. This kind of distributed data estate means an expanded attack surface. It's an (im)perfect storm. But we've got you covered:
What's next? Metallic® Recovery Reserve™ and Metallic® ThreatWise™
First, we're excited to share the Metallic Cloud Storage Service (MCSS) gets a new name: Metallic Recovery Reserve. Since its launch in 2020, companies around the world have adopted this managed cloud service from Metallic for their ransomware recoverability – and we're excited to give MCSS a new name to speak to the value we've heard from those customers. A company's data is its strategic reserve – and those reserve must be called upon to help speed recovery and ensure businesses can get up and running fast in the face of cyberattack.
To continue our growth, we are keeping the innovations coming. Following Commvault's acquisition of TrapX in February, this week we're launching an early access program for ThreatWise, a warning system to help companies spot cyberattacks and allow early action alongside comprehensive tools for recoverability. ThreatWise helps catch latent and silent threats traversing environments to contain and limit windows of exposure – because true data protection is not about recoverability alone.
Learn more about why this matters and how companies can sign up to learn more as we move toward general availability in the coming months.
With Metallic together with a broad set of intelligent data services delivered as SaaS, software, or appliance, Commvault is helping customers move fast, stay agile, and put security first as they modernize their business. There's much more to come this year and beyond from Metallic as we continue to listen to our customers' needs – for security and compliance, for business efficiencies, and for smart hybrid- and multi-cloud data management. Stay tuned, the best is yet to come.
References
1. SaaSPath 2Q20, April 2020, IDC – 2. IDC Info Snapshot, sponsored by Microsoft, Doc #US4697620