Simplify data management,
accelerate to the cloud
NEW Commvault Product Offerings!
Organizations are under increasing pressure to evolve how they securely manage their data without increasing costs or complexity. Commvault's new product offerings include unique Intelligent Data Management capabilities to deliver simple and cost-optimized solutions that transform enterprise data management so that customers are ready for the challenges of today, and the future.
Get a front row (virtual) seat to our event on September 9 and 10, where we will dive deep on how to leverage these products for operational efficiency.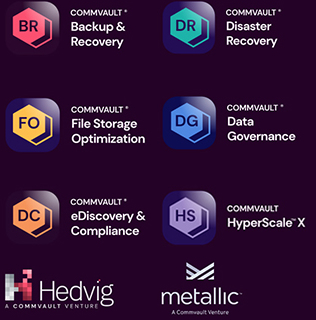 Commvault HyperScale™ X
Available now
Accelerate hybrid cloud adoption with Commvault HyperScale™ X, a scale-out integrated solution that delivers:
Simple, flexible data protection for all workloads including containers, virtual and databases
Optimized scalability to easily grow as needed, on-premises and to the cloud
Trusted security and resiliency including built-in ransomware protection

Hedvig® for Containers
Available now
Accelerate modern application delivery for containerized environments with Hedvig software-defined storage, providing native integration with Kubernetes and allowing DevOps professionals to:
Simplify existing workflows with storage lifecycle management via the Container Storage Interface (CSI)
Facilitate data management with built-in data protection and cloud data mobility
Secure their environment and mitigate ransomware attacks through automatic snapshotting of persistent volumes
Commvault® Disaster Recovery
Coming soon
Ensure business continuity and verify recoverability across cloud and on-premises environments with Commvault Disaster Recovery, delivering:
Simple, automated disaster recovery orchestration with one-click failover and failback
Scalable, flexible replication with flexible RPO to balance the mission criticality of your data and workloads
Verified recoverability via automated disaster recovery testing, reporting and validated compliance
Commvault® Backup & Recovery
Coming soon
Ensure data availability for all workloads across cloud and on-premises environments with Commvault Backup & Recovery, delivering:
Simple, comprehensive backup & recovery for all workloads including cloud, containers and virtual
Multi-cloud aware with cost-optimized cloud data mobility, scaling, and tiering
DevOps Ready with copy data management, data masking and automation
Commvault Complete™ Data Protection
Coming soon
Ensure data availability and business continuity for all workloads across cloud and on-premises environments with Commvault Complete Data Protection, delivering:
Simple, comprehensive backup, replication and disaster recovery orchestration of from a single extensible platform
Trusted recovery of data and applications including verified recoverability of replicas
Cost-optimized cloud data mobility via automatic scaling and tiering of cloud usage